Back
IKEA Kitchens – How Much do they Cost to Remodel and How Long do they Take to Install?
IKEA is world-renowned for successfully combining sleek design and solid materials, all at very reasonable cost. Indeed, its principles are guided by the ideas espoused by the famous German Bauhaus design movement, which believed the everyday person should be able to have beautiful products in their home, even if they have been mass produced.
One of the most important parts of the home is of course the kitchen. In this post, we're going to guide you through the process of installing or renovating your IKEA kitchen. We'll cover everything from IKEA kitchen hacks to IKEA small kitchens. We'll talk you through IKEA kitchen upgrades and the types of kitchens on offer, including the METOD/RINGHULT kitchen. After all, we all want a kitchen we can be proud of and enjoy spending time cooking and eating in, and IKEA provides just the ticket.
How much is an IKEA kitchen remodel?
If you're looking to completely remodel your kitchen with IKEA's cabinets then it can be hard to find out online just how much it will cost you. That's because kitchens come in all shapes and sizes, and ultimately what products you get is up to personal preference. While one customer may only require an IKEA small kitchen (with all sorts of kitchen hacks including maximising storage space and having worktops that can be stowed away when not in use), another customer may have enough room to purchase a fully operational kitchen island.
What is the true cost of an IKEA kitchen renovation?
According to the Remodelling Calculator, a "typical IKEA kitchen costs $6,500-19,000", but most homeowners "report spending $8,500-14,500" on a complete IKEA kitchen renovation. These prices are significantly lower than other companies that manufacture kitchen furniture and appliances. IKEA kitchen upgrades undercut these companies by mass-producing their furniture and by using specially engineered wood which is much less costly than solid wood alternatives. Also, IKEA furniture is famous for coming with instruction manuals that allow the customer to install and renovate their kitchens all by themselves – although we won't blame you if you want Moovick to lend you a helping hand if this process seems a little overwhelming.
What are the advantages of an IKEA kitchen upgrade?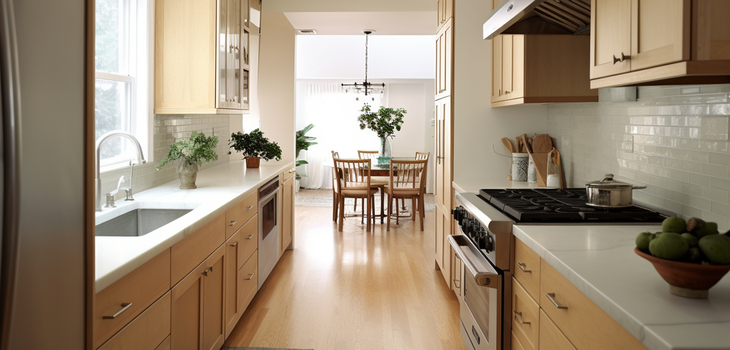 IKEA kitchen renovations are totally customisable – IKEA provides kitchen furniture suited to anyone's needs. Whether your kitchen is big or small, or has some awkward corners, all you need to do is make a few measurements (or get Moovick's handymen to help), and they'll provide you with furniture that fits perfectly into your bespoke kitchen space.
What's more, there's a vast range of materials and colours to choose from, giving you free rein over what kind of feel you want your kitchen to have, be it a more industrial matte-black finish, or a sleek white finish. The METOD/RINGHULT series is a perfect example of the latter. METOD/RINGHULT high-gloss white kitchens are a great choice because they combine a super-modern and easy to clean finish with IKEA's reasonable prices.
IKEA kitchen hacks
Because IKEA kitchen upgrades are customisable by nature, there are a certain number of IKEA kitchen hacks that will allow you to not only create a kitchen bespoke to you which you can be proud, but also allow you to cut your own personal costs. One particularly amazing advantage of an IKEA kitchen renovation is the fact that the IKEA cabinets are compatible are compatible with door designs from several other companies.
This means that the bulk of your kitchen furniture can be from IKEA, but if you are inspired by kitchen finishes you see elsewhere, you have the opportunity to combine these finishes with the bare bones of your IKEA kitchen. One of the best companies for this is Reform. You can incorporate Reform fronts into your IKEA kitchen renovation easily, as all their fronts fit perfectly onto any IKEA elements that may already have or wish to purchase.
There's a chance that you're looking for some more creative inspiration on IKEA kitchen hacks, and the good news is that you can let your imagination run wild. Instagram is a great source to see all the kinds of whacky ways people have used IKEA furniture to tailor their kitchen to them. For example, Medina Grillo regularly shares all sorts of budget-friendly design hacks to help people create their perfect home – one of her IKEA kitchen hacks was to install an IKEA countertop in her otherwise non-IKEA kitchen that had a marble-like finish but wasn't quite the real thing. It looks smart, and it's even stain-free! This proves just how versatile IKEA kitchens really are and how they can be used in imaginative ways to cater to your needs and tastes.
Why choose Moovick to help you renovate your IKEA kitchen?
Moovick offers IKEA Kitchen Assembly and Disassembly Service for your convenience. Installing your own IKEA kitchen can be daunting, and though rewarding for some, a little help can go a long way. Our handymen will be able to spot mistakes you might not have even been aware of, or make sure the furniture is installed to accommodate any awkward or sloping surfaces in your kitchen (and this is all the more crucial because countertops only maintain their warranty if cabinets are completely level).
Another advantage of using Moovick to help renovate your IKEA kitchen is that there is no need to even set foot in an IKEA – you can order what you want online, and we'll take care of the rest.
If you were to choose to have IKEA install your kitchen for you, you'd be looking at spending about £1,500 on average to get the job done, according to Checkatrade. Here at Moovick, we are able to offer both more flexible and more competitive rates. We're do our best to set you up with a handyman as soon as possible, so you can get cracking on kitting out your kitchen immediately.