Back
What are studio apartments and what is the difference from 1 room apart?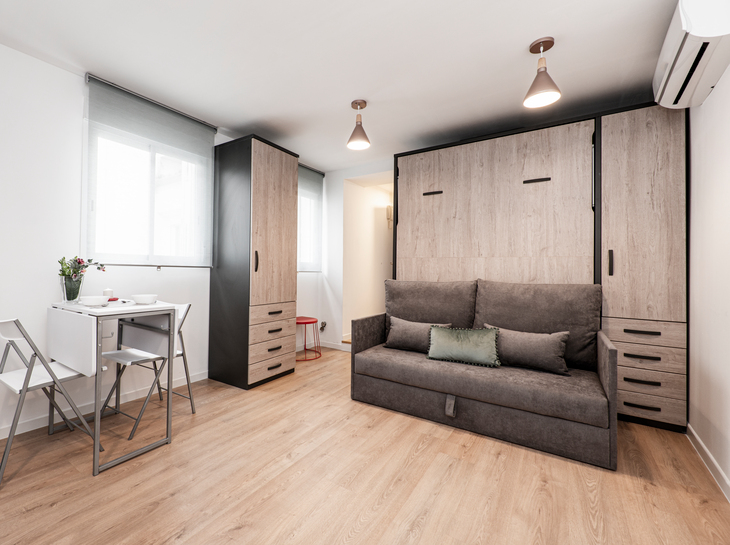 What is a studio apartment?
A studio apartment design is simple. It is a one-room apartment with a combination of living and sleeping area. There are no walls to separate the living room and bedroom section. It's essentially one open space that houses both the living room and the bedroom. The size of studio flats varies widely. There are no size requirements for a studio apartment, therefore they might vary quite a bit. Studio apartments are typically 600 square feet in size but can be as tiny as 300 square feet. The smaller the room, the more imaginative you'll become in terms of storage and finding space for everything. There are many interior design ideas for studio apartments, but many of them look similar.
A one-bedroom apartment contains a single bedroom and a separate living area. The bedroom will be totally walled off and will have its own contained space. A one-bedroom apartment, of course, has a kitchen, a living room, and a separate bathroom. The square footage of a one-bedroom apartment is often slightly larger than that of a studio apartment. People who routinely work from home may prefer working in a space that isn't the bedroom by default. However, because 1-bedroom apartments have higher rents and need more furniture, they may not be the greatest option for someone just starting out. Some tenants may choose a larger studio with more living space over a small 1-bedroom, which is a question of personal taste.
Difference between a studio and an apartment
A one-bedroom apartment, as opposed to a studio apartment, will feature a separate bedroom with a door. This is the primary distinction, albeit one-bedroom flats are slightly bigger than studio apartments. Having a separate bedroom offers benefits, especially if you share an apartment with someone. One-bedroom apartments often include a separate kitchen, as opposed to studio flats, which have everything in one communal space. You will also most likely have additional closet space. The bathroom in some one-bedroom flats is attached to the bedroom, which gives extra privacy.
The main arrangement of a micro apartment is similar to that of a studio, and it contains a kitchen with full-size appliances. The physical difference is that a micro apartment is smaller than a studio apartment. A micro apartment is approximately 100-400 square feet in size. 300-square-foot micro apartments will have around 60 square feet of kitchen space and approximately 30 square feet of bathroom space. That leaves only 210 square feet of living space, approximately the size of a one-car garage.
Some individuals are quite content with a studio apartment, while others can't live without a separate bedroom. The most essential thing is to look at a variety of studio and one-bedroom apartments to discover one that is a good fit for you. Take into account all the deciding criteria. You'll probably spend more rent for a one-bedroom than for a studio, and you'll probably need more furnishings because you'll have more space to fill. However, if having a separate sleeping place is crucial to you, a one-bedroom apartment may be worth it.
Studio apartment – best variant for students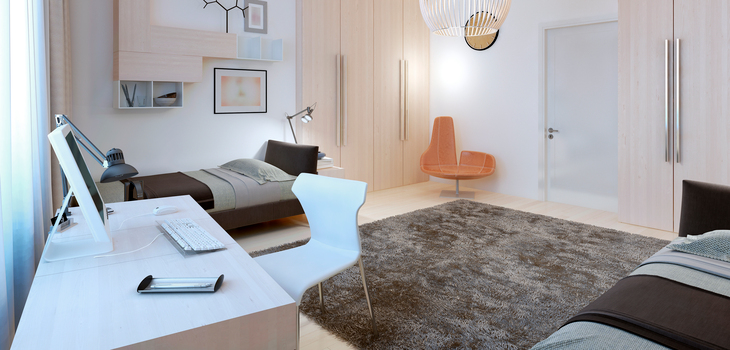 The student studio apartments are the most popular option among students. The main area serves as a study, living room, and bedroom in a single versatile space. It's a private, cozy room that's simple to maintain, neat and tidy daily. How you choose to live might influence the type of apartment you require. If you enjoy having friends around for potluck dinners, watching a favorite TV show, or sampling wine at happy hour, you may require the space of an entertainer. Also, the big plus of a studio apartment is that it is much cheaper than renting a 1 room apartment. If you want to study in Germany for one or more years, finding adequate lodging is one of the most significant components of your transfer. Your student studio apartment in Germany shouldn't be prohibitively pricey. It must also be as close to your institution and the city's main amenities as feasible, and preferably have everything you will need to stay in Germany as a student.
The best sites to search studio in Germany
Germany is very inexpensive to live in when compared to other European countries. However, even a tiny amount of money may make a big difference for students. In this sense, the location you choose to live in has a significant impact on your monthly expenditures, so take this in mind when deciding where to live. If you opt to stay in Munich, for example, you will struggle to save money since it is the most expensive city in Germany and the cost of living is fairly high. Berlin studio apartments for rent are more expensive than many other cities. Here we are going to show you the top websites in Germany for renting studios and rooms for long-term.
This website contains a section called Kleinanzeigen that is dedicated to private ads. There are several offerings available, ranging from apartments, studios, and automobiles to employment and other services. This is essentially the German equivalent of Craigslist or Gumtree. Listings on eBay-Kleinanzeigen.de are from landlords and existing renters rather than experienced brokers. For example, if you rent a studio, you will need to purchase furnishings because most arrive empty. So you may utilize eBay-Kleinanzeigen.de to get some low-cost furnishings; there are lots to pick from.
This website features the most appealing and user-friendly layout, making it simple to view the apartment, the price, the amount of time it's been online, the address, availability, information, and high-quality photos. However, many flats are rented on a short-term basis owing to the absence of the primary renter. WG-Gesucht is the primary place Germans look for shared flats and rooms. Students and young people typically opt to share an apartment. The full website is now available in English.
This is comparable to the eBay system, where you may locate jobs, vehicles, events, and perhaps a partner in addition to real estate and rents. It's a lot smaller rental portal than the others we've discussed so far, but it offers a respectable amount of listings. Furthermore, Meinestadt.de has around 15 million active monthly users, so it may be worth your attention.
ImmobilienScout24.de is by far Germany's most popular and largest apartment search platform. This website is used by 12 million individuals each month to discover their future studios. The basic account is free to use, allowing you to browse the listings and contact the landlords. Some functions, however, are only available with a premium membership. A premium account allows you to establish a user profile and contribute information essential to landlords. You will have a better chance of getting an apartment if you do this. Some apartments are exclusively visible to VIP customers, therefore you won't be able to see them unless you pay. The cost of the premium account is determined by the length of time you join up for it, but two months is the minimum and costs 30 EUR each month.
This site large variety of selection of studios, apartments, private rooms and shared rooms as well. Here you can sort by price or most recommended place to rent. Basically the price for studios start here from € 790 up to €5550, depending on how luxury is it.