Back
Best Van Pick Up and Delivery Services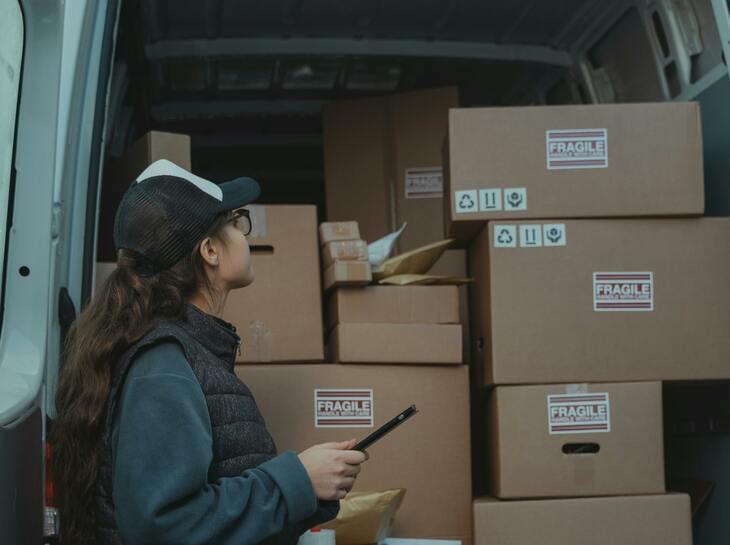 Are you looking for a professional man with a van and delivery service? Then why not look for crowd shipping? Yes, crowd shipping services offered by Moovick would be the right choice to suit your needs and pocket. Moovick is providing the best van pick up and delivery service for all your last-minute deliveries.
Moovick is a platform built to carry out all the logistic needs of companies as well as individuals in a pocket-friendly, fastest and safest way. Moovick aims to make your last-mile deliveries possible. It connects the senders with drivers who would be confirming the safe and quick delivery of your luggage and assets.
But Why Moovick for Last-Mile Delivery?
Whether you need to send goods to a distant place or nearby, you can get a verified driver to deliver your goods to the destination. Moreover, Moovick would be a pocket-friendly platform, as we are offering affordable van pick up and delivery services.

Moovick can be the right decision for your logistics needs as it consists following advantages for you:

1. Last-minute Delivery: Moovick platform provides best van pick up and delivery services for all individuals and businesses. So, in case you have a delivery to make, you can book a driver even at the last minute and get your goods and luggage delivered to the right place. Moovick makes sure that the goods are delivered in the shortest period in the safest way possible.
2. Last-mile Delivery: Last-mile delivery is also called last-mile logistics. It means the transportation of luggage and assets from the sender to the mentioned destination in the safest way.

3. Pocket-Friendly: Since Moovick is using a space sharing method and there would be a traveler traveling in the vehicle, the cost that a sender has to bear would be cheaper than the other case. Moovick is a cheaper way to get your goods delivered to the destination and retains the safety of your luggage.

4. Safety Ensured: Safety of the luggage and goods is on the priority list of Moovick. No matter the shape or size of the goods, they are safely delivered to the destination with perfect protection.

5. Professional Drivers: The driver is the medium between the sender and receiver. Moovick makes sure that drivers are professionally skilled and have relevant expertise in delivering valuable goods while ensuring their safety.
6. Quick Van Pick-up and Delivery: Moovick portal is a time-saving method as it will connect you to the drivers willing to ride for your desired destination quickly. The pick-up would be done as per the decided terms, and as solemn as possible, the delivery would be made. You don't need to look out for drivers one by one and then finalize the one. Moovick has shortened this process and made sure of hassle-free logistics.

7. Bulky Luggage: Moovick delivers all the goods, even if they are bulky or large. Until they can be carried in a van, they would be carried for delivery. So, no matter if you have heavy furniture or just lightweight valuables, Moovick has got it all covered for you.
8. Near or far: Whether the destination of luggage is nearby or a distant place, Moovick will be there at your service to make sure you get your delivery done on time at the right place.

9. Eco-friendly: Since Moovick is using a van on a space-sharing basis, it makes Moovick an environment-friendly platform by cutting the pollution.

10. End to End Support: Moovick makes sure that the sender can communicate with the driver, and the sender can attach a description of the goods to maintain mutual trust. But even after that, if the sender is having any issues or doubts about the safe delivery, then Moovick Support is there to assist the sender with any queries to make sure that the sender is satisfied with the services.

11. Companies as Well as Individuals: No matter if you are a company that needs to deliver a mass size of assets or an individual who needs to deliver some light parcels to anyone. Moovick is the solution for both these logistics tasks.
How Can You Use it for Sending Goods?
Booking a delivery for your luggage with Moovick is just a hassle-free process that would only save your time and money. Moovick envisions to be as efficient and effective for its use as possible.

Step 1. Account Creation and Verification: First of all, you need to create an account on Moovick portal and get your mobile number verified. To create a fine profile, make sure to provide a short introduction and a picture of yourself. Also, don't forget to give your bank details for transactions.

Step 2. Booking a Delivery: To find a relevant trip, fill the search box at the homepage to look for the available trips. And when you find a relevant trip matching your need, look for its review details and then send a request with details and description of your goods or parcel.
Step 3. Passing the Goods and Parcel: You can contact the traveler and decide a place to transfer the assets, but it is suggested to choose a public place for this transfer. But don't forget to keep the communication on Moovick as well so that we can help you out in case any trouble arises.

Step 4. Payment of Charges: Once the request is sent to the traveler, you have to wait till the request is approved. You would be charged for the traveler's reward. But the payment to the traveler would only be made when both sender and traveler confirm the delivery. Until then, your money is kept safe with Moovick.

Step 5. Cancellation: A sender is allowed to cancel the booking anytime before the start time of the delivery or even before handing over the assets to the traveler by easily clicking the CANCEL button. You may have to bear charges for late cancellation as per the Cancellation and Refund Policy.
This is how easy it is to avail our cheap van pick up and delivery service to transfer goods and to be delivered at the right time and the right destination. We have the vision to make online shipment easy and convenient for all logistics needs.

Moovick offers a great deal of ease as our goal is to create a world where shipping can be made completely accessible and pocket friendly for both individuals and companies. We are just a few steps away to provide you with the best logistics services. Try our services now!