Back
Home Improvement professionals: Who does what?
If done properly, home improvement professionals may improve the quality of your property while also raising its worth. However, not every home improvement repairs are made equal. While certain renovations can significantly increase the value of your property, some initiatives may actually lower the sale price. In the planning stage, modeling and design software's are quite beneficial. Make a few variations of the same project, then increase your budget projections by 10% - 15% to account for unforeseen costs.
So what is home improvement? Prioritizing projects that will raise the value of your house might be useful if you're unsure where to begin with home renovations. Any upgrades that add square footage, including completed basements and decks, are generally a good idea, as are upgraded kitchens and bathrooms. So here are some home improvement repairs that will increase the value of your home and understand what home improvement is.
Getting Better Appliances
Replace outdated appliances with renewable tech ones that consume less energy and are better for the environment. Consider buying new doors and face panels from the supplier if your appliances don't match. Without the expensive expenditures of upgrading the equipment, this will offer your kitchen a more unified appearance.
Improving Bathrooms
Re-grout the bathtub, paint the space to make it more cheery, and install new fixtures. According to the Cost vs. Value Report, bathroom remodels will pay for themselves by recovering 88 to 94 percent of your investment. A modern mirror and lighting fixtures may quickly update a bathroom's appearance.
Design a New Kitchen
Begin lightly while redesigning a kitchen at initially. Replace the kitchen faucet, add new cabinet hardware, and install more energy-efficient light fixtures in lieu of the outdated ones. Repaint the cabinets or hire a company to have the cabinet boxes refinished and new cabinet doors, drawers, and hardware installed as an alternative to replacing the cabinets. These small changes will improve the overall appearance of your kitchen.
Modify The Attic
The cost of expanding the square footage of your house might rise fast and beyond the initial estimate. Remodel the existing space in your home rather than attempting to add more. Think of the attic as an additional bedroom or a gym. The more adaptable a place is, the more attraction it has to future owners who can customize it.
You should hold weekly site meetings and contact with your contractor frequently to prevent issues. It is typical for homeowners to ask for alterations or extra work during the renovation process. Your project will be impacted by change orders, which is why it's crucial to have a signed change request for any modification performed. Your contract has to include any modifications made to the project.
Home Improvement trends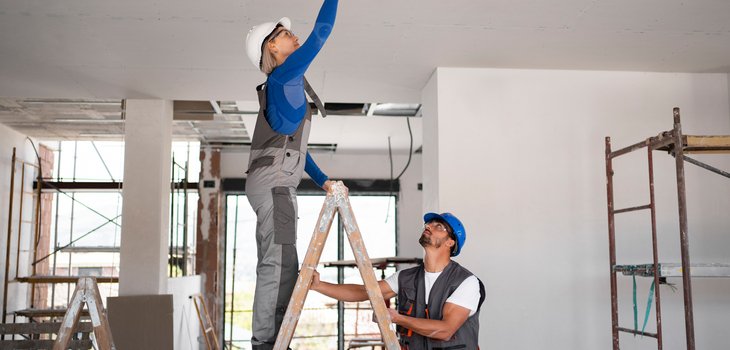 Every year, new remodeling trends emerge. While some styles last for some time, others come and go faster than you can say "remodel." Costs for home remodeling and renovation projects vary based on your location, the size of the project, and your schedule. Therefore, it's advisable to compare quotes from several firms to get a sense of the usual cost in your region and understand how much your job may cost. Renovating and remodeling are words that are commonly used interchangeably. However, they actually signify two completely distinct things. To obtain accurate estimates and the best rate/phrases on your loan, it is crucial to have clear terms when speaking with a contractor or mortgage lender.
Whether you're building anything new determines whether it's a renovation or a remodel. A renovation is the process of modernizing or repairing a space in a house. It will still have the same capabilities but have a new appearance. A redesign implies that in addition to changing the look of a space, you may also completely alter how it functions. Before taking up to your home improvement, you must research home improvement trends.
Cosmetic improvements and required repairs
Updating the kitchen and bathrooms
More windows
New Flooring to Complement Contemporary Styles
Suitable Mudrooms
Built-in Cabinetry
More opportunities to experience nature
Home automation technology
Spa Bathroom
Find Home Improvement Professionals
You probably have an endless list of home renovation tasks to complete as a homeowner. And while certain home remodeling tasks may be accomplished on your own, there are instances when hiring pros is helpful and even vital. Safety is perhaps one of the most crucial factors to consider when deciding whether to work with a professional contractor or do it yourself. Not only is it more efficient to hire a skilled home renovation contractor, but it is frequently less expensive as well.
Although the majority of homeowners think that doing their own home improvements is more affordable, this is typically not the case. If you don't have any prior expertise with home renovation tasks, it's probable that you'll wind up spending more money on the endeavor than you would have if you'd just hired a pro from the beginning. Depending on your living location you can just look for "home improvement repairs near me" and you will definitely find what you need. Moovick offers indoor and outdoor home improvement services. Will it be cleaning, painting, repairs, plumbing, gardening or outside flooring. Moovick handyman services is all you need.
There are different types of home improvement professionals. Depending on the scope and difficulty of your project, you could decide to collaborate with a variety of experts. These professionals help you not only improve interior, they know how to improve the exterior of home. You can find home improvement professionals which are:
Architects create new construction, substantial alterations, and expansions. You might wish to engage a home renovation architect if your project involves structural improvements.
Getting construction permits, scheduling inspections, employing and managing subcontractors are all tasks that general contractors handle for your project. They collaborate with designers and architects as well.
Designers are experts in particular rooms of the house, such the kitchen and the bathroom.
Installing specific goods like cupboards and bathroom fixtures is the responsibility of specialty contractors.
Design/Build companies offer one-stop shopping. They complete your job from beginning to end. Some businesses employ qualified designers, while others have on staff architects.