Back
Moving Trucks, Delivery, Man With Van In Germany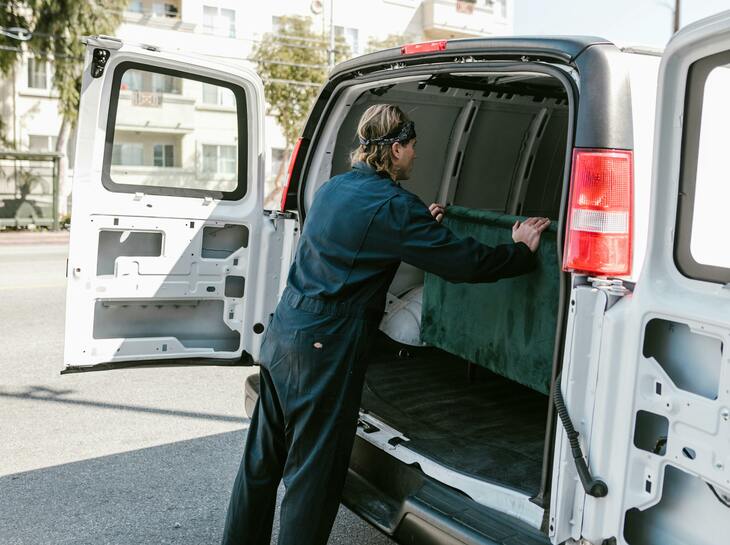 Nowadays, the trend of hiring men with van services in Germany is rising, as these services are more flexible and convenient than traditional courier or moving companies. Whether you are a government employee or working as a professional in a private organization, relocation is something that's inevitable.

Moreover, moving is not just bound to the professionals' life. Home relocation, shifting office, moving furniture to another location is also part of moving and requires a man with van services.
Practically, moving can be a little stressful, both physically and mentally. You might feel mixed emotions while moving to a new place and leaving the old one. Along with this, you are also stressed about the hassle you are about to face while moving, such as keeping belongings safe, packing everything, loading and unloading, and more. That's when people choose to go for a man with a van service.

So, If you need to move some furniture or boxes from Germany to some other place, then always count on Moovick. You can hire a cheap man with a van service using our platform. The prices available on our website for van services are much more affordable than the traditional movers.
There are several vans options available, along with prices and routes. You can compare the reviews, prices, and other important information to select the best man with a van.
How is it Helpful to Hire a Man with a Van in Germany?


Hiring a professional man with a van in Germany is helpful in many ways. Let's dive deep into detail:
Small Spaces Move For Less


It can be a little expensive to hire a van and do everything by yourself, particularly if the company you are considering hiring does not have the correct van size to fulfill your needs. You may either end up with a smaller van that needs multiple trips or a larger than required van. Either way, you will have to bear extra costs. Hiring a man with vans who can offer flexible spaces is a cost-effective and great way to get the job professionally done in the first go.

With Moovick, it has never been easier to select a man with a van in Germany to get your moving job done. We have made it simple for you to pick the one who perfectly fits your needs, move size, and budget. By using Moovick, you can find the right driver for the moving items with professionalism and expertise. We are connected with a number of men with van drivers. You can check out and select the right driver to get your job done.
Service With Happiness


If you need to hire a man with a van in Germany, you can always consider Moovick. The men with vans available on our website are selected on the basis of their expertise and knowledge in the moving industry. Many of them are sort of freelancers who use their vans to earn some money in their free time. You can select the driver of your choice who can help you to move your belongings safely from one place to another.
We also make sure to hire only the best potential drivers, who dedicate themselves to the customers like you. The drivers are also quite flexible and are mostly willing to negotiate deals. They understand the stress and financial imbalance that the moving or shifting can cause. Thus, they try to help you in every possible way.

And of course there will be some jokes when working around them. Our drivers like to lighten the mood whenever possible.
We at Moovick always believe in customer satisfaction and happiness and so do our drivers.
Cost-effective than Traditional Moving or Courier Company


Hiring a man with a van through Moovick would be a great idea to send something like selling or giving a sofa to someone, or any such bulky package. This service is beneficial, especially if you don't have any source like a truck or van to get the job done. So, instead of borrowing a van from someone, simply visit our website and choose the man with a van to perform the moving job.


You will end up saving a lot of money on the moving services in comparison to traditional moving or courier companies, especially if you have to relocate a number of things. We provide direct dealing with the drivers with no interference. You are free to decide prices and negotiate it with the drivers. Moreover, there's no middle man or hidden charges to raise expenses more than required. You get complete transparency and flexibility.
Well-Planned Services


We are familiar with the fact that experience is directly linked with perfection. The same is applicable for professional movers. Implementing a moving task requires proper planning. So, handling all this by yourself can be very stressful. In this case, it is better to go for professional services as they are well-known for the possible challenges and are prepared with the solutions.


They are aware of the complexities to make the entire process of moving quick and simple. They know how to deliver things in a timely manner and with protection to avoid costly delays and any other inconvenience.
Peace of Mind


If you decide to do the moving job on your own, then it can be the reason for your exhaustion. On the other hand, if you hire our man with a van, there won't be any such issue. The drivers will manage everything from lifting to delivering in an organized way.


And that's not all. The driver also has proper insurance for liabilities, transport and even the side passenger. You are completely covered and won't have to face the consequences of any accidental damage. After all, in the end, all that matters is the peace of your mind and of course your safety.
Guidelines to Choose the Best Option for Moving


1. Start with de-cluttering and basic sorting and filter the essential things that you really need to take with you. Create a list and begin your packing accordingly at least one month prior to shifting. Leave only those things that are of daily use before the final packing.


2. The other main thing is to measure the volume and size of the boxes and bags. Go through the logistics companies, the suitable time and date, the weight of your items, and a few others.


3. Compare the prices of different van drivers and then select the one that properly suits your budget and needs. Also, you can call the van driver to know about the other necessary details and discounts.


4. Try to book the van services as early as possible to avoid last-minute hassles and disappointments.
Moovick is the platform that introduced an innovative approach to moving your goods from one place to another. It is not only just cost-effective but also assures safe and timely delivery.
You can easily rely on Moovick to get connected with the best driver who makes sure to deliver your belongings with great care. Moreover, you can also ask them for the loading and unloading of your belongings.
So, whenever you need to transfer something to another place, you can always count on us. If you want more details, then you can contact us anytime by visiting our website.