Back
How to Find the Perfect Furniture and Get it Home Safely?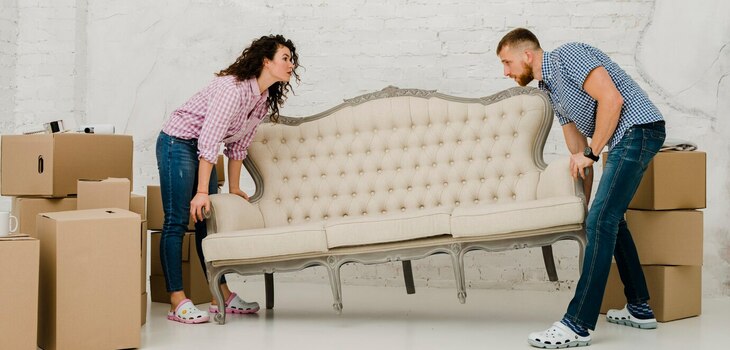 Selecting furniture for your home or office seems like an exciting and fun task, but it can also turn into a type of nightmare. Simply because there is a need to consider both aesthetic and practical factors while choosing furniture. It becomes challenging to get a comfortable and useful piece of furniture that reflects your style and also complements your interior.


Generally, people consider two basic factors: design and price, while selecting new furniture. Although these factors are essential, there are many others that you need to consider before making a final decision. Many people are unaware of these factors, and they end up buying furniture that does not suit their home interior.


So, if you are also one of those struggling to find the right furniture for your bedroom, living room, or any other space, consider these tips on finding the perfect furniture.
Budget

While looking for new furniture, the most important thing to consider is your budget. Find the amount you can spend on furniture and stick to it. Budget planning will help you make the right decision while choosing the furniture. It will ensure you don't break your wallet buying the furniture.

Once you have the shopping budget, you can directly go to the store and focus on the quality and layout of the furniture. In fact, you can tell your budget range to the vendor and let them show furniture that fits it. It will save the mental energy and time that you usually spend on deciding whether you can afford a particular furniture piece or not.
Consider Room Layout


The other essential factor that needs to be considered is the room layout. The lighting, dimensions, spacing, interior design of each room are essential things to keep in mind. For instance, if you get a large piece of furniture for a compact space, you will have a difficult time placing it. It will obstruct free movement in the area. Similarly, a small piece of furniture in a large room will not cover enough area and look weird. In short, the size difference can easily break the appeal and continuity of your interior. Thus, it's necessary that your furniture fit perfectly the area of the room in which you are keeping it. And in case you are planning multiple furniture pieces, make sure they fit together without making the area look overcrowded.
Select an Appropriate Theme


Before you shop for the furniture, make sure to select an appropriate theme. Despite considering individual rooms, always pick a design style that is ideal for every room and offers cohesive design.


There is a wide range of design styles available from which you can choose. For instance: a contemporary theme contains metallic and angular furniture. On the contrary, a casual style includes cozy and naturalistic furniture with some incorporated accessories. Whatever style aesthetic you select, make sure that they either match the interior theme or create contrast. Consistency is the key here.
Textures and Textiles


The textures and textiles of chairs, sofas, or beds are an extremely essential factor to be considered by every homeowner. There are certain textures and textiles that last for a long time. For instance, furniture made of polyester, olefin, and nylon tends to be better than furniture made with wool, linen, and cotton. It is suggested that you never compromise with the quality just to save a few bucks.
Toughest Moving Challenges


Transporting bulky items from one place to another can be stressful and extremely exhausting unless you have hired professionals. If you are preparing for a huge move, here are the tough moving challenges that you might face:
While collecting all important things when moving to a new place, there is a chance that you may miss an item that needs special packaging. Things such as sculptures, flat screen tv, lamps, computers, etc., need special care and attention while moving. So, you can't rely on traditional packers and movers.
When moving your home or business, there is a chance that accidents may happen. Moving bulky or large furniture can result in damaged furniture and doorways. Physical injuries such as stiffness and back pain may also happen. So, if you are not careful or don't hire removal van and driver, you may end up damaging your possessions or injuring yourself.

Many of the furniture will need packaging in part. It means you have to disassemble them before packing and reassemble them once they reach the delivery spot. It can be a tricky thing if you are not familiar with common assembling/disassembling tasks.
In traditional methods, your shipment needs to pass through various hubs, which causes a delay in your shipment delivery. And since the transportation services deliver a large number of goods, there's always a risk of damage.


The most common problem faced by people while moving is delays. Transportation often combines goods from two or more users to occupy their trucks before moving. So, unless you have enough items to fill the whole truck, you may have to wait.
And not just moving, Moovick van pickup and delivery service can also help you with junk removal, handymen, furniture assembly, and disassembly. We also specialize in transporting bulky items safely and on time. The most impressive part of our van pickup and delivery service is that it is very budget-friendly, and there are no hidden charges.


We always take care of small details when it comes to unloading and loading the furniture. We are always there to provide you with support in case of any inconvenience caused during the moving process. We have made the entire booking process very quick and easy. A list of drivers along with the reviews has been provided on our website. You can choose the one that perfectly fits your needs. After confirmation, enjoy a worry-free moving day as everything will be handled by us.