Moving from
Denmark to UK
How It Works
Post task
Post your task details and description on our website or app
Get offers
Receive offers from nearby service providers in PDF format with booking link
Discuss
Use Moovick Messenger to discuss details and choose the best option based on ratings and reviews
Book
Book and get your task done effortlessly
Moovick is an all-in-one platform that provides clients with on-demand, professional Service Providers for moves and home renovation jobs in real-time for their day-to-day needs.
Car (Taxi / Combo)
Perfect for small boxes, airport pick ups and luggage transfer.
Van (7-17 m3)
Great for moving studio or one bedroom apartments with basic furniture items and boxes.
3.5T Truck (20-24 m3)
Best for 1-2 bedroom apartments, small homes moves and commercials goods.
7.5T (+) Trucks
Best for 2 to 3 room apartments and upto 10 standard size pallets
Use Cases

Vinayak
Best service received
Delivery partner was very friendly and flexible. He was hard working and made sure that all assemblies are done correctly. I would recommend all to use Moovick for relocation service.
Relocation:
Service detail:
Home Move, furniture and boxes
Cost:

Shamsul
Moovick offers a very high standard of professional service
They completely hand hold you through out the process. Its like almost being with you in person. I was coordinated for my case by "Misha" and the communication was crisp and clear. Strongly recommend.
Relocation:
Service detail:
Home Move, furniture and boxes
Cost:

Geetika
I had a very comfortable and good experience
The customised delivery support was very prompt over WhatsApp (communication in English which was super helpful). I was able to arrange a very last minute delivery of something I found on Ebay (for a sunday morning). The driver was also very helpful and went the extra mile helping with things that weren't necessarily a part of the service. Highly recommended to try this!
Relocation:
Service detail:
Furniture pickup & Assembly
Cost:

Claudia
Excellent experience
I sent the WhatsApp well after 'after hours' and Misha from Moovick support was extremely efficient and helpful. This was a last minute booking from our side as our confirmed moovers had to cancel and i was so pleasantly surprised that within minutes Misha had confirmed that Olek would be available! Olek you guys were amazing thank you so much for being efficient and so friendly! Will definitely recommend and use this service next time.
Relocation:
Service detail:
Home Move, furniture and boxes
Cost:

Satish
Excellent support provided
They helped us decide the appropriate size of the transport vehicle based on the number of items. The transport vehicle was very good and also the driver was very helpful. A 10 out of 10 for everything. I would definitely recommend the service.
Relocation:
Service detail:
Home Move, furniture and boxes
Cost:

Patrick
The driver and helpers were very professional and quick in the entire process
The decisions for splitting and loading between two vehicles were made on the go and the assembly service was also good. Thanks to moovick for being in constant communication for support. Highly recommend the service.
Relocation:
Service detail:
Home Move, furniture and boxes
Cost:

Varun
The only reasons I am giving 5 stars
All in all, I have had a very smooth experience with LP support team, and would absolutely recommend the platform to anyone; ESPECIALLY, if you are new to the city, don't speak German and need support in English, or are on a budget with moving within the city. The price is very reasonable for the service offered, of course this might be quite dynamic considering your package, but we ultimately pay for the service and trust, I believe!
Relocation:
Service detail:
Furniture transport & Assembly
Cost:

Sharmin
I highly recommend this service for a reasonable price
Great customer support through WhatsApp even on holidays. Moovick helped me move from Munich to Hamburg very easily. The driver was very professional and punctual. To be honest, this is the best customer service I have experienced in Germany. 💯
Relocation:
Service detail:
Home Move, furniture and boxes
Cost:

Laura
Excellent service!
Kamran went above and beyond! He understood exactly what I needed. Communication was always quick and smooth. I am very picky with the services I receive and he exceeded my expectations! Thank you, Kamran!
Home improvement:
Service detail:
Cost:
What to know before moving to the United Kingdom
Moving to the UK from Denmark is no doubt, a big change. With so much to say in adapting to the British lifestyle, it is a good idea to be on the prepared side. An example of it is adapting to the time differences in both countries..
The United Kingdom is in the UTC +1 time zone and the Greenwich Meridian time. Ex-pats moving from Denmark to the UK will have to adjust their sleeping hours to 1 hour less than before. Clocks are set an hour ahead in the summer to adjust to British summertime changes. Once you hear the usual chant 'Spring forward, fall backward,' you should understand there is another major shift in time. Yes, you are also wrong to think the UK is a single timezone country – Ask about Orkney Island in Scotland.
It's the United Kingdom with North Ireland, Scotland, and Wales. You may need to further define which part of her you are moving to. Depending on where you are going, expect a significant cultural break within the country which you should respect.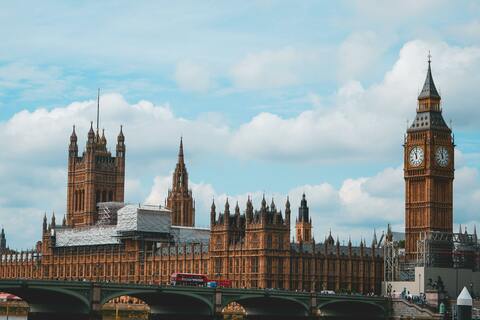 FAQs
What changed for Danes after January 1, 2021, when they moved to the UK?
January 1, 2021, marks a new era for the European Union after the United Kingdom's exit. It was a big change, particularly for Dane immigrants, one marked by a high travel expense to the UK.
Many changes followed Brexit, and there were shifts in regulations, withdrawal, and termination of union agreements. One of the implications gave the UK and the rest of the EU complete immigration control over their region, but thanks to freedom of movement, migration is very much permitted. For this reason, Danes moving from Denmark to the UK no longer have the liberty to stay free for more than three months like before. To stay longer, you must apply for the required visa as regards your reasons for moving. A similar case for ex-pats moving from the UK to Denmark.
As an EU citizen, can I visit or work in the United Kingdom without additional visas?
EU citizens can visit the United Kingdom to take a selfie with "Stonehenge," stroll through Buckingham Palace gardens, and many more for up to three months without a visa.
A lot changed since the United Kingdom left the EU. If you want to work in the UK, you now need a special work permit. A similar secure course implies having work sponsorship by your UK employer who will take care of your visa requirements. The UK's diverse economic structure makes it a central hub for onsite and freelance opportunities. You can take advantage of freelance working opportunities while visiting for a different reason.
What changed for UK citizens after Brexit when they moved to Denmark?
In addition to the stay-period restriction due to Brexit placed on nationals moving to Denmark from the UK, several changes occurred that made residing in Denmark a bit steeper. The health benefits have changed and are limited to ex-pats who have obtained their settlement status and permits. These licenses are granted based on your reason for moving from England to Denmark, which could be for residence, as a skilled migrant, to establish a business, or to study. Tuition fees have also dramatically risen for UK nationals moving to Denmark for study, and taxation may need to be strategically approached with double taxation agreements. UK nationals may have to exchange their UK driver's licenses for Danish ones if they intend to reserve the right to drive for more than six to twelve months.
Comparison of Copenhagen and London: What are the main differences in living?
The cost of living in Copenhagen vs. London
Copenhagen and London is on top of almost everybody's travel list based on the quality of life and easiness. The cost of living in both cities is high above average but it is higher in London with an average of a 15% increase in expenses. However, wages in Copenhagen are about 5% to 10% higher than in London depending on the profession, and this widens the gap between what you earn and what you pay. Here is an estimate of the differences in costs.
| | | |
| --- | --- | --- |
| Aspect of Living | London (average in euros) | Copenhagen (average in euros) |
| Rent (1-bedroom apt) | €1,800 - €2,800 | €1,200 - €1,800 |
| Groceries (monthly) | €350 - €450 | €300 - €400 |
| Dining Out (meal | €20 - €40 | €15- €25 |
| Utilities (monthly) | €150 - €250 | €120 - €200 |
| Healthcare (private) | €150 - €250 | €40 - €100 |
| Entertainment (a ticket) | €12 - €18 (monthly) | €10 - €15 (monthly) |
People (culture)
Language is a notable difference between the two metropolises. While both capitals are in European countries, London is a fully English-speaking city, and Denmark only speaks English as a second language. You might have to sharpen your Danish skills to mix with its locals.
London's lifestyle is its culture. This includes its careful choice of words, language, food, table manners, music, relationships, museums, and carnivals. Both are vibrant cities with a beautiful historic heritage that holds till the present.
The weather
London has a high of 8°C to 11°C in winter while Copenhagen has milder weather (Highs of 2°C to 4°C in winter) with more rainfall frequency.
The weather in July is the hottest for both (20℃ to 25℃), and it can also be snowy from December to February in Copenhagen. Snowfall in Copenhagen can create a picturesque scene, especially in its parks and historic areas. As expected, summer is the time both cities record the most visits, and you will surely enjoy its shiny time, particularly if you decide to spend it sunbathing.
Free time
Sports and outdoor activities are at their optimum in London and Copenhagen. London has many free things to do, such as exploring the historic center, visiting museums, parks, and markets, and enjoying street art and festivals. The low land of Copenhagen makes it rare to find some sports as popular as in London but it has a fair share in the pot. If you are either good at cycling, hockey, hiking, skiing, climbing mountains, and playing tennis, be sure your free time is not a waste.
To get a feeling of nature and wildlife, there are many parks and nature centers to visit. A few notable ones are Tivoli Gardens in Copenhagen, St. James Park in London, Fælledparken in Copenhagen, and Kensington Gardens in London.
Pros and Сons of moving to the UK
Pros:
The UK is one of the world's safest places to live. The country enjoys low counts of homicide, rape, and assault in many areas.
In terms of transport safety, it is well organized.
Free healthcare for all English residents no matter where you're from. The National Health Service (NHS) provides free or low-cost healthcare to residents.
The pub life serves as a great home outside the fence.
Shopping is more like breathing with so many fancy things to admire.
The UK attracts a large number of international students due to its renowned universities and diverse academic programs.
Public transport can take you to all places.
The UK has a good work-life balance, and bank holidays (as fondly called) are always days away from work.
The weather in the UK is a wish for Canadian residents.
The job market is most massive in London as you can work in finance, engineering, manufacturing, distribution, travel, electronics, advertisement, healthcare, property, and transportation.
Cons:
Rent is a nightmare. It is sometimes costly to get a shared apartment. Older housing stock may also lack modern amenities.
Traffic in major cities can get very hectic. It is important to factor that into meeting up for appointments.
Cites are crowded and you are encouraged to protect what's yours, especially your wallet.
Health insurance in England
Although you can use the National Health Service (NHS) for free in the UK, it is not unusual to procure insurance and register with a private healthcare provider if need be. It helps to reduce the public healthcare wait time and receive personalized services. Your health insurance is likely covered under your employer's provision which may be deducted from your emolument. The UK private healthcare is get-what-you-pay, and it is regulated for appropriation by the government. Some well-known private health insurance companies in England are Bupa, AXA PPP Healthcare, Aviva, and VitalityHealth.
Register your child for school/kindergarten
The UK recognizes the rights of children and provides an educative environment for adequate child growth. If you're planning for your child to go to school in the UK, it's essential to start preparing at least a year ahead. If you will be doing it before arriving, you have to follow the procedure of the local council where you will be living and be time-tracking as to when the application will start. A child needs to be 3 years to 4 years old to be eligible to start school. Do contact the government portal on school admission for further understanding of what's required.
Moving to the UK as a retiree
Moving from Denmark to the UK as a retiree involves a few considerations post-Brexit. Retirees coming in can no longer apply for direct retirement but this can be achieved in different other ways. A popular means is to prove a family tie with a UK indigen to apply for an ancestry visa. It can also be done by applying for family or work visas for which permanent residency will later be applied after a 5-year stay. It is required to demonstrate that their pension serves as a sustainable source of income, not only to cover living expenses but also for health insurance and retirement tax obligations.
Nuances of moving to England: car re-registration
Although having a car is a nice thing, you will have to deal with the nuances of luxury. Car re-registration, annual tax, much time in traffic, and more concern about looking for parking spaces are some of the issues you will have to deal with. Car registration in the UK can cost on average around £55 to £165 per year, depending on the type o vehicle and its emissions. However, If you can afford to drive a car, we dearly recommend it.
Advice to move to United Kindom
Like everywhere, adapting to a sudden change in lifestyle can be very thorny, but time beats it and makes it look as if the change never happened. To make living in the UK more interesting, here are a few tips you could use:
Make friends and be the social type.
Gain influence with the locals over time.
Do not act hostile to what is generally acceptable
Accept that many Brits don't like tea.
Engage in good fitness living.
Ready for your move to the UK?
Are you ready for your move to the UK? To facilitate a smooth transition, Moovick links you with excellent movers for stress-free and real-time moving.
Based on projects, we offer tailored services to suit customers of all kinds. We give space for option picks of the service to optimize cost. Contact us to explore the Moovick advantage.