Moving from
Denmark to Sweden
How It Works
Post task
Post your task details and description on our website or app
Get offers
Receive offers from nearby service providers in PDF format with booking link
Discuss
Use Moovick Messenger to discuss details and choose the best option based on ratings and reviews
Book
Book and get your task done effortlessly
Moovick is an all-in-one platform that provides clients with on-demand, professional Service Providers for moves and home renovation jobs in real-time for their day-to-day needs.
Car (Taxi / Combo)
Perfect for small boxes, airport pick ups and luggage transfer.
Van (7-17 m3)
Great for moving studio or one bedroom apartments with basic furniture items and boxes.
3.5T Truck (20-24 m3)
Best for 1-2 bedroom apartments, small homes moves and commercials goods.
7.5T (+) Trucks
Best for 2 to 3 room apartments and upto 10 standard size pallets
Use Cases

Vinayak
Best service received
Delivery partner was very friendly and flexible. He was hard working and made sure that all assemblies are done correctly. I would recommend all to use Moovick for relocation service.
Relocation:
Service detail:
Home Move, furniture and boxes
Cost:

Shamsul
Moovick offers a very high standard of professional service
They completely hand hold you through out the process. Its like almost being with you in person. I was coordinated for my case by "Misha" and the communication was crisp and clear. Strongly recommend.
Relocation:
Service detail:
Home Move, furniture and boxes
Cost:

Geetika
I had a very comfortable and good experience
The customised delivery support was very prompt over WhatsApp (communication in English which was super helpful). I was able to arrange a very last minute delivery of something I found on Ebay (for a sunday morning). The driver was also very helpful and went the extra mile helping with things that weren't necessarily a part of the service. Highly recommended to try this!
Relocation:
Service detail:
Furniture pickup & Assembly
Cost:

Claudia
Excellent experience
I sent the WhatsApp well after 'after hours' and Misha from Moovick support was extremely efficient and helpful. This was a last minute booking from our side as our confirmed moovers had to cancel and i was so pleasantly surprised that within minutes Misha had confirmed that Olek would be available! Olek you guys were amazing thank you so much for being efficient and so friendly! Will definitely recommend and use this service next time.
Relocation:
Service detail:
Home Move, furniture and boxes
Cost:

Satish
Excellent support provided
They helped us decide the appropriate size of the transport vehicle based on the number of items. The transport vehicle was very good and also the driver was very helpful. A 10 out of 10 for everything. I would definitely recommend the service.
Relocation:
Service detail:
Home Move, furniture and boxes
Cost:

Patrick
The driver and helpers were very professional and quick in the entire process
The decisions for splitting and loading between two vehicles were made on the go and the assembly service was also good. Thanks to moovick for being in constant communication for support. Highly recommend the service.
Relocation:
Service detail:
Home Move, furniture and boxes
Cost:

Varun
The only reasons I am giving 5 stars
All in all, I have had a very smooth experience with LP support team, and would absolutely recommend the platform to anyone; ESPECIALLY, if you are new to the city, don't speak German and need support in English, or are on a budget with moving within the city. The price is very reasonable for the service offered, of course this might be quite dynamic considering your package, but we ultimately pay for the service and trust, I believe!
Relocation:
Service detail:
Furniture transport & Assembly
Cost:

Sharmin
I highly recommend this service for a reasonable price
Great customer support through WhatsApp even on holidays. Moovick helped me move from Munich to Hamburg very easily. The driver was very professional and punctual. To be honest, this is the best customer service I have experienced in Germany. 💯
Relocation:
Service detail:
Home Move, furniture and boxes
Cost:

Laura
Excellent service!
Kamran went above and beyond! He understood exactly what I needed. Communication was always quick and smooth. I am very picky with the services I receive and he exceeded my expectations! Thank you, Kamran!
Home improvement:
Service detail:
Cost:
Things to know before moving to Sweden
You need more than to be able to say 'Hej' (Hello) and 'Tack' (Thank you) to get along pretty well in Sweden. It is admiringly required to learn Swedish and be able to speak its basics with confidence if you are moving from Denmark to Sweden. Many old Swedish residents speak English as a second language, but it takes more to communicate minds with the younger generation. The locals are high on protecting their sweet heritage and will appreciate expats who show interest in it—taking on their language as one might just give you an edge and settle you in quicker than expected.
Things have become costlier in Sweden. if you haven't checked housing prices in a while, that has gone up too. The rise in the cost of living may be attributed to economic changes but be sure the bills you get won't break your soul.
Moving to Sweden from Denmark is an exciting adventure, and we've gathered important information to help you get ready.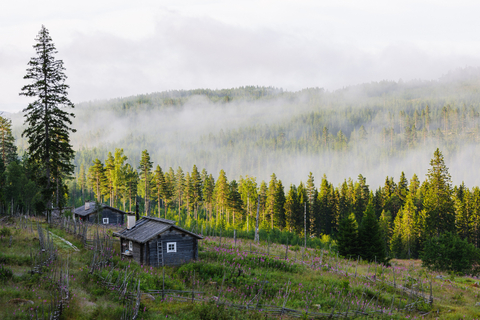 FAQs
Peoples: Denmark vs Sweden
Sweden is a country known for love and its cosy-easy lifestyle. Swedish are warm, tall, and friendly people, and the country is sitting on top of the world's most family-friendly list.
The Danes are considered happy people and their smiles are reflected in their everyday lives. Besides, there are a few differences between these two cultures.
While Swedish people are friendly, they find it hard to invite you to their homes. It is a cultural thing to also remove your shoes if you surprisingly get invited, so it's best to do so and not overuse the courtesy. This tells why many homes are always neat and Swedish are generally neat.
Denmark has an impressive tipping culture, but it is a different story in Sweden
Cost of living in Copenhagen compared to Stockholm
The Swedish are paying more than before for a living – not much to worry about for the Danes.
The costs of living in Copenhagen and Stockholm are higher than average but it is generally higher in Copenhagen with a total of a 25.2% increase in all expenses. It costs 19% more to see the movies in Copenhagen and housing costs are about 52% more than in Stockholm.
Workers in Copenhagen earn better to make up for their expensive lifestyle. Also, in Stockholm, the gap between what you earn and what you pay is not gravy but we can outline the differences. Here is an estimate of the differences in costs below.
| | | |
| --- | --- | --- |
| Category | Copenhagen (€) | Stockholm (€) |
| Housing (Monthly Rent) | €1,345 - €2,020 | €1,020 - €1,585 |
| Groceries (Monthly) | €270 - €405 | €265 - €370 |
| Transportation (Monthly) | €80 - €107 | €80 - €120 |
| Dining Out (Per Meal) | €13 - €40 | €13 - €33 |
| Entertainment (Cinema) | €13 - €18 | €13 - €18 |
| Healthcare (Basic) | Free | Free |
| Utilities (Monthly) | €120 - €200 | €110 - €170 |
| Fitness/Gym (Monthly) | €30 - €60 | €30 - €50 |
Difference between living in Denmark vs. Sweden
Quality of life in Sweden
Denmark and Sweden are vibrant cultural countries for expats to settle in. Both have outstanding provisions to accommodate a jolly living and they present a high-quality living. Sweden is the 6th best country in the quality of life ranking with an 81.6% rating, while Denmark sits comfortably as the second with an 83% rating. Can we conveniently say the difference is not much?
Weather
Sweden has a colder winter than Denmark, so It'll be a good idea to pack along your yaktrax and winter coat.
Due to their proximity to each other, they share some summer similarities. The weather in July is the hottest for both 15°C to 25°C (59°F to 77°F), but northern Sweden can experience more with a longer daylight period. Both the northern and southern parts of Sweden record longer hours of darkness during winter.
How difficult is it for an EU citizen to move to Sweden?
Sweden is a member of the European Union (EU) and is beneficial to migration agreements within countries of the union.
As a citizen of the European Union, moving to Sweden is simple. You are free to live, work, and study without a visa or special paperwork. EU citizens can also bring their family members to live with them in Sweden. Thanks to the reunification treaties, and family benefits.
Pros and Cons of Moving to Sweden
Pros:
Sweden is one of the most peaceful countries in the world because they never fought a war. This makes it one of the safest nations in the world ranking at whooping 28th position.
There is a good public transportation network even to reach the corners of the nation.
Free and excellent healthcare system.
Multi-cultural diversity. Some Danes' cultures are seen in Skåne.
High-quality education at all levels, including free education for Swedish and EU/EEA citizens.
Top priority on gender equality.
High Family-life recognition.
Cons:
The job market is highly competitive.
Housing is not easy to acquire
Taxes are high and can slash one's income into halves.
Sweden's health insurance
The taxes paid off. Sweden operates the 'Swedish Healthcare System' called 'Sjukvårdssystemet' that provides health insurance to the public. The SHS is free, funded by tax, and it is open to both citizens and expats having their medical cards. EU citizens with their European Health Insurance Card (EHIC) have undisturbed access to free healthcare including moving to Sweden health insurance coverage.
In a way to achieve optimal health operation, the country's 21 regions are tasked to take control and check the efficiency of the health service received by people in their geographic location. However, it is not unusual for people to opt for private health insurance to receive personalized treatments and reduce the long wait time with public services.
Moving to Sweden for study
Sweden has a high standard of education for students of all levels. Moving to Sweden for study can be an exciting and enriching experience. Sweden is known for its high-quality education system, ingenious teaching methods, and a welcoming international student community. Studying will always be fun! While you set out time to research your preferred college of study, here is a list of some prestigious ones to start with.
Karolinska Institute (KI)
Uppsala University
Lund University
Stockholm University
KTH Royal Institute of Technology
Moving to Sweden for work
Sweden presents great work opportunities. Although it is competitive, the unemployment rate is low, below 8%. The job search is healthy and the work-life structure is balanced. You can earn up to double your pay if asked to work for extended hours beyond 9-5. Saturdays and Sundays are days away from the office, which is for coffee meetings, hiking, or cycling.
Tax implications: the difference between Denmark and Sweden
Sweden operates a complex tax system and the amount payable is high. Income and wealth can be taxed up to 57% while the deductible in Denmark is 55%.
When moving to Sweden from Denmark as an expat, it is advisable to use strategies that prevent your income from being taxed twice by Denmark. Regardless, there is a tax treaty in place between Denmark and Sweden to avoid double taxation, but for a comprehensive understanding of your tax responsibilities, you are encouraged to consult with a tax advisor.
Why move to Sweden from Denmark or vice versa?
Many people also choose to cross-move for job opportunities and to experience each other's cultural heritage.
Denmark and Sweden are popular destinations and they offer unique experiences for people looking to relocate. Moving from Denmark to Sweden funfully represents a transition from Danish pastries and Nordic cuisine to Swedish meatballs and herring dishes.
Moving to Sweden as a retiree
Expats moving to Sweden from the EU will need to meet certain requirements, but needing a visa isn't a compulsory part of it. It is required they provide evidence that their pension is sufficient to meet day-to-day expenses, and taxes, and to purchase private healthcare if necessary. Retirees with business in Sweden can also use it as proof of financial capacity.
Advice to move to Sweden
The stages of adjusting to a new life can be worrisome. The good news is that the challenges will drift away with time, and may seem like a change never happened. To enhance your experience, and get you settled in quickly, here are some things you can consider.
Make friends and be friendly with others.
Connect with other expats who have moved to Sweden for advice and support.
Try to accept and adapt to local customs and habits without a negative attitude.
Be cautious when walking alone at night for safety reasons.
Is moving to Sweden a good idea?
We can say for certain that moving to Sweden is awesome based on the expats' reviews. However, personal fear based on past experiences may put one in doubt. If you are afraid of what to come with moving to Sweden, taking a short tourist visit to your intended relocation area can prove helpful. While on this journey, interact with the locals and seek answers to your concerns. Doing this will raise your spirit on whether to go pack your bags or reconsider unpacking them.
Ready for your move to Sweden?
Are you ready for your move to Sweden? To facilitate a smooth transition, Moovick links you with excellent movers for stress-free and real-time moving.
Based on projects, we offer tailored services to suit customers of all kinds. We give space for option picks of the service to optimize cost. Contact us to explore the Moovick advantage.