Your go-to digital logistics platform
Simplify your move with our network of 600+ movers across Europe
Trusted by



Green Logistics
With the increasing number of online shopping demands and the need for businesses to relocate offices or move inventory, traditional logistics is changing fast. Businesses are paying rapid attention to their online customers' expectations or preferences. One such expectation is the need to find a balance between economy and ecology due to the damning real-world effects of climate change.
Green logistics evolved as a supply chain/logistics trend in helping to reduce carbon footprints. With eco-friendly logistics, companies are also earning unwavering loyalty from customers seeking sustainability-compliant businesses. Find out how it has emerged from an initiative on paper to a competitive advantage for businesses that care about the real-world effects of climate change.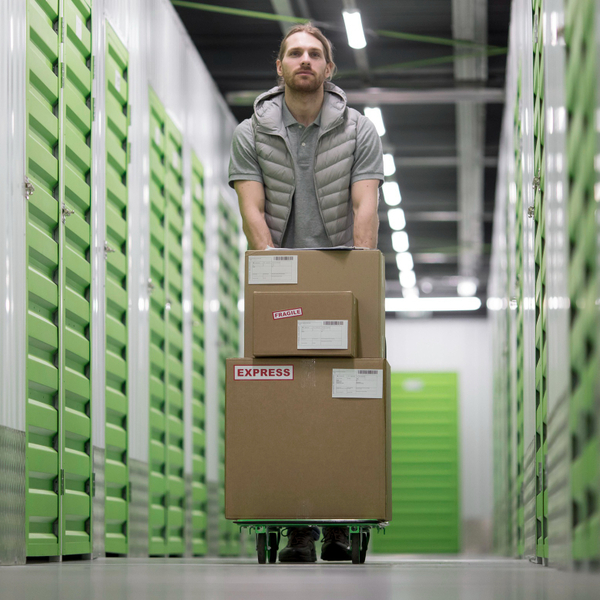 Definition Green Logistics
Green logistics is an initiative aimed at cutting down and eventually eradicating the adverse effects of logistics and delivery on the environment. Today the average customer is more interested and conscious about how eco-friendly their favorite company is. In turn, these businesses prefer to use cargo mobility companies that are dedicated to waste management, decreasing carbon dioxide emissions, and proper waste disposal.
Eco-friendly logistics focuses on reducing the carbon footprint for all stages of the logistic operation. The fastest route to greener logistics is in digitizing the process and adopting efficient systems such as Logistics as a Service (LaaS).
Main Advantages of Eco-friendly Logistics
By definition, green logistics offers businesses countless benefits such as customer attraction and retention, cost reduction, improved efficiency, and more. Here are the main advantages of going eco-friendly:
Improved Staff Morale
Climate change campaigns and increased eco-friendly awareness has prompted more employers whose businesses have a positive environmental impact. Applying eco-friendly logistics is investing in the earth and boosting the morale of these employees.
Less Carbon Footprint
Vehicles are one of the biggest contributors to greenhouse gas emissions. However, with eco-friendlier logistics, businesses can monitor and lower their carbon footprint.
Improved Brand Reputation
Eco-friendly logistics can boost a business's brand reputation. When they align their business with green values and invest in environmental responsibility, it inspires greater confidence and trust in customers.
Improved Efficiency
Green logistics will streamline logistics operations, encouraging more digitalization and less paper use. Such changes can save a business money, carbon footprint, and time. It also boosts and improves operational efficiency with the need for newer tech and easier ways of doing business.
Reduced Cost
Going green can save your business a fortune. It will help reduce your operating costs and wastages. Some of the best sustainable practices usually lead to more efficiency and accountability breeds high standards.
Stronger Brand
Finally, an eco-friendly supply chain can strengthen a brand especially when customers can connect and identify with sustainable practices. You will earn yourself a loyal customer base and influencers that will market your goods and services freely.
Traditional logistics was simply concerned with moving goods, man, machines, and information from one location to another by the most efficient and quick means possible. But the planet is slowly dying and the use of harmful, carbon-emitting machines are the biggest contributor. The global sea level is precariously on the rise, the arctic sea ice extent is decreasing, and much more. These have untold consequences for humanity.
So away from trying to impress a demographic, eco logistics has become necessary to reduce the amount of fuel companies use. There is a need to converse resources and protect mother earth and we can only achieve this by balancing economic and environmental activities. In logistics, for instance, deliveries need shorter distribution channels, speed limits for less fuel use, and new vans and trucks with improved engines.
Challenges of Green Logistics
While the logistics industry has made giant strides in the area of sustainability, there are still some significant challenges that exist when implementing eco-friendly logistics policies. Here are some of them:
Fossil fuels might be bad for the environment but they are relatively cheaper to use than some renewable energy. This factor discourages some struggling businesses that are passionate about green logistics.
There is not enough awareness of the relevance of the mass adoption of eco-friendly policies in cargo mobility. There is a need for more media platforms to inform and educate businesses and owners about sustainable practices and long-term benefits.
3
Absence of Consumer Interaction
Logistic operations aren't so visible to consumers. This is because of the absence of direct interaction between logistics firms and clients. The effect of this is existing and prospective clients overlook the company's efforts towards eco-friendly logistics.
4
Increased Consumer Demands
Consumers are making more online orders since the pandemic and this has resulted in more deliveries. The result of this is more traffic in our cities and increased pollution and emission levels.
Why Has Green Logistics Become Such A Priority in Retail and the Logistics Industry?
Green logistics have become a big priority in the retail and logistics industry because of the impact of cargo mobility on greenhouse emissions. With retail supply chains being one of the biggest contributors to emissions, green logistics has become imperative. Today, consumers, retailers, and transporters recognize the need for eco global logistics practices and so do we at Moovick.
Why Go Green in Your Logistics?
Despite the existing challenges of green logistics, Moovick is positioning itself for a top position in global logistics. We aim to employ optimized routes and strong smart resource management to reduce the carbon footprint of cargo mobility by up to 50%! We are on a journey towards scaling and expanding our operations and platform. Moovick is working towards a future where logistics isn't just efficient and fast, but also reliable, cheaper, and climate-friendly. We will leverage the might of machine learning and AI to build the LaaS company of tomorrow and we cannot wait to have you on this journey with us.
Discover all services
Our consistent service and quality methods enable us to provide things quickly. Whatever your challenges are, we will work with you to find the best solution.
Customer Speak

Have had an incredible journey organising the stands for our toy brands and to see it all come to life! Grateful for my team and collaborating with Moovick and our other partners to make it all happen. #NurembergToyFair

I highly recommend Moovick for any business looking for logistics support. Their team of professionals made the entire process stress-free and efficient. They were responsive to our needs, took great care of our belongings, and provided excellent customer service throughout. Thank you, Moovick, for a job well done!

I cannot recommend Moovick enough for their outstanding manpower supply services for handyman work. The team of professionals were efficient, skilled, and Moovick provided excellent customer service. They went above and beyond to ensure that our needs were met and the work was completed to our satisfaction. Thank you, Moovick, for making our project a success!
Contact us
The logistic service from Moovick enables you to take your operational efficiencies to a whole new level. You can place orders at short notice, and we will ensure fast delivery to your desired location. Contact us now with the below details and we will get back to you as soon as possible.