Back
How much does it cost to paint a house in 2023?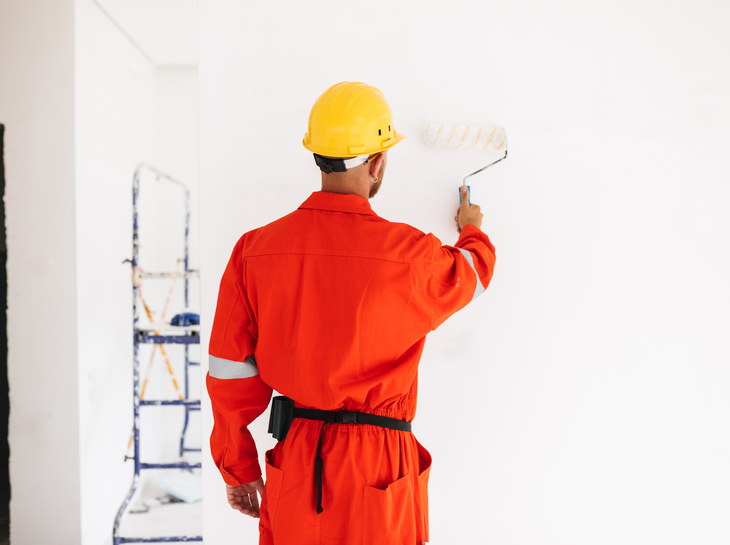 You may have recently moved or are in the process of moving with Moovick, and you're wondering if we can help you figure out how much does it cost to paint a house! Or you're about to move out of your German apartment and need to return it to a livable state.
You're in luck! Not only do we at Moovick offer moving services in Germany and The Netherlands, we also offer painting services and many other home improvement services you can book from our trusted service providers anywhere in Europe! Get all services at the same place, save yourself the hassle and hire a painter.
Average Cost to Paint a House
If we break down average cost of painting a house it comes to two main parts:
Average exterior painting cost.
Average cost of interior painting.
If we break it down even further, it will depend on how big your house is:
one storey, two storey, etc;
what the exterior of your house is like: eg. wood, brick;
the average square meters of your house that need to be covered.
The average cost of house painting should be between 1500€ and 6500€, depending on the size of your house, the condition of the walls (eg. chipping, deterioration), the number of coats you'd need, the paint you choose and any additional work you need done.
The number will cover the working hours of your painters, materials, and other work your house needs. The best approach for you is to get at least three quotes from tradesmen in your area and compare them, before deciding on one. It's also important to note everything you agree upon in a contract to protect yourself.
Exterior Paint Cost per Square Foot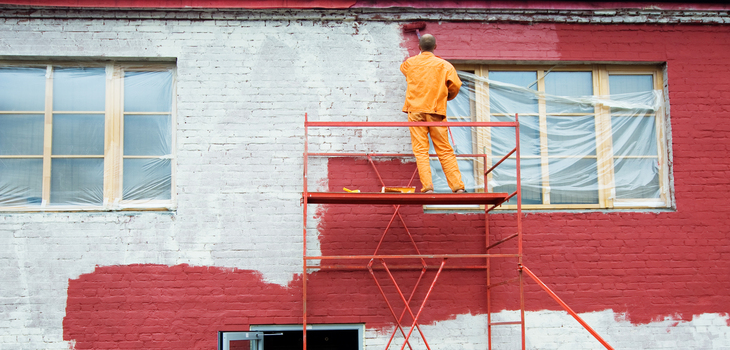 Since we're in Europe, most local tradesmen operate on average cost per square meter, to which they add the cost of materials and the hourly or daily rate, so most prices will be per square meter.
The cost to paint brick house exterior will be different from the cost of painting other types of materials. It's generally not advisable to paint brick house exteriors. If done incorrectly, it will cause water clogging issues and humidity issues in your home.
The average cost of painting a square meter of a brick house facade is between 20€ and 40€ in the Netherlands, less in Germany. That excludes the cost of possibly needing a plasterer to take a look at your house's exterior, which would be additional 15€ to 25€ per square meter.
This can bring the average cost to paint a house exterior to anywhere between 15€ and 50€ per square meter.
The average house in Europe is about 130 square meters. The cost per square meter to paint a brick house exterior is anywhere between 1900€ and 6500€, depending on the works, your contractor and where exactly you're located.
Estimated Cost to Paint Interior of House
The average cost per square meter of interior wall is anywhere between 6 and 15€. This cost covers painting all your house's walls and ceilings.
Your painter will calculate the cost based on the amount of square meters your house is, not based on the square meters they'll be covering.
The average European home is about 130 sq meters big. The estimated cost of painting an average house's interior is anywhere between 780€ and 1950€.
Tips for painting the house
Here are a few tips for painting your house:
Preparation is key: Make sure to prep the walls by cleaning, sanding, and patching any holes or cracks. Cover the floor and furniture with a drop cloth or plastic sheeting to prevent drips and spills.
Use high-quality paint: Invest in high-quality paint, which will last longer and provide better coverage. Consider going with a paint and primer combo for added durability.
Choose the right tools: Select brushes, rollers, and sprayers that are appropriate for your surface and paint type. Don't forget paint trays, extension poles, and tarps.
Plan your approach: Start at the top of the wall and work your way down, painting in sections to avoid visible brush marks. Always paint walls in one direction, using long strokes.
Don't rush: Take your time and let each coat of paint dry completely before applying the next. Rushing can lead to uneven coverage and drips.
Clean up properly: Rinse brushes and rollers thoroughly with water or solvent to remove all paint, and store them properly for reuse. Dispose of drop cloths, tarps, and any other materials according to local guidelines.
By following these tips, you can help ensure a successful painting project that will make your house look beautiful and last for years to come.
Cost to Paint Interior Walls
Interior walls are usually covered within the average painting contract. Most painters will include ceilings, as well as protecting door and window frames in the agreement. Special rate usually applies for houses with high ceilings and especially inconvenient staircases that require a lot of work.
Usually, your chosen painter will help you with protecting any furniture you have in the house, but if you're trying to lower the price, you should do that yourself. Similarly, if your walls have holes from paintings or other decorations you put up, you should fill them by yourself if you're trying to save some money.
If you are still trying to find a painter, check out our service providers on moovick.com. They can help you move, paint and fix up any dents and holes in your walls and can load up your furniture and other belongings in their truck and move them wherever you need them to.