Back
Benefits Of Hiring Professional Handymen through Moovick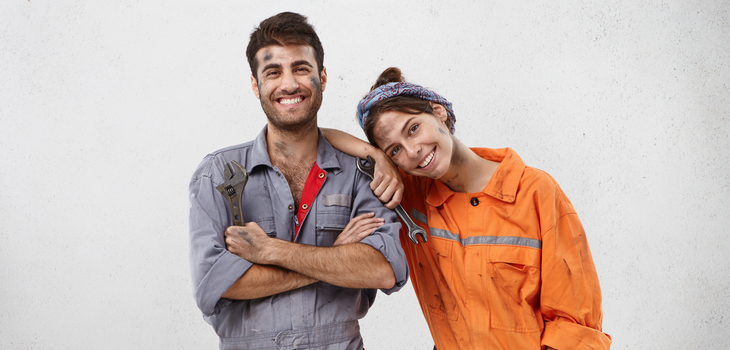 Repairs and maintenance in your homes or offices are a must every now and then for proper and smooth functioning. There are a lot of things that break down and need repairs. Some repairs can be handled with DIYs tricks, but certain things can not be easily repairable, especially if you don't have enough knowledge and skills to work with tools.


Furthermore, With busy schedules, handling repair work by yourself can be a little difficult. Instead of getting a headache from the entire work, you can hire professional handymen for your ease. They will help you to manage all the major and minor repair work providing you peace of mind. The experts can easily deal with the issue and fix the problem quickly.


If you are not sure whether to hire professional handymen or not, review the below-listed benefits to know everything in detail.



Benefits of Professional Handyman Services


Hiring professional handymen to perform maintenance tasks or any other job at your home or office is beneficial to you. You might not realize their importance unless you are actually in need of these handyman services. Here are some of the benefits of hiring Moovick Professional Handyman services:
Quick and efficient: It is one of the best benefits of hiring professional handymen. The contractors take a long time to do their job. Sometimes it seems like they are wasting your time rather than working. But if you hire our Professional handymen, all these things can be easily avoided.


Professional handymen have great experience in their field of fixing and handling repair works. Plus, there is no middle man to add extra steps to the hiring process. You get to interact with the handyman directly.

Hence, they can easily fix all the major and minor repair works of the home efficiently and quickly. And the best part, they always consider your convenience and like to work as quietly as possible. In fact, in most cases, they work so quietly that you don't even realize their presence.
Affordable: Doing repairs and projects on your own is comparatively cheaper, and one must have proper knowledge about the tools to fix the problem. It works flawlessly for minor works, especially with tutorials on YouTube being a thing. Unfortunately, it is rare for people to have the requisite knowledge to manage complicated tasks.


And trying something that you can't handle on your own can intensify it. You may even end up with heavy financial losses. So, it is better to hire a professional handyman by using Moovick's platform. You may get better service at a very reasonable price as there is no middleman or hidden charges involved while booking services via our platform.

No need to hire multiple contractors: Generally, when implementing major projects like building a new portion or redecoration, people hire a number of contractors. Each contractor has assigned a different role, and task like one manages the pipelines, the other handles the electricity wiring, and so on.
Undoubtedly it saves your time but not your money. If you want quality services at affordable prices, then hiring a professional handyman works best for you. They are proficient and skilled enough to manage multiple tasks. They will cost you less as compared to the contractors.


Immediate response: It is among the major benefits of hiring a professional handyman. If you hire professional handymen from Moovick, the waiting time is minimal.


If you face any problem like a burst pipe, leak, or something that needs to be fixed immediately, it is best to call a handyman listed on our platform. You will be connected immediately with the handymen, and they will be there at your doorstep in the shortest possible time.
Versatility: Handymen are generally known as all-in-one maintenance men. Our handymen can easily handle every task, from giving your wall a fresh paint coat, assembling furniture, installing wall sockets, to testing the functionality and safety of appliances. They are versatile enough to handle any type of problem. Hiring them saves you a lot of effort and time to search for contractors to fulfill your different needs. Plus, they are friendly people who do these jobs for a living. They pack years of experience and like to share it. Thus, you can always expect some laughter and friendly advice from them.


Reliability: All the handymen available on our platform are extensively experienced and qualified. So, it is assured that all the tasks done by them will be implemented as per the professional standards. After hiring them, you no longer have to deal with the builders, contractors, and your DIY disasters. In fact, when needed, our handyman can also lend a hand in paperwork. They come really handy in avoiding legal conflicts.
Safety: The main disadvantage of performing DIY maintenance and repairs is the risk. There is always a risk of property damage and getting injuries unless you are experienced in the repair work. But when you hire a professional handyman, there is no need to get worried about these issues.


The experts listed on our website have performed thousands of repair and maintenance jobs. They have all kinds of safety tools and take all necessary precautions while working at your place. So, you can be assured that your property is in safe hands.
Finding a Reliable Handyman


Do you need someone who is capable of handling home or office maintenance and assisting you in moving something from one place to another? If so, then Moovick is the right platform for you. We at Moovick offer a list of handymen along with man with van who will help you with moving and maintenance works.
Along with the local house and office moves, our professional handymen with vans offer a wide range of services, including carpentry work, electric, plumbing, assembling-disassembling, decorating, painting, and other maintenance tasks. If you want any assistance regarding bookings, services, or anything else, you can contact us anytime.


By using our platform, you can directly contact them and discuss the prices and other essential things. The best thing is that our team will not interfere in the entire booking process unless you need assistance.


You and the freelancer are free to negotiate prices. You can also compare the prices and reviews of different handymen available on our site before a final booking.
And the best part is that all the handymen listed on our platform are insured and licensed. So, you can easily rely on them to get your job done.
Conclusion


Repairs and maintenance tasks, even the small ones like changing a pipe, are quite bothersome. It is possible that you don't have time to do them or simply don't have the skills. There are also some tasks like paintings, electric fitting, and plumbing repair that need a decent skill level.


And that's where Moovick handymen services come to play. We connect you with freelancers who are experts at all sorts of common repair and maintenance works. They can take care of all the hassle at just a percentage of what an established contractor would ask.

So, consider professional handymen services the next time you see a leak, a dripping tap, or even a fading wall.