Moving from
Belgium to Ireland
How It Works
Post task
Post your task details and description on our website or app
Get offers
Receive offers from nearby service providers in PDF format with booking link
Discuss
Use Moovick Messenger to discuss details and choose the best option based on ratings and reviews
Book
Book and get your task done effortlessly
Moovick is an all-in-one platform that provides clients with on-demand, professional Service Providers for moves and home renovation jobs in real-time for their day-to-day needs.
Car (Taxi / Combo)
Perfect for small boxes, airport pick ups and luggage transfer.
Van (7-17 m3)
Great for moving studio or one bedroom apartments with basic furniture items and boxes.
3.5T Truck (20-24 m3)
Best for 1-2 bedroom apartments, small homes moves and commercials goods.
7.5T (+) Trucks
Best for 2 to 3 room apartments and upto 10 standard size pallets
Use Cases

Vinayak
Best service received
Delivery partner was very friendly and flexible. He was hard working and made sure that all assemblies are done correctly. I would recommend all to use Moovick for relocation service.
Relocation:
Service detail:
Home Move, furniture and boxes
Cost:

Shamsul
Moovick offers a very high standard of professional service
They completely hand hold you through out the process. Its like almost being with you in person. I was coordinated for my case by "Misha" and the communication was crisp and clear. Strongly recommend.
Relocation:
Service detail:
Home Move, furniture and boxes
Cost:

Geetika
I had a very comfortable and good experience
The customised delivery support was very prompt over WhatsApp (communication in English which was super helpful). I was able to arrange a very last minute delivery of something I found on Ebay (for a sunday morning). The driver was also very helpful and went the extra mile helping with things that weren't necessarily a part of the service. Highly recommended to try this!
Relocation:
Service detail:
Furniture pickup & Assembly
Cost:

Claudia
Excellent experience
I sent the WhatsApp well after 'after hours' and Misha from Moovick support was extremely efficient and helpful. This was a last minute booking from our side as our confirmed moovers had to cancel and i was so pleasantly surprised that within minutes Misha had confirmed that Olek would be available! Olek you guys were amazing thank you so much for being efficient and so friendly! Will definitely recommend and use this service next time.
Relocation:
Service detail:
Home Move, furniture and boxes
Cost:

Satish
Excellent support provided
They helped us decide the appropriate size of the transport vehicle based on the number of items. The transport vehicle was very good and also the driver was very helpful. A 10 out of 10 for everything. I would definitely recommend the service.
Relocation:
Service detail:
Home Move, furniture and boxes
Cost:

Patrick
The driver and helpers were very professional and quick in the entire process
The decisions for splitting and loading between two vehicles were made on the go and the assembly service was also good. Thanks to moovick for being in constant communication for support. Highly recommend the service.
Relocation:
Service detail:
Home Move, furniture and boxes
Cost:

Varun
The only reasons I am giving 5 stars
All in all, I have had a very smooth experience with LP support team, and would absolutely recommend the platform to anyone; ESPECIALLY, if you are new to the city, don't speak German and need support in English, or are on a budget with moving within the city. The price is very reasonable for the service offered, of course this might be quite dynamic considering your package, but we ultimately pay for the service and trust, I believe!
Relocation:
Service detail:
Furniture transport & Assembly
Cost:

Sharmin
I highly recommend this service for a reasonable price
Great customer support through WhatsApp even on holidays. Moovick helped me move from Munich to Hamburg very easily. The driver was very professional and punctual. To be honest, this is the best customer service I have experienced in Germany. 💯
Relocation:
Service detail:
Home Move, furniture and boxes
Cost:

Laura
Excellent service!
Kamran went above and beyond! He understood exactly what I needed. Communication was always quick and smooth. I am very picky with the services I receive and he exceeded my expectations! Thank you, Kamran!
Home improvement:
Service detail:
Cost:
Things to know before moving to Ireland
With every move comes a unique change. Ireland is a small, vibrant country filled with the lilies of life. Wait!... Knowledge is expensive – money can't buy, right? Here's what you need to know before moving to Ireland from Belgium.
Ireland's weather is epileptic, and residents speak about it every day. Belgians have a satisfied share of extended cold living but Ireland can have up to four shifts daily. One minute you're stacked up with wool fabrics preparing to go out, the next you're rushing back in to avoid rain. It's advisable to prepare for what's to come and check out the good stores for umbrellas. Irish saying 'weather is not so bad, is a way to say the weather is miserable'.
Dublin is where the party's at. It is the hotspot of Ireland's vitality on a whole different level from surrounding cities. With up to 25 percent of the countrymen living in Dublin, Traffic is insanely high, and people make late appointments. Don't get too surprised if you don't get the disco city energy elsewhere, you might just have to adjust your expectations.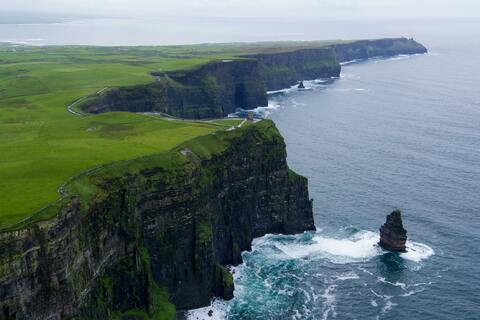 FAQs
Peoples: Belgium vs. Ireland (culture, subjectively)
Irish, they say are fun and friendly. There can be no better truth than this. After being ranked the 21st-best country in the world, Ireland has surged above Portugal and Belgium to become the most friendly country in Europe. They play supportive to ex-pats and help new ones get settled. It is easy to make friends on grocery shopping and over some bottles of Guinness. The pub life is the but it's better not to drink to the point of mentioning Ireland's loose ties with the UK.
Unlike Belgium's seriousness toward appointments, It's a cultural thing for the Irish to be late for business and social events. The 'Irish time' can vary from person to person and event to event. So, it's a good idea to add a few extra minutes of waiting time when scheduling meetings – Guess what? That's also you embracing a slice of Irish culture.
Cost of living in Brussels compared to Dublin
In Ireland, Belgians should prepare to pay double the prices in Brussels as the cost of living in Dublin is higher. Dublin in turn takes pride in living a more expensive life than the UK's big cities. Groceries are considered luxuries and accommodation in Dublin may cost up to two kidneys. Students usually tend to rent a studio apartment other than the university provision and can be shared with 3 people. Relatively, all in Dublin is costlier than in Brussels, and we'll just give you the monthly average estimate.
| | | |
| --- | --- | --- |
| Expenses | Brussels, Belgium (Average Monthly Cost) | Dublin, Ireland (Average Monthly Cost) |
| Housing (Rent) | €800 - €1,500 | €1,500 - €3,000 |
| Groceries | €250 - €350 | €1,500 - €3,000 |
| Dining Out | €15 - €30 (per meal) | €15 - €35 (per meal) |
| Public Transportation | €50 - €100 | €100 - €150 |
| Utilities | €100 - €200 | €100 - €200 |
| Healthcare | €50 - €100 | €50 - €100 |
| Education (tuition) | Free | €5,000 - €12,000 |
| Entertainment | €50 - €100 | €50 - €150 |
| Overall Cost of Living | €1,300 - €2,280 | €2,015 - €4,385 |
Difference between living in Belgium vs. Ireland
Ireland is known for its stunning landscapes, including green countryside and picturesque coastlines. Its tourist mark makes it a top pick for holiday living. In Belgium, you need no invitation to shop for a good life, but It's important to keep cards in deep pockets and avoid flash purchases and uncalled math quizzes in Ireland.
Transportation may be a major difference between moving from Ireland to Belgium. While public transport is readily available to take you anywhere in Belgium, you will need a private car to reach some areas in Ireland. The cost of owning a car and maintaining it can also be a huge determinant in its cost of living.
How difficult is it for an EU citizen to move to Ireland?
As a citizen of the European Union, moving to Ireland is pretty simple. You are free to live, work, and study without needing a visa for it. That is because Ireland and other European countries are beneficiaries of agreements that support easy migration in and out. EU citizens can also bring their family members to live with them in Ireland. Thanks to the reunification treaties.
Pros and Cons of moving to Ireland
Pros:
Ireland is one of the world's safest places to live. The country enjoys a low crime rate in general.
There is free healthcare for many residents.
English is the primary language so there is little demand for English from expats.
The pub life serves as a great home for people after long work hours. It is easy to make friends over a cup of tea there.
Ireland attracts a high number of international students due to its renowned universities.
Cons:
Traffic in major cities like Dublin can get very hectic. It is important to factor that into meeting up for appointments.
The cost of living is high.
Cites are crowded and you are encouraged to protect what's yours, especially your wallet.
The job market is competitive.
Ireland's Health Insurance
Ireland operates a healthcare system called the Health Service Executive (HSE). The HSE is free and open for both citizens and expats having their medical card. However, EU citizens with their European Health Insurance Card (EHIC) can also access the free healthcare provision.
VHI Healthcare, Irish Life Health, and Laya Healthcare are likewise top private health insurance that residents use instead of public health. Users seek private options for faster service delivery and personalized treatment.
Moving to Ireland for study
Ireland is home to many prestigious universities and is known for their academic excellence and discoveries. International students move to Ireland to take advantage of this high-quality education. Dublin has the largest number of universities in the country. The interaction of the locals and students produces interesting day scenes and beautiful nightlife. Among the popular ones are Trinity College Dublin (TCD), University College Dublin (UCD), University College Cork (UCC), and so on.
Moving to Ireland for work
Although it is small in size, Ireland keeps a vast economic structure to home the headquarters of some of the world's industries. It has well-defined labor laws and protection, therefore employees have an excellent work-life balance. As a job seeker, you can find employment in industries including banking and distribution. Technology, healthcare, finance, and engineering can be attractive destinations for expatriates seeking career advancement. Getting a desired job is also not a hard nut. All you need to do is to make the internet your friend and have good networking knowledge.
Tax implications: Differences between Belgium and Italy
Belgium operates a complex tax system. Ireland is quite straightforward, reaching up to 45% payable on income over €70,044. There is a 20% deduction on Income up to €35,300, and a 40% removal on income from €35,301 to €70,044. A corporate tax rate of 12.5%.
When moving to Ireland from Belgium as an ex-pat, it is advisable to use strategies that prevent your income from being taxed twice by Belgium. Fortunately, both countries have tax treaties in place to prevent double taxation and offer tax benefits to both residents. For a comprehensive understanding of your tax responsibilities, please consult with a tax advisor.
Quality of Life in Ireland
Ireland pays higher wages to match its higher cost of living. That said, the quality of life in Ireland is ranked 3rd, higher than in Belgium which is placed 17th. The country keeps a growing multicultural environment of people with different backgrounds. You can see that from the menu list you get when you hop into a restaurant.
Why move to Ireland from Belgium and vice versa
Belgium and Ireland are both popular destinations and offer unique experiences for people looking to relocate. Moving from Belgium to Ireland represents a transition from Belgian waffles and chocolates to Irish stews and 3-times distilled whiskey. Many people also choose to cross-move for job opportunities and experience each other's cultural heritage and attractive landscapes.
Moving to Ireland as a retire
Retirees will need to meet certain requirements to live well in Ireland. It is required to provide evidence that their pension income is sufficient to meet day-to-day expenses and purchase private healthcare if necessary. Retirees with business in Ireland can also use it as proof of financial capacity.
Is moving to Ireland a good idea
Ireland offers an interesting stay for all the reasons for moving. However, personal fear based on past experiences may put one in doubt. If you are afraid of what to come with moving to Ireland, taking a short tourist visit to your intended relocation area can prove helpful. While on this journey, live and interact with the locals. Seek answers to your concerns. Doing this will raise your spirit on whether to go pack your bags or reconsider unpacking them.
Advice to move to Ireland
Just like anywhere else, adjusting to a sudden lifestyle change can be challenging, but with time, it becomes easier, and the change may drift like it never happened. To enhance your experience of living in Ireland, here are some helpful tips:
Make friends and be the social type.
Network and seek advice from ex-pats who have made the move.
Do not act negatively to what is generally accepted.
Play the safe cards and be careful with late-night walks
Ready for your move to Ireland?
Are you ready for your move to Ireland? To facilitate a smooth transition, Moovick links you with excellent movers for stress-free and real-time moving.
Based on projects, we offer tailored services to suit customers of all kinds. We give space for option picks of the service to optimize cost. Contact us to explore the Moovick advantage.