Moving from
UK to Germany
How It Works
Post task
Post your task details and description on our website or app
Get offers
Receive offers from nearby service providers in PDF format with booking link
Discuss
Use Moovick Messenger to discuss details and choose the best option based on ratings and reviews
Book
Book and get your task done effortlessly
Moovick is an all-in-one platform that provides clients with on-demand, professional Service Providers for moves and home renovation jobs in real-time for their day-to-day needs.
Car (Taxi / Combo)
Perfect for small boxes, airport pick ups and luggage transfer.
Van (7-17 m3)
Great for moving studio or one bedroom apartments with basic furniture items and boxes.
3.5T Truck (20-24 m3)
Best for 1-2 bedroom apartments, small homes moves and commercials goods.
7.5T (+) Trucks
Best for 2 to 3 room apartments and upto 10 standard size pallets
Use Cases

Vinayak
Best service received
Delivery partner was very friendly and flexible. He was hard working and made sure that all assemblies are done correctly. I would recommend all to use Moovick for relocation service.
Relocation:
Service detail:
Home Move, furniture and boxes
Cost:

Shamsul
Moovick offers a very high standard of professional service
They completely hand hold you through out the process. Its like almost being with you in person. I was coordinated for my case by "Misha" and the communication was crisp and clear. Strongly recommend.
Relocation:
Service detail:
Home Move, furniture and boxes
Cost:

Geetika
I had a very comfortable and good experience
The customised delivery support was very prompt over WhatsApp (communication in English which was super helpful). I was able to arrange a very last minute delivery of something I found on Ebay (for a sunday morning). The driver was also very helpful and went the extra mile helping with things that weren't necessarily a part of the service. Highly recommended to try this!
Relocation:
Service detail:
Furniture pickup & Assembly
Cost:

Claudia
Excellent experience
I sent the WhatsApp well after 'after hours' and Misha from Moovick support was extremely efficient and helpful. This was a last minute booking from our side as our confirmed moovers had to cancel and i was so pleasantly surprised that within minutes Misha had confirmed that Olek would be available! Olek you guys were amazing thank you so much for being efficient and so friendly! Will definitely recommend and use this service next time.
Relocation:
Service detail:
Home Move, furniture and boxes
Cost:

Satish
Excellent support provided
They helped us decide the appropriate size of the transport vehicle based on the number of items. The transport vehicle was very good and also the driver was very helpful. A 10 out of 10 for everything. I would definitely recommend the service.
Relocation:
Service detail:
Home Move, furniture and boxes
Cost:

Patrick
The driver and helpers were very professional and quick in the entire process
The decisions for splitting and loading between two vehicles were made on the go and the assembly service was also good. Thanks to moovick for being in constant communication for support. Highly recommend the service.
Relocation:
Service detail:
Home Move, furniture and boxes
Cost:

Varun
The only reasons I am giving 5 stars
All in all, I have had a very smooth experience with LP support team, and would absolutely recommend the platform to anyone; ESPECIALLY, if you are new to the city, don't speak German and need support in English, or are on a budget with moving within the city. The price is very reasonable for the service offered, of course this might be quite dynamic considering your package, but we ultimately pay for the service and trust, I believe!
Relocation:
Service detail:
Furniture transport & Assembly
Cost:

Sharmin
I highly recommend this service for a reasonable price
Great customer support through WhatsApp even on holidays. Moovick helped me move from Munich to Hamburg very easily. The driver was very professional and punctual. To be honest, this is the best customer service I have experienced in Germany. 💯
Relocation:
Service detail:
Home Move, furniture and boxes
Cost:

Laura
Excellent service!
Kamran went above and beyond! He understood exactly what I needed. Communication was always quick and smooth. I am very picky with the services I receive and he exceeded my expectations! Thank you, Kamran!
Home improvement:
Service detail:
Cost:
Things to know before moving to Germany
The first thing you'll experience as an ex-pat from the United Kingdom moving to Germany is a sharp change in language. Germany is primarily a Deutsch-speaking province, and you will need a good knowledge of it to mingle well and get loved more by the locals. A good level of communication in English is, regardless, enough to get by the daily dealings, but it takes more to enjoy the feeling of being around. At least, learn a bit, sufficient to exchange greetings and do everyday shopping. If you can ask a lady out with it, then you have nailed the requirement, and the next thing for you to do is ready your bags for the move.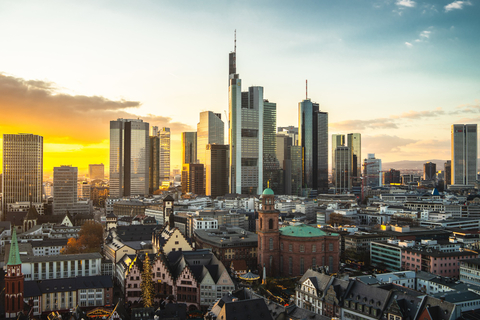 FAQs
Germany is a vibrant cultural region
This goes as far as the unique characteristics of the people living in Germany and what you might find offensive about them, which is just a usual way of life. Essential cultural elements included are the mode of talking, choice of food, selection of music, tipping culture, partying culture, festivals, and dress. The fact that people act as if nothing has happened while you are doing the weirdest thing is a trademark in Germany. It's just that nobody cares who is wrong or right if not stipulated by the law.
No day is terrible for beer in Germany, and your car does not matter
Germany holds a good standard of beer life, and you can find your lifetime drinking mate there. It doesn't cost at all to get a pint, and you can get a bottle of Augustiner for as low as one EURO in southern Germany. The state of Bavaria is the leading region in beer production, and you can mainly find the prices of beer lesser there. Consider beer as food. By doing so, you will wonder less about why it is all about beer in Germany and why it is protected that much like a heritage.
Most cities are bike-able, and you can only imagine taking a train or bus while moving inter-city. If you consider living in the most populated places like Bremen and Hannover, you will discover owning a car is more troublesome than helpful. To its beauty, you can even hire a bike for daily driving at the hiring company and vendors.
Moving to Germany after Brexit
Many changes were induced after the United Kingdom's exit from the European Union (EU) on 31st January 2020. There were changes in regulations, withdrawal, and termination of related agreements. One of these modifications gave the UK and EU complete immigration control over their region, but thanks to freedom of movement, migration is very much permitted.
For this reason, people moving to Germany from the UK are no longer allowed to stay free for more than three months. To stay longer, you must apply for a residency permit from the local foreign authorities of Germany.
Some International residency rights have also changed. You can check in with your lawyer for more details on the obligations and duties expected of you as an ex-pat in any European country.
Differences between living in the UK and Germany
A change of tongue taste and food options might be the first to notice moving from the UK to Germany. Germany is a bit rigid with food choices, and it takes much effort to get beyond the range of options available. Germans protect their local diet, but you will also find many foreign foods made best in the country. Brits are, however, flexible, and they have varied choices to pick from, both local and international diets.
Pay is higher in Germany, but taxes bring it back to the same level as in the UK. In terms of work, there are more opportunities to explore in the UK as it is the second-largest economy in Europe. Germany ranks first above it, but the interaction of Cooperate and Freelance Opportunities has pushed the Uk farther on the ladder. The work structure in Germany is, however, accessible, and Sunday is always a free day from work. Work flexibility in the UK can otherwise make you work on weekends and New Year's Eve, even as a store attendant.
Why move to Germany?
Germany has a high quality of life and a sound welfare system. There is an excellent work environment, healthcare, free education, great child-family support, and a retirement system that makes it record over 9 million visits a year. Germany has many beautiful scenes of the world, and it is undoubtedly a great country away from work and to spend one's holiday.
Quality of Life in Germany vs. the UK
The quality of life in major cities in the UK is higher than in Germany. London is the best city in the world based on an overall measurement standard, and Berlin ranks at the 31st position below it. Generally, it is easier to live in Germany than in the UK, but it is all fair on both sides.
Moving to Germany as a pensioner
Only a little has changed for pensioners moving from the UK to Germany after Brexit. Retirees are to prove their pension as a sustainable source of income before being granted a retirement residence permit. That is, it can cater for the health insurance and retirement tax costs.
You have up to 3 months of free stay to complete the registration process after moving to Germany. If you are retiring with your partner, you also have to provide your marriage certificate or other documents that show you both have been living together.
Cost of living in Germany compared to the UK
As earlier said, life in the UK might seem scary to an average German. This includes housing costs, feeding costs, electricity bills, internet, heat, travel costs, transportation, and groceries. If you are earning circa €25 000 wages, you might eventually be living a paired life in the Uk.
Germany is more affordable, on the other hand. If you earn well, It doesn't involve many tricks to live fine and comfortably. As a typical resident, you can go on several dates and take as many vacations as you want without fear of being penalized in another element of your life. Grocery is cheap, and health insurance doesn't cost havens. Personal transportation may be rather expensive to maintain, so it is advisable to get a bike or bicycle for most of the short trips.
People: UK vs. Germany
Many would say Germans don't care, and the Brits are more accommodating to ex-pats. You will find this statement differently true based on your personality. German love, and they are fair in dealing with all. A little difference may be experienced from the older generation, but you are a German, and you will be treated as a German once you step foot on its soil, regardless of where in the world you come from.
The British are more formal in their dealings, and they are careful of word choices. It is easy to feel like you belong amongst them because you do not need more than English to interact. Both people have fantastic nightlife, and you need to be part of it to get along the most in Germany.
Move to Germany: Pros and Cons
We can mention a thousand pros of moving to Germany but struggle to give you subjective cons. Based on personal objectives, you might find some of the elements of living in Germany harsh, but here is the outline of the general ones.
Pros:
Germany is one of the safest countries to live in the world.
In terms of transport safety, it is well organized, and roads are mostly free from accidents.
The country enjoys low crime rates than most countries in Europe
There is no such thing as no-go zones in Germany, and all suburbs are well-guarded by security authorities.
Things are relatively affordable, and Germany has a good sports life.
Nature promotes relaxation, and outdoor activities tend to grow better daily.
The landscape and some geographic elements, such as mountains, also support many unusual sports to become popular in the district. If you are great at cycling, hockey, hiking, skiing, climbing mountains, and playing tennis, you are a good fit for their sports life.
Cons:
The weather might be too cold for someone unfamiliar with cold living, but it should not be too harsh for the Brits to handle.
Due to this, you will find it easier to see a fallen needle than a home with Air conditioning or a Fan.
Healthcare in Germany vs. the UK: The Contrast
The health system is better and somewhat accessible in Germany, just like the education system. These are some benefits of being a German after paying such high taxes. The health personnel density per number of citizens is higher in Germany than in the UK, but both are doing great in sufficiency.
To access the health system better, you are advised to procure insurance and register with the local health care immediately after you arrive. It is, however, compulsory to do that, not a choice at all in Germany. Comparing the National health service (NHS) in the UK and Gesetziliche Krankenversicherung (GKV) in Germany is similar.
Still, the flexibility between private or public health coverage is usual in Germany as opposed to in the UK. Both countries get what they pay for, and it might seem like being in a hotel if admitted into any of the hospitals.
Moving to Germany for work
Germany keeps a diverse economic structure which makes it a central hub for many industries of the world to thrive.
If looking to work, the job market is massive in Germany, and it is less competitive than in the UK. You can work in finance, engineering, manufacturing, distribution, travel, electronics, advertisement, healthcare, property, and transportation. The work structure is excellent, giving enough time for leisure, particularly on Sundays and public holidays.
Getting a desired job is likewise not a hard nut. All you need to do is to make the internet your friend and have a good knowledge of networking. You might need to rebuild your CV and make your resume look more attractive. It is not a rocky road to get there. All you need to do is invest patience to find the perfect fit.
Tax implications: different between UK and Germany
Germans pay more taxes, and the percentage of tax revenue in the country's GDP is 34.7% — a little lower than the percentage in the UK's GDP, which is 36.8%. As an ex-pat moving from the UK to Germany, it is best to adopt strategies to avoid double taxing your income to the UK and Germany's Government.
It is no longer a significant issue since there is a double-taxation agreement between the UK and Germany. With that, UK citizens residing in Germany are only obliged to pay their taxes to the German government. If the residential status is not yet verified, it is better to apply for tax relief or tax back to prevent overcharging.
Eu citizens: How difficult is it to move to Germany?
Moving to Germany is easier for EU citizens than for Non-EU citizens. An EU citizen can move and live in Germany for up to 3 months without a visa or permit. Staying longer than that requires registering with the local residency registration area (Einwohnermeldeamt).
Nuances of moving to Germany: Car re-registration
It's a good thing to own a car, but you'll have to deal with the nuance of luxury. Car re-registration, annual tax, much time in traffic, and more trouble looking for parking spaces are some of the issues you will have to deal with. If you can afford and drive a car, we dearly recommend it.
Advice to move to Germany
Like everywhere, adapting to a sudden change in lifestyle can be very thorny, but time beats it and makes it as if the change never happened. To make living more interesting, here are a few tips you could use:
Make friends and be the social type.
Gain influence with the locals over time.
Do not act hostile to what is generally acceptable
Engage in good fitness living.
It gets prettier if you can speak German and tap into the differences in dialects across regions.
Ready for your move to Germany?
We are optimistic that with what you have learned so far, you'll be more than ready to pack your bags and prepare for the move. To make the preparation process easy, Moovick connects you with excellent movers and professional service providers.
This includes moving to Germany, moving from the UK to Germany, shipping and handyman work, cleaning, painting, assembling, disassembly, junk removal, and various extra muscles around the home.
Based on projects, we have a range of services to suit customers of all kinds, and we give space for option picks of the service to optimize cost. Connect now, and feel free to explore all elements of Moovick to your advantage.