Moving from
UK to Netherlands
How It Works
Post task
Post your task details and description on our website or app
Get offers
Receive offers from nearby service providers in PDF format with booking link
Discuss
Use Moovick Messenger to discuss details and choose the best option based on ratings and reviews
Book
Book and get your task done effortlessly
Moovick is an all-in-one platform that provides clients with on-demand, professional Service Providers for moves and home renovation jobs in real-time for their day-to-day needs.
Car (Taxi / Combo)
Perfect for small boxes, airport pick ups and luggage transfer.
Van (7-17 m3)
Great for moving studio or one bedroom apartments with basic furniture items and boxes.
3.5T Truck (20-24 m3)
Best for 1-2 bedroom apartments, small homes moves and commercials goods.
7.5T (+) Trucks
Best for 2 to 3 room apartments and upto 10 standard size pallets
Use Cases

Vinayak
Best service received
Delivery partner was very friendly and flexible. He was hard working and made sure that all assemblies are done correctly. I would recommend all to use Moovick for relocation service.
Relocation:
Service detail:
Home Move, furniture and boxes
Cost:

Shamsul
Moovick offers a very high standard of professional service
They completely hand hold you through out the process. Its like almost being with you in person. I was coordinated for my case by "Misha" and the communication was crisp and clear. Strongly recommend.
Relocation:
Service detail:
Home Move, furniture and boxes
Cost:

Geetika
I had a very comfortable and good experience
The customised delivery support was very prompt over WhatsApp (communication in English which was super helpful). I was able to arrange a very last minute delivery of something I found on Ebay (for a sunday morning). The driver was also very helpful and went the extra mile helping with things that weren't necessarily a part of the service. Highly recommended to try this!
Relocation:
Service detail:
Furniture pickup & Assembly
Cost:

Claudia
Excellent experience
I sent the WhatsApp well after 'after hours' and Misha from Moovick support was extremely efficient and helpful. This was a last minute booking from our side as our confirmed moovers had to cancel and i was so pleasantly surprised that within minutes Misha had confirmed that Olek would be available! Olek you guys were amazing thank you so much for being efficient and so friendly! Will definitely recommend and use this service next time.
Relocation:
Service detail:
Home Move, furniture and boxes
Cost:

Satish
Excellent support provided
They helped us decide the appropriate size of the transport vehicle based on the number of items. The transport vehicle was very good and also the driver was very helpful. A 10 out of 10 for everything. I would definitely recommend the service.
Relocation:
Service detail:
Home Move, furniture and boxes
Cost:

Patrick
The driver and helpers were very professional and quick in the entire process
The decisions for splitting and loading between two vehicles were made on the go and the assembly service was also good. Thanks to moovick for being in constant communication for support. Highly recommend the service.
Relocation:
Service detail:
Home Move, furniture and boxes
Cost:

Varun
The only reasons I am giving 5 stars
All in all, I have had a very smooth experience with LP support team, and would absolutely recommend the platform to anyone; ESPECIALLY, if you are new to the city, don't speak German and need support in English, or are on a budget with moving within the city. The price is very reasonable for the service offered, of course this might be quite dynamic considering your package, but we ultimately pay for the service and trust, I believe!
Relocation:
Service detail:
Furniture transport & Assembly
Cost:

Sharmin
I highly recommend this service for a reasonable price
Great customer support through WhatsApp even on holidays. Moovick helped me move from Munich to Hamburg very easily. The driver was very professional and punctual. To be honest, this is the best customer service I have experienced in Germany. 💯
Relocation:
Service detail:
Home Move, furniture and boxes
Cost:

Laura
Excellent service!
Kamran went above and beyond! He understood exactly what I needed. Communication was always quick and smooth. I am very picky with the services I receive and he exceeded my expectations! Thank you, Kamran!
Home improvement:
Service detail:
Cost:
Things to know before moving to the Netherlands
Language is an important consideration
The first thing you'll notice as an ex-pat moving from the UK to the Netherlands is a significant language change. The Netherlands is a Dutch-speaking country, and you must be fluent in it to mingle well and gain favor with the people. Good communication in English is sufficient to get by in daily living, but it takes more to appreciate the experience of being around. Learn enough to exchange greetings and go grocery shopping. If you can ask a lady out with it, you've nailed the most fundamental criteria of moving to the Netherlands.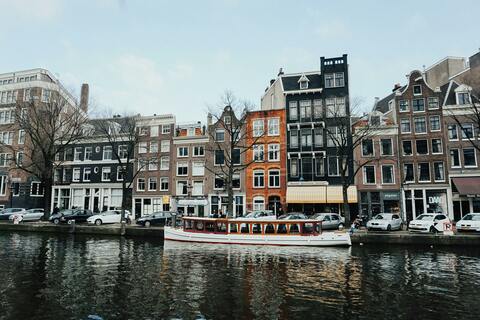 FAQs
The Netherlands is a bicycle village
As a result, the cities' geography is developed to prioritize bicycles and bikes above automobiles. This means that all the cities in the Netherlands are bike-able, and you can only think of taking a train or bus while moving inter-city. They don't care about cars, especially gas vehicles, which is one of the reasons they are so interested in green energy. If you want to live in the most crowded areas, such as Amsterdam, you must undoubtedly learn to ride a bicycle. Don't worry about getting one; they litter the street.
Moving to the Netherlands after Brexit
Many changes occurred following the United Kingdom's exit from the European Union (EU) on January 31, 2020. Regulations were changed, and relevant agreements were withdrawn and terminated. One of these modifications gives the UK and EU complete immigration authority over their regions, but migration is still permitted due to freedom of movement.
People moving to the Netherlands from the UK after Brexit can now do so under the condition of registering for a permit from the Netherlands' local foreign authorities. These licenses are granted based on the reason for the move, which could be for the residence, as a skilled migrant, or to establish a business.
Some residency rights of moving to the Netherlands from the UK have also changed, so you can check in with your lawyer for more details on the obligations and duties expected of you as an ex-pat.
Difference between living in the UK and the Netherlands
Another thing you may notice is a change in tongue flavor and food preference. The Netherlands eats healthily, given that they eat a lot and anything edible. They protect their indigenous diet, but you will also find many foreign foods made best in the country. On the other hand, Brits are adaptable and have a wide range of domestic and international eating options.
Pay is better in the Netherlands, but taxes are higher than in the UK. In terms of work, there are more opportunities to explore in the UK as it is the second-largest economy in Europe. The work-life structure in the Netherlands is also unique and well-balanced. Weekends and holidays are respected from the weekdays. Work flexibility in the UK can make you work on weekends and New Year's Eve, even as a store attendant.
Quality of Life in the Netherlands
Major British cities have a higher standard of living than the Netherlands. According to a global metric, London is the best city in the world, and Amsterdam comes in at number ten. In general, living in the Netherlands is simpler than in the UK, but it is all fair on both sides.
Cost of living in the Netherlands compared to the UK
A Dutchman might find life in the UK terrifying. This includes considering the cost of living, food expenses, power and internet fees, heat, travel expenses, and transportation and grocery expenditures.
Using this illustration: A shared 2-bedroom apartment can be at an average price of €2,500 / week in the UK, but you can own a full one in the Netherlands at a rate of €1,700 / month. In the Uk, It is advisable not to think of a luxurious life or a holiday if you are not on €50,000 wages.
The Netherlands is more affordable, on the other hand. If you earn well, It doesn't involve many tricks to live fine and comfortably. As a typical resident, you can go on several dates and take as many vacations as you want without fear of being penalized in another element of your life. Grocery is cheap, and health insurance doesn't cost havens. Personal transportation may be rather expensive to maintain, so it is advisable to get a bike or bicycle for most of the short trips.
Eu citizens: How difficult is it to move to the Netherlands?
Moving to the Netherlands is easier for EU citizens than for Non-EU citizens. An EU citizen can move and live in the Netherlands for up to 3 months without a visa or permit. Just a passport and verified ID is necessary. Staying longer than three months requires registering with the local residency registration area.
People: UK vs. the Netherlands
Many would argue that Nederlanders don't care, and the Brits are more accommodating to ex-pats. You will find this statement differently true because one-fifth of the Dutch population is foreign. Dutch love, and they are fair in dealing with all. Although Racism is common among the older generation, they sometimes consider racial abuse a joke. Competition is less, compared to in the UK, where everyone wants to lead.
The British are most formal in their dealings, and they are careful of word choices. It is easy to feel like you belong amongst them because you do not need more than English to interact. Both people have fantastic nightlife, and you must be part of it to get along the most in the Netherlands.
Move to the Netherlands: Pros and Cons
We can list a thousand advantages of moving to the Netherlands but struggle to list any disadvantages. Based on personal objectives, you might find some of the elements of living in the Netherlands harsh, but here is the outline of the general ones.
Pros:
The Netherlands is one of the world's safest places to live.
In terms of transport safety, it is well organized.
There are not many cars, so roads are mostly free from accidents.
The country enjoys low crime rates.
English is not a secondary language. Although Dutch is being protected as its native language, the Netherlands speaks better English than any other non-native-speaking country. The working model, road signs, and texts are presented in English and Dutch, so it won't be difficult for ex-pats to get along.
Things are relatively affordable in the Netherlands, and shopping is like breathing.
Cons:
Because of their low lands, they have fewer opportunities for sports.
The weather in the Netherlands might be too cold for someone who's not familiar with cold living, but the Brits can't complain because they have it worse
Housing is difficult to obtain, and the available ones may be outdated and need extensive remodeling.
Healthcare in the two countries
For an ex-pat from the UK, the health system in the Netherlands is not free and is of lesser quality. This is because private health care has more control over the state-funded health service. Every citizen and international is mandated to have primary health insurance, and the first point of contact for health services is family care.
The density of doctors per 1000 citizens is higher in the Netherlands (3.83 doctors per 1000 citizens) than in the Uk (2.8 doctors per 1000 citizens), but both are doing great in sufficiency. When comparing the National Health Service (NHS) in the United Kingdom to primary health insurance (gezondheidszorg) in the Netherlands, the choice between private and public healthcare is more common in the Netherlands than in the United Kingdom. Both countries receive what they pay for, and being admitted to any of the hospitals may feel like being in a hotel.
Moving to the Netherlands to work
Both the Netherlands and the UK keep a diverse economic structure which makes them central hubs for many industries of the world to thrive.
If looking to work, the job market is massive in the Netherlands, and it is less competitive than in the UK. You can easily find work in finance, engineering, manufacturing, distribution, travel, electronics, advertisement, healthcare, property, and transportation. The work schedule is excellent, and there is plenty of time for recreation, especially on weekends and public holidays.
Obtaining a desired job is also not a difficult task. All you need to do is make the internet your buddy and have good networking knowledge. You might need to rewrite your CV in English and Dutch to make it easier. It is not a rocky road to get there. All you need to do is invest hard work for the perfect fit.
Tax implications: Differences between the UK and the Netherlands
The Nederlanders pay lesser tax (37% for earnings between €0 to €74 000) than the UK (40% for higher wages up to €53 000). As an ex-pat moving from the UK to the Netherlands, it is best to adopt strategies to avoid double taxing your income to the UK and the Netherlands' Government. It is no longer a significant issue since there is a double-taxation agreement between the two countries that took effect on the 25th of December 2010.
With that, UK citizens residing or having business in the Netherlands are only obliged to pay their taxes to the resident country. Skilled employees can also enjoy the 30% ruling, which exempts 30% of their earnings from being taxed in the Netherlands.
Why move to the Netherlands?
The Netherlands has a high quality of life and a sound welfare system. There is an excellent standard of work, healthcare, education, child-family support, and a retirement system that makes it record over 6 million tourists yearly.
The Netherlands is the world's Tulip center – about 80% of the world's bulbs. Because of the floral splendor, spring attracts more tourists, and you will see them more in Amsterdam and Tulip regions like Kuekenkof and Bollenstreak. April is an excellent month to visit for a flower view, and you won't have to travel far to enjoy the feeling.
Moving to the Netherlands as a pensioner
Only a few have changed for pensioners moving from the UK to the Netherlands after Brexit. Primarily, retirees are to prove their pension as a sustainable source of income before being granted a retirement residency permit. That is, it can cater for the health insurance and retirement tax. You have up to 3 months of free stay to complete the registration process after moving to the Netherlands. If you are retiring with your partner, you must also provide your marriage certificate or other documents showing you have been living together.
Advice to move to the Netherlands
Adapting to a sudden change in lifestyle might be difficult, but time heals all wounds and makes it as if the change never occurred. Here are some helpful tips you could use:
Making friends and being social makes life more exciting.
Try to gain influence with the locals and avoid acting hostile to what is generally acceptable.
Attend parties and nightclubs if you can.
Maintain a healthy lifestyle.
It is more beautiful if you speak Dutch. Locals are also eager to teach anyone anxious to learn, and they value ex-pats who demonstrate an interest in their culture.
Nuances of moving to the Netherlands: Car re-registration
It's a good thing to own a car, but you'll have to deal with the nuance of luxury. Car re-registration, annual tax, much time in traffic, and more trouble looking for parking spaces are some of the issues you will have to deal with. If you can afford and drive a car, we dearly recommend it.
Ready for your move to the Netherlands?
We are optimistic that with what you have learned so far, you'll be more than ready to pack your bags and get prepared for the move. Moovick connects you with excellent movers and professional service providers; this is for tasks including moving from the UK to the Netherlands, handyman work, cleaning, painting, assembling, disassembly, junk removal, and various extra muscles around the home.
Based on projects, we have a variety of services to move to the Netherlands from the UK, and we allow for service choice selections to maximize cost. Connect now, and feel free to use all of Moovick's features to your benefit.