House cleaning is one of life's fundamental comforts. They make a house seem warm and inviting, plus they protect people you care about from infections, viruses, and bacteria. When you hire a cleaning service, you desire to confirm that everything you anticipate is fee covered. A house cleaning service will thoroughly tidy your property. When being in Germany just search "cleaning services near" me and you will get plenty of clean masters around you.
How It Works
Post task
Post your task details and description on our website or app
Get offers
Receive offers from nearby service providers in PDF format with booking link
Discuss
Use Moovick Messenger to discuss details and choose the best option based on ratings and reviews
Book
Book and get your task done effortlessly
Check out other home improvement services
Use Cases

Vinayak
Best service received
Delivery partner was very friendly and flexible. He was hard working and made sure that all assemblies are done correctly. I would recommend all to use Moovick for relocation service.
Relocation:
Service detail:
Home Move, furniture and boxes
Cost:

Shamsul
Moovick offers a very high standard of professional service
They completely hand hold you through out the process. Its like almost being with you in person. I was coordinated for my case by "Misha" and the communication was crisp and clear. Strongly recommend.
Relocation:
Service detail:
Home Move, furniture and boxes
Cost:

Geetika
I had a very comfortable and good experience
The customised delivery support was very prompt over WhatsApp (communication in English which was super helpful). I was able to arrange a very last minute delivery of something I found on Ebay (for a sunday morning). The driver was also very helpful and went the extra mile helping with things that weren't necessarily a part of the service. Highly recommended to try this!
Relocation:
Service detail:
Furniture pickup & Assembly
Cost:

Claudia
Excellent experience
I sent the WhatsApp well after 'after hours' and Misha from Moovick support was extremely efficient and helpful. This was a last minute booking from our side as our confirmed moovers had to cancel and i was so pleasantly surprised that within minutes Misha had confirmed that Olek would be available! Olek you guys were amazing thank you so much for being efficient and so friendly! Will definitely recommend and use this service next time.
Relocation:
Service detail:
Home Move, furniture and boxes
Cost:

Satish
Excellent support provided
They helped us decide the appropriate size of the transport vehicle based on the number of items. The transport vehicle was very good and also the driver was very helpful. A 10 out of 10 for everything. I would definitely recommend the service.
Relocation:
Service detail:
Home Move, furniture and boxes
Cost:

Patrick
The driver and helpers were very professional and quick in the entire process
The decisions for splitting and loading between two vehicles were made on the go and the assembly service was also good. Thanks to moovick for being in constant communication for support. Highly recommend the service.
Relocation:
Service detail:
Home Move, furniture and boxes
Cost:

Varun
The only reasons I am giving 5 stars
All in all, I have had a very smooth experience with LP support team, and would absolutely recommend the platform to anyone; ESPECIALLY, if you are new to the city, don't speak German and need support in English, or are on a budget with moving within the city. The price is very reasonable for the service offered, of course this might be quite dynamic considering your package, but we ultimately pay for the service and trust, I believe!
Relocation:
Service detail:
Furniture transport & Assembly
Cost:

Sharmin
I highly recommend this service for a reasonable price
Great customer support through WhatsApp even on holidays. Moovick helped me move from Munich to Hamburg very easily. The driver was very professional and punctual. To be honest, this is the best customer service I have experienced in Germany. 💯
Relocation:
Service detail:
Home Move, furniture and boxes
Cost:

Laura
Excellent service!
Kamran went above and beyond! He understood exactly what I needed. Communication was always quick and smooth. I am very picky with the services I receive and he exceeded my expectations! Thank you, Kamran!
Home improvement:
Service detail:
Cost:
House Cleaning Services
You may have regular or thorough cleanings from a house cleaning service to keep your property gleaming. They will arrange the furniture as well as clean up the bedrooms. Toilets, mirrors, bathtubs, flooring are all part of the bathroom cleaning. Cleaning the kitchen includes washing the surfaces of appliances and inside the microwave, countertops, cabinets, and sinks.
Experienced house cleaning services might differ depending on your requirements and the services provided by the firm. You might ask a cleaning service to focus on the kitchen rather than living room. You can ask whether they will clean windows, wash dishes, take out the rubbish and recyclables, but they may not. Some services may concentrate primarily on floors or hard surfaces. Wherever you are, if you need this kind cleaning service simply google "house cleaning services near me" and you will definitely find what you are looking for. There are many general cleaning services that can help you out at any time.
Local Cleaning Services
Although hiring a cleaning service in Berlin is customary, locating such help is a different story. There are no formal "Domestic Services" businesses or reference networks. Finding someone is as simple as word of mouth or going out and looking for them yourself.
An advertisement in your local neighborhood newspaper or on community notice boards at supermarkets is the greatest approach to discover domestic cleaning service.
Costs can range from €7 to €15 per hour, depending on where you reside. Payment is made on an hourly basis, find out what the going rate is in your area. Payment is normally made at the end of the month; however, this must be agreed on an individual basis. On the other hand, local cleaning services in Munich are a bit more expensive, prices are around €18 - €24. While local cleaning services in Frankfurt start at €17.
All these three locations listed above are pretty same in terms of work and almost very close in price. Here is a general cleaning service price list in Germany.
Basic cleaning - €15 - $28
Includes: 2 hours of cleaning the kitchen, bathroom, bedroom, balcony, living room, dusting, ironing.
Deep cleaning - €42
Includes: 2 hours of cleaning the kitchen, bathroom, bedroom, balcony, living room, dusting, ironing, mold removal, after builder cleaning services, oven cleaning, fridge cleaning, laundry, carpet cleaning service, window cleaning, steam cleaning, cleaning solvents, vacuum cleaner and mop.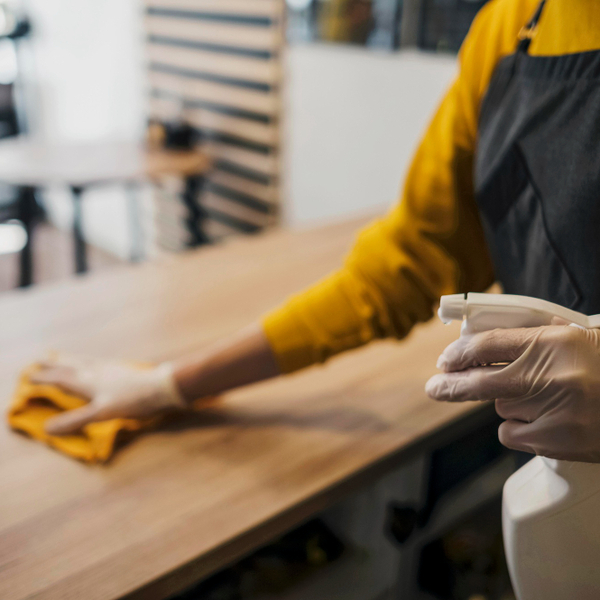 Business and Office Cleaning Services
People nowadays have less time to spare, and their activities are growing busier. This is especially true in the workplace, where no one has time to clean or maintain the office. Offices should be clean and tidy so that your staff may focus on their task without being distracted.
A tidy workplace may put your employees at rest and give them confidence when they return. Discover how an office cleaning service may help your company guarantee that every employee feels at ease as you welcome them back. Here are the main tasks a commercial cleaning service should do in an office.
Wiping desks and surfaces
Emptying bins
Moping
Vacuuming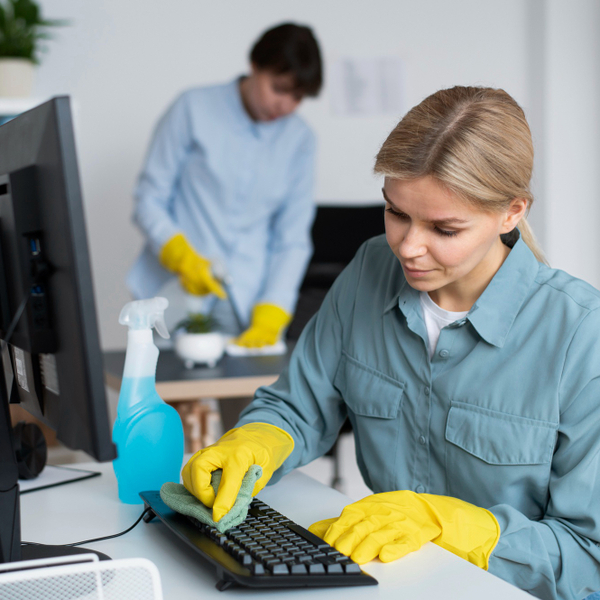 Why choose us?
Experience is the key of success and that's what our service providers have in abundance
50+
cities across


After Builders Cleaning Service
Every building or restoration site requires a builders' clean after the final touches are completed and before the owners arrive. A clean master ensures that the building is in good condition and that all debris has been cleared during a builders' cleaning. Cleanup professionals that specialize in building sites might find employment in commercial, industrial, and residential environments. Before providing a pricing estimate or proposal, cleaning masters will normally consider a number of factors.
The complexity of the job
The size of the building
The place where needs to be cleaned
When hiring a professional, seek many quotations from different companies to find the best pricing for your needs. Another thing to keep in mind is to ensure that the cleaning professional is licensed, bonded, and insured.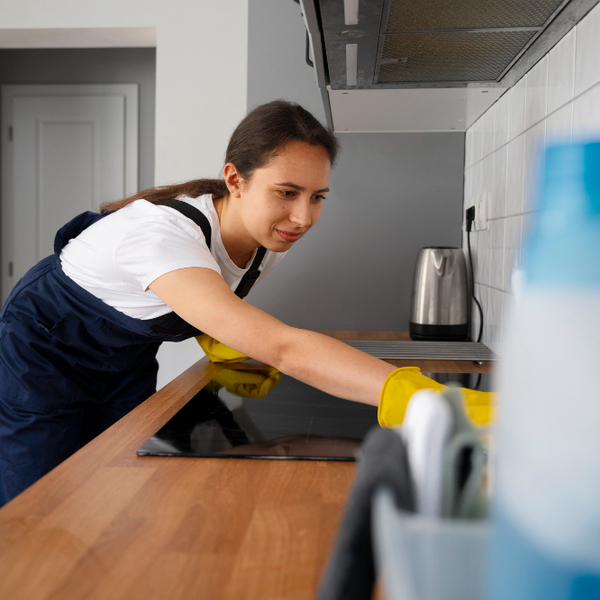 Carpet Cleaning Service
As an owner, you want your carpets cleaned for health, cosmetics, or both reasons! Actually, there are several reasons why it is critical to keep your carpets clean in your house, but the actual question is whether it is worthwhile to get your carpets professionally cleaned.
The truly noxious material is concealed deep inside the pile, closer to the backing; this is especially true with high pile and high-density carpets. So, let's look at the necessity of cleaning your carpets and why simply vacuuming them isn't enough for a good deep clean.
What you will get after a deep carpet cleaning:
Healthier Environment
Removed Stubborn Stains
Long Lasting Carpet
New Look
NO Bad smell
The average cost of carpet cleaning starts from $75 to $160, depending on whether it is cotton, wool, Berber, cut and level loop.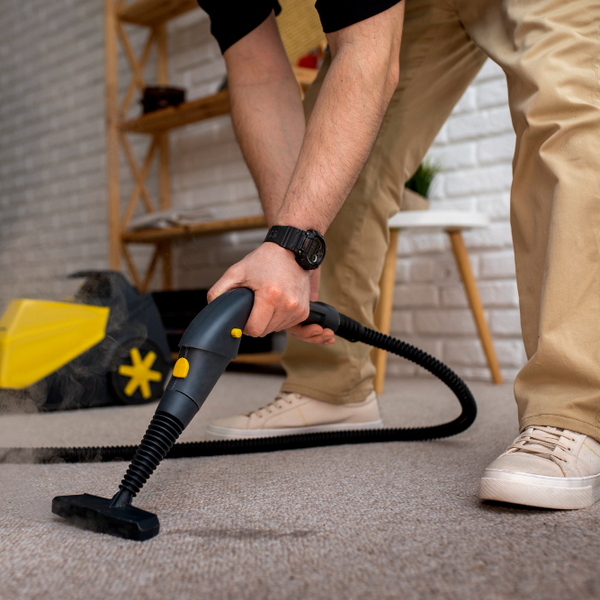 Patio Cleaning Services Near Me
Patio cleaning is hands-down the most efficient and successful method of cleaning all sorts of patios composed of natural and man-made stone. When cleaning a patio, using too much pressure might easily create unwanted harm. High-pressure jet cleaning commonly causes indentations or surrounding points to be broken or knocked out of position. Patio steam cleaning employs a careful balance of super-heated water and pretty low pressure.
Depending on the size of the patio, small, medium or large, the price of cleaning starts from $180 to $480. After cleaning you will get a fresh look, safer (underfoot slippery), removed weeds and better condition. When searching patio cleaning services near me in Berlin, Munich or Frankfurt, you can find out too many high-quality clean masters such as Mr. Perfect, Batmaid, Spic and Span, Handyman 4U and many others.
Commercial Residential Cleaning
When we think of business, we usually think of a step up from residential. A business refrigerator can hold more than a home refrigerator, while a commercial range can cook more efficiently than a household one. When it comes to the distinctions between commercial and residential, the phrases have various meanings.
A commercial cleaning service is more for the items you'll come across in business. Commercial cleaning might include commercial garbage removal, hazardous waste cleanup, or heavy cleaning. Those who require a domestic service should use one rather than assuming that a commercial one would provide deeper or better cleanliness.
Plumbing is one of the most critical areas of maintenance for a business property owner to handle. Drains can clog, overflow, or leak if commercial drains and plumbing are not cleaned and maintained on a regular basis, generating devastating plumbing problems for your business property. To address this, you should clean your business drains on a frequent and thorough basis. Cleaning out drains around twice a year is the best way to guarantee that a business property's plumbing and drain systems are adequately cleaned.
Residential cleaning focuses on objects around the house, such as floors, bedrooms, and bathrooms. A house cleaning service will be far more meticulous and thorough. Furthermore, the quality of cleaning can vary greatly from one house cleaner to the next, with obsolete technology and a lack of training having a significant impact on the level of cleaning that a domestic cleaner will perform.