Moving from
Germany to Greece
How It Works
Post task
Post your task details and description on our website or app
Get offers
Receive offers from nearby service providers in PDF format with booking link
Discuss
Use Moovick Messenger to discuss details and choose the best option based on ratings and reviews
Book
Book and get your task done effortlessly
Moovick is an all-in-one platform that provides clients with on-demand, professional Service Providers for moves and home renovation jobs in real-time for their day-to-day needs.
Car (Taxi / Combo)
Perfect for small boxes, airport pick ups and luggage transfer.
Van (7-17 m3)
Great for moving studio or one bedroom apartments with basic furniture items and boxes.
3.5T Truck (20-24 m3)
Best for 1-2 bedroom apartments, small homes moves and commercials goods.
7.5T (+) Trucks
Best for 2 to 3 room apartments and upto 10 standard size pallets
Select your moving package
All packages includes Driver, Vehicle, fuel and taxes
Economy
For Individuals looking to get tasks done affordably
Android and iOS App for posting your task
Access to 1700+ reviewed and verified Service Providers
Limitless Chats & Negotiations
Book Now Pay Later option
Moovick Support in selecting professionals
Premium
For Premium Individuals & Businesses
Book on-the-go with a 3-minute booking process
Work only with Moovick assigned Premium Movers with 4,7/5,0 or higher ratings
Moovick's personalized premium dashboard
Live Tracking of your goods
Moovick's premium support throughout the task
Comprehensive insurance
Multiple free reschedulings
Possibility to directly invoice your employer / job centre through Moovick
Packing Material (on request)
Business
For SME Business Entities
All in Premium
Dedicated Account Manager to understand your personalized needs
Customized Transport Solutions with LTL and pooled cargos
Personalized route optimization to ensure maximum savings
Discounted rates for recurring orders
Storage Facility (on request)
Contact us
Use Cases

Vinayak
Best service received
Delivery partner was very friendly and flexible. He was hard working and made sure that all assemblies are done correctly. I would recommend all to use Moovick for relocation service.
Relocation:
Service detail:
Home Move, furniture and boxes
Cost:

Shamsul
Moovick offers a very high standard of professional service
They completely hand hold you through out the process. Its like almost being with you in person. I was coordinated for my case by "Misha" and the communication was crisp and clear. Strongly recommend.
Relocation:
Service detail:
Home Move, furniture and boxes
Cost:

Geetika
I had a very comfortable and good experience
The customised delivery support was very prompt over WhatsApp (communication in English which was super helpful). I was able to arrange a very last minute delivery of something I found on Ebay (for a sunday morning). The driver was also very helpful and went the extra mile helping with things that weren't necessarily a part of the service. Highly recommended to try this!
Relocation:
Service detail:
Furniture pickup & Assembly
Cost:

Claudia
Excellent experience
I sent the WhatsApp well after 'after hours' and Misha from Moovick support was extremely efficient and helpful. This was a last minute booking from our side as our confirmed moovers had to cancel and i was so pleasantly surprised that within minutes Misha had confirmed that Olek would be available! Olek you guys were amazing thank you so much for being efficient and so friendly! Will definitely recommend and use this service next time.
Relocation:
Service detail:
Home Move, furniture and boxes
Cost:

Satish
Excellent support provided
They helped us decide the appropriate size of the transport vehicle based on the number of items. The transport vehicle was very good and also the driver was very helpful. A 10 out of 10 for everything. I would definitely recommend the service.
Relocation:
Service detail:
Home Move, furniture and boxes
Cost:

Patrick
The driver and helpers were very professional and quick in the entire process
The decisions for splitting and loading between two vehicles were made on the go and the assembly service was also good. Thanks to moovick for being in constant communication for support. Highly recommend the service.
Relocation:
Service detail:
Home Move, furniture and boxes
Cost:

Varun
The only reasons I am giving 5 stars
All in all, I have had a very smooth experience with LP support team, and would absolutely recommend the platform to anyone; ESPECIALLY, if you are new to the city, don't speak German and need support in English, or are on a budget with moving within the city. The price is very reasonable for the service offered, of course this might be quite dynamic considering your package, but we ultimately pay for the service and trust, I believe!
Relocation:
Service detail:
Furniture transport & Assembly
Cost:

Sharmin
I highly recommend this service for a reasonable price
Great customer support through WhatsApp even on holidays. Moovick helped me move from Munich to Hamburg very easily. The driver was very professional and punctual. To be honest, this is the best customer service I have experienced in Germany. 💯
Relocation:
Service detail:
Home Move, furniture and boxes
Cost:

Laura
Excellent service!
Kamran went above and beyond! He understood exactly what I needed. Communication was always quick and smooth. I am very picky with the services I receive and he exceeded my expectations! Thank you, Kamran!
Home improvement:
Service detail:
Cost:
Things to know before moving to Greece
Moving to Greece - the right decision? While it is true that there is some historical rivalry between Germany and Greece, everyone has a different perception of life. Living in a foreign country is not a fixed picture for everyone, it depends on our tastes, lifestyles and everything that influences our daily lives. We each value some aspects over others and what is important to me may not be important to my neighbour.
Whether you decide to move to Greece or not, it's good to know some basic facts about the country. Greece is a country in southern Europe and the Balkans with the capital Athens and an area of 131,990 square kilometres. It is strategically located at the crossroads of Europe, Asia and Africa. The Aegean Sea lies to the east of the mainland, the Ionian Sea to the west, and the Mediterranean Sea to the south. Greece has the longest coastline in the Mediterranean basin and the 11th longest coastline in the world.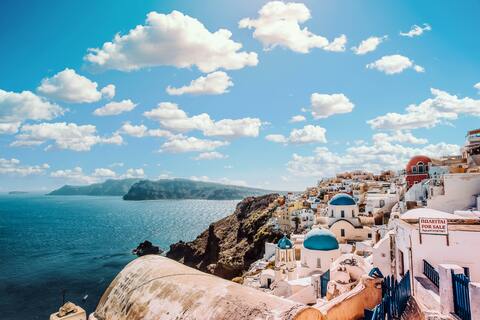 FAQs
Difference between living in Germany vs Greece
Although Greece has been an exemplar in recovering from the economic, health and migration crises of the last decade, there has been a strong rivalry with Germany since World War II that was exacerbated by the difference of opinion in the management of the 2015 financial crisis. The great paradox, however, is that no culture in the immediate past has been as inspired by and directed towards the Hellenic as the German one.
However, the differences in the way of life of the two countries are abysmal. Greece is marked by a Mediterranean character that is totally different from the Germanic character of Germany. From the cuisine and climate to art, music and culture. There is no similarity between the two countries. Moving to Greece from Germany would be a radical change of life.
Peoples: Germany vs Greece
Greece is home to around 10.64 million people and 11.3% of the population are foreigners. This contrasts with the population of Germany, which is around 83.2 million, with 25% immigrants.
In terms of character, Greeks are a friendly and welcoming people. They have a positive and relaxed attitude towards all conflicts they encounter and are very tolerant towards religion, sexuality, political orientation... even corrupt politicians, of which there are many in Greece!
They are also talkative and warm in general, with a harmonious and peaceful lifestyle and a stress-free approach to life. When you go to a restaurant, it's almost as if you were a guest in someone's home. Greeks love to party, smoke, drink coffee and play backgammon while sitting in bars for hours on end. There are few places in the world with such a relaxed atmosphere and pace of life as Greece.
In contrast, Germans are known for their serious and formal character. They place great value on punctuality and honesty! So they would be tougher on corruption in any field.
Cost of living in Greece compared to Germany
The cost of living in Greece is estimated to be 20-30% lower than in most European countries, including Germany. It can even be cheaper in rural areas. Of course, the capital Athens and other large tourist cities such as Santorini and Crete are more expensive.
For example, if we compare the cost of renting a house, a two-bedroom flat in the city centre in Greece might cost €600, while in Germany it would cost more than €1,500.
Everyday things like a hairdressing session can be up to 38% cheaper in Greece - you would pay €13 for a haircut, while a German hairdresser would charge €21. Public transport fares and food are also cheaper in Greece. You can take a month's bus ride for €30 or have a full meal in a restaurant for €14.
EU citizen: How difficult is it to move to the Greece
The requirements for an international moving to Greece are more demanding. Depending on the country you come from, you will need one type of visa or another. But Europeans who want to live and work in Greece can do so freely, but only for a maximum of 90 days.
If you wish to stay in Greece for a longer period, you will have to register with the relevant Greek administration (foreigners' office or the police) and apply for a registration certificate. For this you will need to bring your passport (valid, of course) and a certificate proving your income. A proof of employment from a company, a proof of self-employment, a certificate of education or proof that you have the necessary resources to live in the country without the help of others. This registration certificate is valid indefinitely and is usually issued immediately.
Move to the Greece: pros and cons
Before you book your Greece moving, here is a quick list of the positive and negative aspects of living in this Mediterranean country:
Pros
Greeks are very attentive, cheerful and helpful people
Integration will be very easy
Landscapes are beautiful and it is a country full of ancient monuments
The Mediterranean climate is excellent
So is the diet, full of fresh local produce
Cost of living is very low but the quality of life is high!
Cons
Still trying to recover, the economic situation is unstable
Not easy to find a well-paid job
Greeks drive very badly, not respecting the rules of the road, so traffic is chaotic
Excessive bureaucracy, which is also a chaos
High level of corruption
Healthcare in 2 countries: what is the contrast
The Greek national health system is managed by Idryma Kinonikon Asfalisseon (IKA). The public health service is free for Greek citizens and regular migrant workers, although it is not among the best rated because of long waiting times. Many people therefore take out supplementary private health insurance.
To access the public health service in Greece you must be in full-time employment for at least three months and then apply for it, which is not always 'straightforward', so although emergency services are free at any of the hospitals, it's difficult to find a doctor to prescribe complicated medication if you don't have your medical records with you. Bringing your European Health Insurance Card with you will make life easier for the first six months, whether or not you find a job in Athens. There is also very competent insurance for expatriates.
In Germany the healthcare system is admired for the reputation of the hospitals and clinics, but the differences between private and statutory insurance generate a lot of criticism, and it is even compulsory for citizens to have health insurance. Even people who are not natives of the country, but who will spend some time there, must buy travel insurance. This obligation is decisive in the approval of visas and permits. Without the document valid in Germany, you will be denied a visa.
Private health insurance in Germany can only be taken out by people who receive a gross annual amount of more than 60,750 euros. The "public" (state) system is financed by a fund that accumulates contributions made by employers and employees.
Moving to Greece for work
As you have already read in the list of cons for living in Greece, although the economy is recovering, finding a job is very difficult. Those who have jobs are lucky even though wages are low. Many Greeks earn between €600 and €800 a month, but manage to get by because they live with their parents or share a house. It is also true that Greece is the European country with the longest working hours, with an average of 671 hours more per year, compared to Germany, which is the country with the shortest working hours (and the most productive) in the European Union. Only civil servants are still well paid and underworked.
Still, there are some job opportunities in certain sectors that are looking for qualified personnel. Traditionally, the Greek economy was based on agriculture, until the 1960s, when a major effort was made to industrialise the country in order to be admitted to the European Community. The Greek economy is currently divided as follows:
Services sector: employs 65.2% of the employed population and contributes 73.1% to GDP. Tourism and the decisive weight of the merchant fleet, which is the largest in the world, stand out in this sector.
Industry: employs 22.4% of the employed population and contributes 23.4% of GDP and accounts for more than 50% of the country's exports.
Agriculture and fisheries: The primary sector accounts for 3.5% of GDP. Agriculture-based products employ 12.4% of the labour force and account for a higher share of exports than in any other EU country, around 25%. Greece is the third largest producer of olive oil in the world.
Or, given the steady increase in tourism, you can set up your own business in this sector. If you need to relocate business to Greece - you can choose our platform Moovick for business.
If you plan to stay in Greece in search of work, you must first obtain your social security number, AMKA, and then, within 90 days, obtain your registration certificate or residence certificate from the nearest police station or Immigration office.
Tax implications: different between Germany and Greece
The Greek tax structure is mainly composed, as far as direct taxes are concerned, of personal income tax and corporate income tax.
Personal income tax is levied on income earned by residents in Greece, as well as on income earned in Greece by non-residents. It is a tax characterised by its progressive nature. It consists of four brackets, with tax rates ranging from 15% to 40%. The second applies to all companies registered in Greece. Foreign companies are taxed on their net income earned in Greece.
The main indirect tax is Value Added Tax, the general rate of which is 18%, with reduced rates of 8% and 4%. Other taxes are: Capital Gains Tax, Inheritance and Gift Tax, Boat Tax and Vehicle Registration Tax.
Why move to Greece?
Despite the disadvantages of living in the country, there are many reasons to move from Germany to Greece, starting with the food! Everyone knows that the Mediterranean is a great place to eat, with a wide variety of tasty fruits and fresh vegetables. In Greece you can eat healthier and more balanced food without losing taste and at a cheaper price than in Germany.
And you can fill your shopping trolley at any time, as many places are open 24 hours a day. Unlike other supermarkets and shops in Europe, which close their doors at 10 or 11 o'clock at night.
Another of the main reasons to moving is the climate. The climate is really pleasant. Many hours of sunshine are combined with a temperate climate. Although the climate is mild and mostly sunny, winters can be cold and wet, while in summer the heat is mitigated by cool breezes from the sea, as well as in spring and autumn.
In Greece you can enjoy the summer like never before, as well as its warm temperatures and sunny days, it has some of the best beaches on the entire European continent. Unspoilt beaches with white sand and crystal clear water in places you would never have imagined.
But perhaps the most important thing is to experience living in a country that is the cradle of one of the oldest and most important cultures and that has gone through so many historical eras. Here you can find immense Greek temples alongside Byzantine churches or buildings constructed under the Ottoman occupation.
Quality of live in Greece
To all the reasons we have given you above that make Greece a country with a good quality of life, we can add that its education system is free, both schools and universities.
And like education, you know that many other basic services are public and free. So, even if average salaries are a bit low, you need little to live and you can live very well!
Moving to the Greece as a pensioner
Without a doubt, Greece is a paradise for retirees. Retirement is known as the 'golden age' because it should be the period when pensioners enjoy a relaxed life of leisure. And it is precisely the Greek islands that are enchanting and offer everything for those seeking a relaxed lifestyle.
With an average monthly pension of around €1,200, a German can live comfortably in Greece and enjoy a few luxuries. In addition, a few years ago the Greek government stipulated that foreign pensioners would pay no taxes for 10 years. This measure benefits from the inflow of capital and revitalises the Greek villages, which are plagued by rural exodus, as well as the islands where the presence of tourists during the winter is very low.
Advices to move to Greece
Best advice: Take it easy on Greek bureaucracy. Bureaucracy remains, and always has been, a major problem in Greece. You may need 10 documents, signatures and stamps to get simple things done. So before, for example, moving to Athens (Greece) prepare a small folder with all your ID numbers, an invoice proving your residency and a photocopy of your proof of income from the tax office. Always carry several copies of everything with you because the administrative systems of the different places are not computerised.
Chaotic bureaucracy will be a problem, for example, when renting or buying a property. Make sure the contract is legal, as the Greeks are notorious for their tax evasion. Rental contracts are for a minimum of 3 years and the landlord is obliged to renew it if there are no major reasons to return the flat.
You should know that here it is normal for the tenant to take care of repairs and that the houses do not have home insurance because it is not necessary to rent them. So remember to ask about the state of the plumbing, electricity and other parts of the house and make sure that the contract also states that the house is fit for habitation.
Also make sure that the landlord is going to declare the rent to the tax authorities. There is a lot of help, and for the tax return (which is compulsory after 187 days living in Greece) it is necessary.
It would also be a good idea to open a bank account. You can do this even before you migrate, by going to a branch of a Greek bank in your city. The only requirement is that you must be over 18 years of age. Unlike other nations, Greece offers expatriates current, debit and savings cards.
Nuances of moving to Greece: car re-registration
In Greece, a car with a foreign number plate can only be driven by nationals who can prove that it is a vehicle belonging to a company established abroad. In fact, the authorities are very vigilant to detect vehicles with illegal foreign number plates in the fight against tax evasion, as many citizens use this trick to avoid paying road taxes.
To register your car in Greece you will have to follow the usual procedure in most European countries. Present the documentation:
Roadworthiness certificate
Certificate of registration
Proof of ownership of the vehicle
Proof of payment of VAT (value added tax)
Proof of insurance
Certificate of conformity for new vehicles
Ready for your move to Greece?
For lovers of history, art and culture, living in Greece is like living in a paradise on earth. Difficulty in finding work, long working hours, low wages, constantly increasing taxes and social security contributions might make you think that moving to Greece is madness, in fact, life in Greece is not as bad as you might think.
It is certainly not as easy as in the pre-crisis period, but if you already find a job from your home country or if you intend to movers to Greece as a small business owner, the country might hold some satisfactions in store.
Those who dare to move and move furniture to Greece will be greeted by some of the friendliest people in the world, a relatively low cost of living, warm weather almost all year round, incredible history and heritage, and some of the best food in the entire Mediterranean region.
If your dream is a stress-free life immersed in the atmosphere of this country that was the cradle of Europe, Greece is the destination that could be right for you.