Moving from
Germany to Switzerland
How It Works
Post task
Post your task details and description on our website or app
Get offers
Receive offers from nearby service providers in PDF format with booking link
Discuss
Use Moovick Messenger to discuss details and choose the best option based on ratings and reviews
Book
Book and get your task done effortlessly
Moovick is an all-in-one platform that provides clients with on-demand, professional Service Providers for moves and home renovation jobs in real-time for their day-to-day needs.
Car (Taxi / Combo)
Perfect for small boxes, airport pick ups and luggage transfer.
Van (7-17 m3)
Great for moving studio or one bedroom apartments with basic furniture items and boxes.
3.5T Truck (20-24 m3)
Best for 1-2 bedroom apartments, small homes moves and commercials goods.
7.5T (+) Trucks
Best for 2 to 3 room apartments and upto 10 standard size pallets
Select your moving package
All packages includes Driver, Vehicle, fuel and taxes
Economy
For Individuals looking to get tasks done affordably
Android and iOS App for posting your task
Access to 1700+ reviewed and verified Service Providers
Limitless Chats & Negotiations
Book Now Pay Later option
Moovick Support in selecting professionals
Premium
For Premium Individuals & Businesses
Book on-the-go with a 3-minute booking process
Work only with Moovick assigned Premium Movers with 4,7/5,0 or higher ratings
Moovick's personalized premium dashboard
Live Tracking of your goods
Moovick's premium support throughout the task
Comprehensive insurance
Multiple free reschedulings
Possibility to directly invoice your employer / job centre through Moovick
Packing Material (on request)
Business
For SME Business Entities
All in Premium
Dedicated Account Manager to understand your personalized needs
Customized Transport Solutions with LTL and pooled cargos
Personalized route optimization to ensure maximum savings
Discounted rates for recurring orders
Storage Facility (on request)
Contact us
Use Cases

Vinayak
Best service received
Delivery partner was very friendly and flexible. He was hard working and made sure that all assemblies are done correctly. I would recommend all to use Moovick for relocation service.
Relocation:
Service detail:
Home Move, furniture and boxes
Cost:

Shamsul
Moovick offers a very high standard of professional service
They completely hand hold you through out the process. Its like almost being with you in person. I was coordinated for my case by "Misha" and the communication was crisp and clear. Strongly recommend.
Relocation:
Service detail:
Home Move, furniture and boxes
Cost:

Geetika
I had a very comfortable and good experience
The customised delivery support was very prompt over WhatsApp (communication in English which was super helpful). I was able to arrange a very last minute delivery of something I found on Ebay (for a sunday morning). The driver was also very helpful and went the extra mile helping with things that weren't necessarily a part of the service. Highly recommended to try this!
Relocation:
Service detail:
Furniture pickup & Assembly
Cost:

Claudia
Excellent experience
I sent the WhatsApp well after 'after hours' and Misha from Moovick support was extremely efficient and helpful. This was a last minute booking from our side as our confirmed moovers had to cancel and i was so pleasantly surprised that within minutes Misha had confirmed that Olek would be available! Olek you guys were amazing thank you so much for being efficient and so friendly! Will definitely recommend and use this service next time.
Relocation:
Service detail:
Home Move, furniture and boxes
Cost:

Satish
Excellent support provided
They helped us decide the appropriate size of the transport vehicle based on the number of items. The transport vehicle was very good and also the driver was very helpful. A 10 out of 10 for everything. I would definitely recommend the service.
Relocation:
Service detail:
Home Move, furniture and boxes
Cost:

Patrick
The driver and helpers were very professional and quick in the entire process
The decisions for splitting and loading between two vehicles were made on the go and the assembly service was also good. Thanks to moovick for being in constant communication for support. Highly recommend the service.
Relocation:
Service detail:
Home Move, furniture and boxes
Cost:

Varun
The only reasons I am giving 5 stars
All in all, I have had a very smooth experience with LP support team, and would absolutely recommend the platform to anyone; ESPECIALLY, if you are new to the city, don't speak German and need support in English, or are on a budget with moving within the city. The price is very reasonable for the service offered, of course this might be quite dynamic considering your package, but we ultimately pay for the service and trust, I believe!
Relocation:
Service detail:
Furniture transport & Assembly
Cost:

Sharmin
I highly recommend this service for a reasonable price
Great customer support through WhatsApp even on holidays. Moovick helped me move from Munich to Hamburg very easily. The driver was very professional and punctual. To be honest, this is the best customer service I have experienced in Germany. 💯
Relocation:
Service detail:
Home Move, furniture and boxes
Cost:

Laura
Excellent service!
Kamran went above and beyond! He understood exactly what I needed. Communication was always quick and smooth. I am very picky with the services I receive and he exceeded my expectations! Thank you, Kamran!
Home improvement:
Service detail:
Cost:
Things to know before moving to Switzerland
Switzerland is one of Europe's most stunning geographical locations in Europe. Not only that, but the quality of life in Swiss is one of the highest in the world. If you're considering how to move to Switzerland you are not alone. The Swiss Confederation is home to nearly 2.1 million of expats!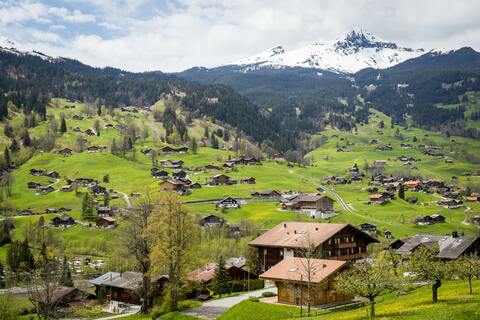 FAQs
Why move to Switzerland
Switzerland is a wonderful country with an extremely high standard of living. Swiss's economy is stable and unemployment is low. Combined with beautiful nature at your fingertips, general orderliness and cleanliness of the country, it's an attractive destination for expats.
Salaries in Switzerland are high, expected for a country with such a high standard. The leading industries with international companies residing in the Swiss Confederation are the banking, chemical industry, pharmaceuticals and construction industry. These industries are always looking for highly skilled workers, which provides plenty of opportunity for the move.
Differences between living in Germany and Switzerland
While Germany and the Swiss Confederation might be in part culturally close, there are some differences between these countries as well.
The main difference perhaps is that while Germany might be culturally quite homogenous, Switzerland notably isn't. The country has four official languages:
German
French
Italian
Romansh
Additionally, Swiss German is vastly different from High German, so chances are you'll have trouble understanding the Swiss even if you do speak German.
Most people who have lived in both countries report that the transport infrastructure works much better in Switzerland than in Germany. The German railways company, Deutsche Bahn, is notorious for long delays and cancellations so much so that it became a huge joke among Germans.
Like in Germany, the stores are closed on Sundays, but they take it to a whole another level. If you're planning on moving to Geneva, Switzerland, be advised that even important,
Quality of life in Switzerland
The quality of life in the Swiss is constantly among the highest in the world. The average household, for example, has a disposable income of 39,697 USD, which is way more than average.
About 89% of adults between ages 25 and 64 have completed upper secondary education. Additionally, life expectancy at birth in the Swiss is around 84 years, which means people live longer. That is to do with lower levels of air pollution and excellent quality of water. The Swiss are also an active nation, with many of them enjoying their world-famous ski slopes, hikes and cycling.
High employment level and an above average salary also contribute to a better work-life balance and subsequently a high general satisfaction with life, which the Swiss scored at 7.5 out of 10, which is higher than the average 6.7.
Cost of living in Switzerland compared to Germany
The cost of living in the Swiss is high. Switzerland is the 3rd most expensive country in the world and the most expensive country in Western Europe. The approximate monthly costs for a single person in the Swiss are about 4000€.
The average monthly rent for a furnished 85 m2 flat in an average area is 1500€, while the average rent for a furnished 85 m2 flat in an average area is 2668€.
The average monthly rent for furnished 45 m2 accommodation in an average area is 914€, while the rent for a furnished 45 m2 flat in an average area is 1322€.
A dinner with appetizers and wine at a nice Italian restaurant for two will cost you 115€ in Switz, but 55€ in Germany.
People in Germany and Switzerland
The Swiss and Germans are both known to be quite closed off and expats report they're having quite a hard time making friends.Swiss people especially are adaptable and polite, but it will take a while for them to warm up to you.
Swiss culture is polite, they say please and thank you and would rather take a while longer to make a polite request when a German would just be straightforward. This might make it a bit hard for a German citizen moving to Switzerland, but nothing you cannot get used to.
EU Citizen: How difficult is it to move to Switzerland
If you're wondering, can EU citizens move to Switzerland? The answer is yes. While the Swiss is not a member of the EU, it is a member of the EFTA. This means that any EU citizens wishing to move and work enjoy the right of free movement to seek gainful employment in Switzerland.
Moving to Switzerland as an EU citizen is about as easy as moving to another EU country. All you need to do is apply for the residence permit in the canton you're moving to and you are set to move.
Switzerland does however reserve to limit the immigration of nationals of a certain country, once the country's quota is filled. For example, Swiss is about to limit the issue of two types of residence permits for Croatian nationals, starting with January 1, 2023.
Move to Switzerland: Pros & Cons
Pros:
one of the happiest countries in the world
long life expectancy
high salaries
beautiful nature at your fingertips
central location in Europe
high education standard
extremely sustainable living and highly eco-friendly
There are of course some cons:
high cost of living
expensive dining options
fairly large gender pay gaps
rough housing market with a lot of competition and limited housing options, resulting in high prices
Swiss people are hard to make friends with
Healthcare in Germany and Switzerland
Switzerland has one of the best and most modern hospitals in Europe. The waitlists are short, access to medical care is universal and the hospitals and clinics are clean, not overcrowded and well-equipped.
Swiss healthcare relies heavily on the private sector. Basic health insurance is mandatory but not socialized. The private insurance companies are obliged to offer basic health insurance to everyone, regardless of age and medical history. The cantonal governments provide subsidies to hospitals while the federal government oversees the health industry, regulating premiums and medical costs.
Germany has a combined public-private healthcare system with universal healthcare. The general public opinion of German health insurance is good. The system is restriction-free and consumer-oriented, the access to specialists is generally good. The waiting lists for procedures aren't too long and in general, most are satisfied with it.
Health insurance in Switzerland
Health insurance in the Swiss is compulsory. All Swiss residents are required to take out medical insurance at birth or within three months of becoming a Swiss resident. The benefits provided by the basic health insurance are defined by law and are identical no matter your provider.
Along with basic health insurance, the per-capita premium principle applies, with states that everyone must pay premiums for health insurance. They're independent of your income but will vary according to age, gender, place of residence and insurance company.
One of the biggest parts the basic health insurance doesn't cover is dental insurance. Any dental works are only covered if damaged in an accident. Supplementary insurance packages also offer cover for ambulance costs, dental works, mental health.
Tax Implications: Differences between Germany and Switzerland
Income tax in Switzerland is quite a complicated ordeal. In general, taxes are levied on a federal, cantonal and municipal level. Every resident is liable for tax on their worldwide income or assets, except on income and wealth from foreign business or real estate and in examples of tax treaties.
Income tax is withheld as a payroll tax. The federal income tax rate varies between 0.77% and 11.5%. The cantonal tax rate varies by canton. Still, in comparison to the tax systems in other parts of Europe, personal income tax in the Swiss Confederation is low. Your taxes if you're moving to Zurich, Switzerland, will be different, than say in Geneva, Bern or Basel.
In comparison, German tax system operates on a progressive tax income, where similarly as in Switzerland, the tax rate increases with taxable income. The federal income tax starts at 14% and goes all the way to 45%. Most of the time, the tax will be withheld at payroll and is comprised of compulsory social security contributions, income tax, solidarity surcharge, benefits tax and church tax.
Germany also allows for a wide variety of deductions that can reduce your tax liability and allow you to claim tax credits. In general though, German tax rate is much higher than the Swiss.
Moving to Switzerland for work
If you're looking to move to Switzerland for work, you'll be pleased to know that this country is home to many international companies that are always looking for skilled workers.
If you're an EU/EFTA citizen, you can work in Switzerland without a work permit. You are able to be employed and obtain a residence permit, provided you can show the registration authority the required documents.The Swiss even allows entry to seek employment for up to 6 months, where in the first three months you're not required to have a permit, after that you'll need to secure a short-term EU/EFTA residence permit if you have the means to support yourself.
If you're not an EU/EFTA citizen, you need to be qualified in your field to work in Switzerland. Non-EU/EFTA nationals require a work permit for all types of employment, eg. short-term employment, self-employment and regular employment. In the case of regular employment, your employer must demonstrate that your employment is in the economic interest of Switzerland and provide you with the same working conditions and remuneration as they would if employing a Swiss national.
Moving to Switzerland as a pensioner
Switzerland has a very open policy for those wanting to move in retirement. Non-EU citizens wishing to retire to this country will have to apply for residency at their local Swiss consulate or embassy. They also must prove the following:
possession of adequate financial resources to support themselves in Switzerland
valid Swiss health insurance coverage and accident insurance
proof that they're not pursuing gainful employment any longer
a close connection to Switzerland: such as: frequent visits, family ties to the country, past residency, or ownership of real estate.
For EU/EFTA citizens, retiring to Switzerland is fairly simple. Mostly, you will have to apply for a non-working residence permit at the registration office of the local Swiss canton in 14 days of arrival. That's it!
Advice when moving to Switzerland
When you're deciding on relocating to Switzerland you should first do your research. Figure out where you want to live and go apartment hunting. Be prepared to move quick, the real estate market is competitive so you have to know what you want and be prepared to grab it when you find it.
Get ready to think in a different language. Switzerland is multilingual, so be ready for people to speak other languages.
Research your health insurance and arrange your visa, if you need one. Often, the company that's employing you will help you figure out the bureaucracy, but do your own research.
Figure out your financial situation and be ready to start to think in a different currency. Switzerland uses Swiss francs - CHF - so figure out what their value is in your local currency. Everything will likely be very expensive in comparison, but you'll get used to it.
Nuances of moving to Switzerland: car re-registration
Registering your car with Swiss authorities is mandatory when you're moving to Switzerland from EU. You register your vehicle in the canton you're based in by sending all the required documents to the traffic office. For example, if you're moving to Basel, Switzerland you cannot register your car in Zürich.
As an expat, you'll have to apply for a new Swiss license plate which will be your personal number plate. During registration, you will also need to take out car insurance, your car will also have to pass technical inspection.
If you're planning on importing your current car when moving to Switzerland, you have to declare it at customs and pay duty, if necessary. If you've owned your car for longer than 6 months before moving, you'll be able to import your car with your other personal belongings as part of household effects. In that case, you'll be able to avoid paying customs fees, vehicle duty, VAT and administrative charges on import.
In all cases, it's important you have all of your car's documentation with you during the move to Switzerland, because it will be necessary for re-registration in your home canton.
Ready to move to Switzerland?
Moving to the Swiss is relatively quick and easy, since you don't have to worry about work permits or visas. With Moovick, you can avoid all the stress of moving and packing by choosing us to move your personal belongings. We will be your moving company to Switzerland and can take care of loading and unloading and meet you wherever you need us to make the move as easy as possible.