Moving from
Germany to Netherlands
How It Works
Post task
Post your task details and description on our website or app
Get offers
Receive offers from nearby service providers in PDF format with booking link
Discuss
Use Moovick Messenger to discuss details and choose the best option based on ratings and reviews
Book
Book and get your task done effortlessly
Let`s calculate your move
Moovick is an all-in-one platform that provides clients with on-demand, professional Service Providers for moves and home renovation jobs in real-time for their day-to-day needs.
Car (Taxi / Combo)
Perfect for small boxes, airport pick ups and luggage transfer.
Van (7-17 m3)
Great for moving studio or one bedroom apartments with basic furniture items and boxes.
3.5T Truck (20-24 m3)
Best for 1-2 bedroom apartments, small homes moves and commercials goods.
Select your moving package
All packages includes Driver, Vehicle, fuel and taxes
Economy
Best for small moves, quick transport from point A to B with boxes and little or no furniture
Vehicle with driver
Loading - Unloading help
Email support
Premium
Best for short and long distance moves within city, country or across Europe, with or without furniture
All in Economy
Driver + helper (s)
Packing upon request
Disassembly & Assembly service
Assistance in search for movers and right van size
Dedicated support via WhatsApp
Business
Best for businesses, corporate employees, etc. looking for a comfort move
All in Economy & Premium
Free packing material
Dedicated move manager
Moving with only 5star reviewed movers
Free multiple rescheduling
Direct invoicing to client, employer or job centre possible
WhatsApp & Phone support
Use Cases

Vinayak
Best service received
Delivery partner was very friendly and flexible. He was hard working and made sure that all assemblies are done correctly. I would recommend all to use Moovick for relocation service.
Relocation:
Service detail:
Home Move, furniture and boxes
Cost:

Shamsul
Moovick offers a very high standard of professional service
They completely hand hold you through out the process. Its like almost being with you in person. I was coordinated for my case by "Misha" and the communication was crisp and clear. Strongly recommend.
Relocation:
Service detail:
Home Move, furniture and boxes
Cost:

Geetika
I had a very comfortable and good experience
The customised delivery support was very prompt over WhatsApp (communication in English which was super helpful). I was able to arrange a very last minute delivery of something I found on Ebay (for a sunday morning). The driver was also very helpful and went the extra mile helping with things that weren't necessarily a part of the service. Highly recommended to try this!
Relocation:
Service detail:
Furniture pickup & Assembly
Cost:

Claudia
Excellent experience
I sent the WhatsApp well after 'after hours' and Misha from Moovick support was extremely efficient and helpful. This was a last minute booking from our side as our confirmed moovers had to cancel and i was so pleasantly surprised that within minutes Misha had confirmed that Olek would be available! Olek you guys were amazing thank you so much for being efficient and so friendly! Will definitely recommend and use this service next time.
Relocation:
Service detail:
Home Move, furniture and boxes
Cost:

Satish
Excellent support provided
They helped us decide the appropriate size of the transport vehicle based on the number of items. The transport vehicle was very good and also the driver was very helpful. A 10 out of 10 for everything. I would definitely recommend the service.
Relocation:
Service detail:
Home Move, furniture and boxes
Cost:

Patrick
The driver and helpers were very professional and quick in the entire process
The decisions for splitting and loading between two vehicles were made on the go and the assembly service was also good. Thanks to moovick for being in constant communication for support. Highly recommend the service.
Relocation:
Service detail:
Home Move, furniture and boxes
Cost:

Varun
The only reasons I am giving 5 stars
All in all, I have had a very smooth experience with LP support team, and would absolutely recommend the platform to anyone; ESPECIALLY, if you are new to the city, don't speak German and need support in English, or are on a budget with moving within the city. The price is very reasonable for the service offered, of course this might be quite dynamic considering your package, but we ultimately pay for the service and trust, I believe!
Relocation:
Service detail:
Furniture transport & Assembly
Cost:

Sharmin
I highly recommend this service for a reasonable price
Great customer support through WhatsApp even on holidays. Moovick helped me move from Munich to Hamburg very easily. The driver was very professional and punctual. To be honest, this is the best customer service I have experienced in Germany. 💯
Relocation:
Service detail:
Home Move, furniture and boxes
Cost:

Laura
Excellent service!
Kamran went above and beyond! He understood exactly what I needed. Communication was always quick and smooth. I am very picky with the services I receive and he exceeded my expectations! Thank you, Kamran!
Home improvement:
Service detail:
Cost:
Things to know before moving to Netherlands
"The perfect destination doesn't exist." No! We didn't say that, and we are tired of hearing it because of the information we want to give you. Did you know every year, close to 300 000 people immigrate to the Netherlands? Not to show off with what you can easily google, but according to CBS Netherlands, Netherlands welcomed 252 528 immigrants into the country in 2021; this is 30 000 more than the previous year, 2020.
Interestingly, over 50% of these people are professionals from Europe and about 10% from the Americas. The Netherlands looks to be growing into one of the most popular countries for immigration, and we'd love to show you how to get into the Netherlands and what you get to enjoy and experience as an immigrant.
The Netherlands boasts exciting and wonderful business incentives, contributing to the influx of young professionals looking to kick start their careers.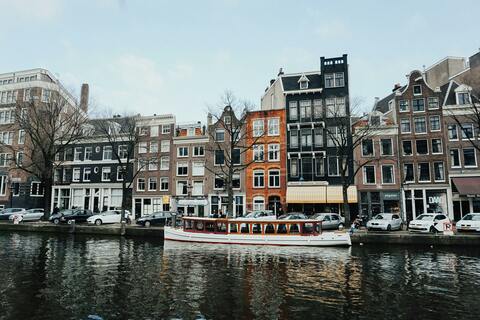 FAQs
Dutch vs German People
The Netherlands teaches in English despite the country not being an English-speaking country. It boasts of inclusion and hospitality; the Dutch are friendly.
They are one of the happiest people and they maintain one of the safest countries in the world.
Dutch, in comparison to German people, are more flexible, opened and often are early tech-adopters.
Is Germany Cheaper than Netherlands?
You might wonder, "what's the buzz about moving to the Netherlands?" the answer is the country's cost of living. When you move to the Netherlands, you begin living a high standard-life with some of the things you have dreamt about.
However, this comes at a price; the cost of living is slightly higher than in Germany; this is the only difference with living in Germany. What compensates for this high cost of living is not only the high living standard but the fact that it is easy for you – an immigrant – to get a good job that pays the bills.
For instance, you could get a cup of cappuccino for €2.75 in Amsterdam, whereas, in Rotterdam, you would get the same size for €2.63. That's like a 12-cent difference. And this is the same difference that appears in almost all other food products; it is mostly between 12 to 15 cent difference or less.
The best locations to live in the Netherlands
Most people want to live in the best parts of the country. Not that other parts of the country are not good, but there's something about these cities the Dutch call "Randstad." these cities are what you would link to Berlin, New York, and Los Angeles, etc.
Cities that seem always to have a lot of activity. In Holland, they call these cities "Randstad." The Randstad cities include Utrecht, Amsterdam, the Hague, and Rotterdam. These cities contain close to 40% of Holland's population. Because many of its citizens live here, getting an apartment can be pretty competitive, and the rent is higher than in other cities. As an immigrant, if your work or school is not in these cities, get an apartment in other cities. When you are settled, you can try to move to Randstad. You would enjoy it wherever you get it because Dutchs are friendly people.
Move to the Netherlands for work
Holland has one of the lowest unemployment rates in the world. They make it easy for anyone to get a job. We recommend you start looking for jobs before moving to Holland. Why? Some companies can help you settle down faster than you think. Your employers could help you find a good apartment in the parts you want and could help you get it lesser, and it also makes it easy for you to settle down in the country faster. To search for jobs in the Netherlands, you can use the following websites: StepStone, Back Job, and Monster Board.
How different are the salaries in the Netherlands and Germany?
Interestingly, in Holland, the minimum monthly wage differs among age groups. Starting from 18 years who get close to €900. A 19 years individual would get a little over €1000 while 20 years take home around €1350 every month. The adults above 21 years of age take home €1700 every month. These values are for people working full-time; part-time jobs would have a lesser value. The salaries in the Netherlands are almost the same or even higher as German ones, that compensates the higher cost of living.
Health Insurance in the Netherlands
Private health insurance is not practiced in Holland anymore. You must obtain health insurance for yourself and your family from an accredited health insurance provider because it is an important legal document, and you are required to have it.
EU citizen: Is it easy to migrate to the Netherlands?
Moving to the Netherlands is easy because of the European Union's freedom of movement. There are 3 ways of getting from Germany to Netherlands: by road, by rail, or by air. Here is how long it takes:
By air is still the fastest way of getting into Holland. It takes just about 1 hour from take off until you land.
By Road:
Driving takes about 5 hours and 20 minutes
Public Transport would take about 8 hours for the bus; this duration also depends on where you are moving from in Germany assuming you are stopping in Amsterdam.
By Rail: The train takes about 8 hours as well and you can join any train going to Amsterdam at the S+U Alexanderplatz Bhf to Amsterdam Centraal in Berlin. The train schedule is one of the things to know before moving to Netherlands; it starts at 14:20 and you can always get another train every hour until 17:20 when the night travels start. The night train takes approximately 14 hours so you get to the Netherlands the next day.
Nuances of moving to Holland: Entry Requirements & Registrations
For you to live and work in the Netherlands, you need to first be registered, and here's how to do that:
Entry Requirements: you don't necessarily need a visa to enter the Netherlands from Germany. What you need is a valid passport or ID card. However, if you stay more than three months in the country, you must register your Holland residence. Germany shares a boundary with the Netherlands, so it's makes moving from Germany to Netherlands easy, and this makes it one of the most famous destinations for many Germans.
Registration: the "freedom of movement act" of the European Union allows you to move, settle and work freely in the Netherlands freely without a visa. But since you are moving to the Netherlands permanently to live and work, you would be triggering the 3 months' registration rule, because you are there to stay for a long time. You must do this within the first five days of entering the country. You need the following documents to complete your registration.

Valid Identity Card or Passport
Proof that you have accommodation; this could be the agreement you signed when renting the house.
Birth certificate (a copy).
A marriage certificate if you are going with your spouse.
When you are done with registration, you are given something called Citizen Service Number (CSN). This number is critical for everything you would do in the country, from opening a bank account to working legally. It is also used as a tax number and social security.
Provision for pets: the Netherlands allows you to bring your pets over with you, so you don't need to postpone relocating to Holland because of your pet. However, they must have a name tag which a vet must have issued, and they need to have a microchip. They must be vaccinated for rabies and should also be registered with the municipality within 14 days.
Ready for your move to Netherland?
Moving from Germany to Netherlands is relatively easy because you don't have to worry about applying for a visa if you come from Germany. At Moovick, we take away the other stress of booking and packing. We would help you move from where you are to your destination as quick and smooth as possible.