Moving from
Germany to Ireland
How It Works
Post task
Post your task details and description on our website or app
Get offers
Receive offers from nearby service providers in PDF format with booking link
Discuss
Use Moovick Messenger to discuss details and choose the best option based on ratings and reviews
Book
Book and get your task done effortlessly
Moovick is an all-in-one platform that provides clients with on-demand, professional Service Providers for moves and home renovation jobs in real-time for their day-to-day needs.
Car (Taxi / Combo)
Perfect for small boxes, airport pick ups and luggage transfer.
Van (7-17 m3)
Great for moving studio or one bedroom apartments with basic furniture items and boxes.
3.5T Truck (20-24 m3)
Best for 1-2 bedroom apartments, small homes moves and commercials goods.
7.5T (+) Trucks
Best for 2 to 3 room apartments and upto 10 standard size pallets
Select your moving package
All packages includes Driver, Vehicle, fuel and taxes
Economy
For Individuals looking to get tasks done affordably
Android and iOS App for posting your task
Access to 1700+ reviewed and verified Service Providers
Limitless Chats & Negotiations
Book Now Pay Later option
Moovick Support in selecting professionals
Premium
For Premium Individuals & Businesses
Book on-the-go with a 3-minute booking process
Work only with Moovick assigned Premium Movers with 4,7/5,0 or higher ratings
Moovick's personalized premium dashboard
Live Tracking of your goods
Moovick's premium support throughout the task
Comprehensive insurance
Multiple free reschedulings
Possibility to directly invoice your employer / job centre through Moovick
Packing Material (on request)
Business
For SME Business Entities
All in Premium
Dedicated Account Manager to understand your personalized needs
Customized Transport Solutions with LTL and pooled cargos
Personalized route optimization to ensure maximum savings
Discounted rates for recurring orders
Storage Facility (on request)
Contact us
Use Cases

Vinayak
Best service received
Delivery partner was very friendly and flexible. He was hard working and made sure that all assemblies are done correctly. I would recommend all to use Moovick for relocation service.
Relocation:
Service detail:
Home Move, furniture and boxes
Cost:

Shamsul
Moovick offers a very high standard of professional service
They completely hand hold you through out the process. Its like almost being with you in person. I was coordinated for my case by "Misha" and the communication was crisp and clear. Strongly recommend.
Relocation:
Service detail:
Home Move, furniture and boxes
Cost:

Geetika
I had a very comfortable and good experience
The customised delivery support was very prompt over WhatsApp (communication in English which was super helpful). I was able to arrange a very last minute delivery of something I found on Ebay (for a sunday morning). The driver was also very helpful and went the extra mile helping with things that weren't necessarily a part of the service. Highly recommended to try this!
Relocation:
Service detail:
Furniture pickup & Assembly
Cost:

Claudia
Excellent experience
I sent the WhatsApp well after 'after hours' and Misha from Moovick support was extremely efficient and helpful. This was a last minute booking from our side as our confirmed moovers had to cancel and i was so pleasantly surprised that within minutes Misha had confirmed that Olek would be available! Olek you guys were amazing thank you so much for being efficient and so friendly! Will definitely recommend and use this service next time.
Relocation:
Service detail:
Home Move, furniture and boxes
Cost:

Satish
Excellent support provided
They helped us decide the appropriate size of the transport vehicle based on the number of items. The transport vehicle was very good and also the driver was very helpful. A 10 out of 10 for everything. I would definitely recommend the service.
Relocation:
Service detail:
Home Move, furniture and boxes
Cost:

Patrick
The driver and helpers were very professional and quick in the entire process
The decisions for splitting and loading between two vehicles were made on the go and the assembly service was also good. Thanks to moovick for being in constant communication for support. Highly recommend the service.
Relocation:
Service detail:
Home Move, furniture and boxes
Cost:

Varun
The only reasons I am giving 5 stars
All in all, I have had a very smooth experience with LP support team, and would absolutely recommend the platform to anyone; ESPECIALLY, if you are new to the city, don't speak German and need support in English, or are on a budget with moving within the city. The price is very reasonable for the service offered, of course this might be quite dynamic considering your package, but we ultimately pay for the service and trust, I believe!
Relocation:
Service detail:
Furniture transport & Assembly
Cost:

Sharmin
I highly recommend this service for a reasonable price
Great customer support through WhatsApp even on holidays. Moovick helped me move from Munich to Hamburg very easily. The driver was very professional and punctual. To be honest, this is the best customer service I have experienced in Germany. 💯
Relocation:
Service detail:
Home Move, furniture and boxes
Cost:

Laura
Excellent service!
Kamran went above and beyond! He understood exactly what I needed. Communication was always quick and smooth. I am very picky with the services I receive and he exceeded my expectations! Thank you, Kamran!
Home improvement:
Service detail:
Cost:
Things to know before moving to Ireland
If you're moving from Germany to Ireland, here are some things you should know:
Ireland has much higher living expenses than Germany. Expect to pay more for groceries, housing, and transportation.
Ireland is a much smaller country than Germany, so if you're used to having a lot of space, you'll need to adjust your expectations. The population of Ireland is only about a little over 4 million people.
Since Northern Ireland is a part of the United Kingdom, you should be aware of the distinct tax and currency systems if you're moving to Northern Ireland.
Irish culture is very friendly and welcoming, and the people are known for their sense of humor. Ireland can be the best choice for you if you're seeking for a relaxed and welcoming area to reside.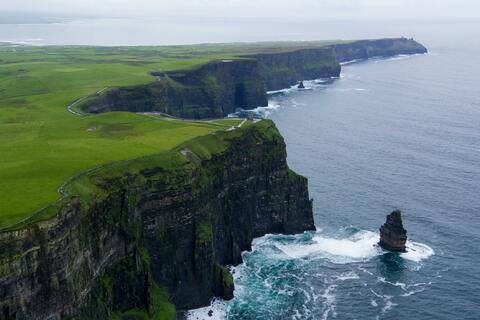 FAQs
Difference between living in Germany vs Ireland
Between Germany and Ireland, there are several significant distinctions. For starters, Ireland is substantially smaller than Germany. It has a population of over 80 million people, while Ireland has a population of just over 5 million. This means that Germany is much more populous and urbanized than Ireland. Additionally, Germany has a stronger economy than Ireland, and its currency is the Euro. When it comes to culture, Germany is known for its beer and sausages, while Ireland is known for its whiskey and potatoes.
Germany is located in central Europe, while Ireland is located on the westernmost edge of Europe. These geographical differences mean that the climate in Germany is colder than the climate in Ireland. So, if you're moving to Ireland from Germany, be prepared for some significant changes.
Peoples: Germany vs Ireland
Germans and Irish people are definitely two very different types of people. Germans are known for being hard-working, precise, and often a little strict, while Irish people are known for being fun-loving nature and having a carefree attitude.
Education in Germany is free, and the standard of living is pretty okay, and lastly, Germany was named the 22nd most peaceful country in the world in 2019.
Germans are known for being efficient and punctual, while the Irish are known for their friendliness and sense of humor. Germans are often quite reserved, while the Irish are more likely to express their emotions. Germany is a much more industrialized country, while Ireland is known for its agriculture and livestock.
They're always up for a good laugh and don't take themselves too seriously. This difference is also reflected in the way these two cultures view subjective topics such as happiness.
Germans typically believe that happiness is something that can be earned through hard work and discipline, while Irish people believe that happiness is something that should be enjoyed and taken advantage of you can. So if you're looking to move to a new country where you can let loose and have some fun, Ireland would be the perfect place.
Cost of living in Ireland compared to Germany
With a few exceptions, Ireland generally has a higher cost of living than Germany. Rent and groceries tend to be more expensive in Ireland, especially moving to Northern Ireland while health care can be more expensive in Germany.
Ultimately, the cost of living depends on your individual needs and budget. Ireland is a great place to call home.
EU citizen: How difficult is it to move to Ireland?
EU citizens have it quite easy when it comes to moving to Northern Ireland. All they need is a valid passport, and they can travel to Ireland without a visa. Once they arrive in the country, they have three months to find a job and apply for a residency permit.
If they are already working in Ireland, they can apply for a residency permit through their employer. The process is relatively simple and straightforward, and EU citizens moving to Ireland are generally granted residency status once their application is approved.
Move to Ireland: pros and cons
Moving to Northern Ireland has many benefits and drawbacks, but let's start with some of the advantages. Ireland is a beautiful country with lush green landscapes, stunning coastlines, and plenty of friendly locals. The people here are incredibly welcoming and hospitable, and you're sure to make plenty of new friends. Irish culture is also rich and diverse, with a lot of interesting traditions to explore.
On the flip side, there are a few things you should keep in mind before making a move. Living in Ireland is expensive, particularly in the bigger cities. The cost of living can be quite prohibitive, so you'll need to make sure you have enough money saved up before making a move. Additionally, the weather can be quite unpredictable here – it can go from sunny and warm one day to windy and cold the next. So if you're not used to dealing with harsh weather conditions, you may want to reconsider moving to Ireland.
Overall, however, Ireland is a great place to live. There are opportunities here. If you're interested in exploring a new culture and making some new friends, then moving to Ireland is definitely worth considering.
Healthcare in 2 counties: what is the contrast
In Germany, healthcare is considered a universal right, and all residents have access to quality care. In Ireland, on the other hand, healthcare is not considered a universal right, and people must pay for their own care. This means that Germans typically enjoy better healthcare coverage than Irish citizens.
Another difference between healthcare in Germany and Ireland is the cost of care. In Germany, healthcare is more expensive than in Ireland, taking into account the cost of insurance. This is because the German government regulates the price of medical services, while the Irish government does not.
One of the most significant contrasts between healthcare in Germany and Ireland is the way that care is delivered.
Health insurance in Ireland
If you're moving to Ireland, it's important to research the health insurance situation before you get there. In Ireland, all residents must have some form of health insurance.
There are a few different options for health insurance in Ireland, but the most common is private health insurance.
Private health insurance can be expensive, but it does offer a lot of benefits. It usually covers most of your medical expenses, and it also often includes dental and vision care. If you're not interested in private health insurance, you can also choose to enroll in the public health system.
The public health system is less expensive than private health insurance, but it does have some drawbacks. It often has long wait times for appointments, and it doesn't always cover all of your medical expenses.
Moving to Ireland for work
The country is experiencing a period of economic growth, and there are plenty of opportunities available.
That said, there are many reasons why moving to Ireland for work can be a great decision. The country has a thriving economy, with plenty of job opportunities in a variety of industries; you will be able to find the perfect position to suit your skills and interests. The people are friendly and welcoming.
So what are you waiting for? Prepare yourself for a once-in-a-lifetime experience by preparing to organize your baggage.
Tax implications: Differences between Germany and Ireland
When it comes to the question of taxes, there are a few key things to consider when moving from Germany to Ireland. For one, Ireland has a much lower corporate tax rate than Germany- just 12.5%, compared to the 28% in Germany. This can be a major incentive for businesses looking to set up shop in Ireland.
However, individual income tax rates in Ireland are also higher than in Germany- starting at 20% and going all the way up to 41%. So, if you're thinking of moving to Ireland for work, make sure you factor in how your salary will be taxed.
All in all, though, the tax implications of moving from Germany to Ireland are fairly similar - both countries have a mix of competitive and high taxes.
Why move to Ireland?
There are many good reasons for you to move to Ireland. For starters, the economy is booming, and there are plenty of job opportunities available.
Dublin is a vibrant city with a lot to offer, from fantastic restaurants and pubs to world-class museums and theaters. The people of Ireland are warm and friendly, and you'll feel right at home in no time.
Ireland is also a beautiful country with stunning coastlines and lush green countryside. So what are you waiting for? Make a move to Ireland from Germany today.
Quality of life in Ireland
If you want a good standard of living, moving to Ireland is a fantastic idea. The nation is renowned for its breathtaking landscapes, amiable citizens, and delectable cuisines. In addition, Ireland boasts a strong economy and a high standard of living. Whether you're looking for a quiet rural life or a vibrant city lifestyle, Ireland has something to offer everyone. So if you're considering moving to Ireland, don't hesitate - you won't be disappointed.
Moving to Ireland as a pensioner
If you're a pensioner looking to move to Ireland, you're in luck – it is a great place to retire. Ireland is renowned for its stunning scenery, friendly people, and delicious food. And as a pensioner, you'll be eligible for a range of generous benefits, including health care and access to subsidized housing.
Advice to move to Ireland
The following advices will help your relocation go as smoothly as possible:
Research your destination. Ireland is a diverse country with a lot to offer, so be sure to do your research and find the region that's right for you. If you're looking for a city lifestyle, Dublin or Cork are great options, while those after a more rural setting should consider the west coast or rural areas in the south and east.
Invest in some good weather gear. Ireland is famous for its rainy weather, so be sure to pack your raincoat and wellies! Luckily, the summers are usually quite warm and sunny, so you'll get plenty of opportunities to enjoy the outdoors.
If you're thinking of moving to Ireland, you're in for a treat! The Emerald Isle, with its breathtaking coasts, rolling hills, and lively cities, is one of the most beautiful places on earth. Plus, the Irish are some of the friendliest people you'll ever meet, and they know how to have a good time.
Learn about Irish culture. Learning about a new culture is one of the best aspects of relocating there. Be sure to learn about Irish customs and traditions and what it's like to live in Ireland. This will help make your transition smoother and more enjoyable.
Nuances of moving to Ireland: car re-registration
One of the most important tasks is re-registering your car.
In Ireland, the process of re-registering your car is a bit more complicated than it is in other countries. You can't simply go to your local motor tax office and hand in your registration documents. Instead, you have to go through the Driver and Vehicle Licensing Agency (DVLA).
Before you may re-register your car in Ireland, there are a few things you need to complete. First, you need to get a residency permit from the Irish authorities. You also need to have proof of ownership of the vehicle and proof that you have been paying road tax and insurance in your previous country of residence.
If you meet all these requirements, the DVLA will process your application and send you a new registration certificate. The processing of the application could take up to six weeks.
Ready for your move to Ireland?
Ready for your move to Ireland? The Irish people are warm and welcoming, and you'll be sure to make friends quickly.
The quality of life is excellent, the economy is robust, and living expenses are moderate. So what are you waiting for? Start planning your move today!
When moving, there are a few things to remember, like getting the right visas and work permits, accommodation, and getting acquainted with the local culture.
So what are you waiting for? Contact us today to start planning your move to Ireland today!