Moving from
Germany to Norway
How It Works
Post task
Post your task details and description on our website or app
Get offers
Receive offers from nearby service providers in PDF format with booking link
Discuss
Use Moovick Messenger to discuss details and choose the best option based on ratings and reviews
Book
Book and get your task done effortlessly
Moovick is an all-in-one platform that provides clients with on-demand, professional Service Providers for moves and home renovation jobs in real-time for their day-to-day needs.
Car (Taxi / Combo)
Perfect for small boxes, airport pick ups and luggage transfer.
Van (7-17 m3)
Great for moving studio or one bedroom apartments with basic furniture items and boxes.
3.5T Truck (20-24 m3)
Best for 1-2 bedroom apartments, small homes moves and commercials goods.
7.5T (+) Trucks
Best for 2 to 3 room apartments and upto 10 standard size pallets
Use Cases

Vinayak
Best service received
Delivery partner was very friendly and flexible. He was hard working and made sure that all assemblies are done correctly. I would recommend all to use Moovick for relocation service.
Relocation:
Service detail:
Home Move, furniture and boxes
Cost:

Shamsul
Moovick offers a very high standard of professional service
They completely hand hold you through out the process. Its like almost being with you in person. I was coordinated for my case by "Misha" and the communication was crisp and clear. Strongly recommend.
Relocation:
Service detail:
Home Move, furniture and boxes
Cost:

Geetika
I had a very comfortable and good experience
The customised delivery support was very prompt over WhatsApp (communication in English which was super helpful). I was able to arrange a very last minute delivery of something I found on Ebay (for a sunday morning). The driver was also very helpful and went the extra mile helping with things that weren't necessarily a part of the service. Highly recommended to try this!
Relocation:
Service detail:
Furniture pickup & Assembly
Cost:

Claudia
Excellent experience
I sent the WhatsApp well after 'after hours' and Misha from Moovick support was extremely efficient and helpful. This was a last minute booking from our side as our confirmed moovers had to cancel and i was so pleasantly surprised that within minutes Misha had confirmed that Olek would be available! Olek you guys were amazing thank you so much for being efficient and so friendly! Will definitely recommend and use this service next time.
Relocation:
Service detail:
Home Move, furniture and boxes
Cost:

Satish
Excellent support provided
They helped us decide the appropriate size of the transport vehicle based on the number of items. The transport vehicle was very good and also the driver was very helpful. A 10 out of 10 for everything. I would definitely recommend the service.
Relocation:
Service detail:
Home Move, furniture and boxes
Cost:

Patrick
The driver and helpers were very professional and quick in the entire process
The decisions for splitting and loading between two vehicles were made on the go and the assembly service was also good. Thanks to moovick for being in constant communication for support. Highly recommend the service.
Relocation:
Service detail:
Home Move, furniture and boxes
Cost:

Varun
The only reasons I am giving 5 stars
All in all, I have had a very smooth experience with LP support team, and would absolutely recommend the platform to anyone; ESPECIALLY, if you are new to the city, don't speak German and need support in English, or are on a budget with moving within the city. The price is very reasonable for the service offered, of course this might be quite dynamic considering your package, but we ultimately pay for the service and trust, I believe!
Relocation:
Service detail:
Furniture transport & Assembly
Cost:

Sharmin
I highly recommend this service for a reasonable price
Great customer support through WhatsApp even on holidays. Moovick helped me move from Munich to Hamburg very easily. The driver was very professional and punctual. To be honest, this is the best customer service I have experienced in Germany. 💯
Relocation:
Service detail:
Home Move, furniture and boxes
Cost:

Laura
Excellent service!
Kamran went above and beyond! He understood exactly what I needed. Communication was always quick and smooth. I am very picky with the services I receive and he exceeded my expectations! Thank you, Kamran!
Home improvement:
Service detail:
Cost:
Things to know before moving to Norway
Moving to Norway requires a number of steps, which may include obtaining a residence permit, finding housing, registering with Norwegian authorities, and applying for necessary visas or work permits. It is important to learn and understand Norway's immigration laws and requirements, as well as the country's language and cultural norms.
Are you one of those who think living in Norway is like living in a dream? Well, United Nations agree. According to their Human Development Report from 2018, which ranks the best countries to live in, Norway continued winning first place for consecutive 13 years! We've gathered a list of things you should know about the country before you pack your bags and take off.
Did you know that Norway with a population of 5,425,270, is the world's largest sovereign wealth fund, with a value of US $1 trillion? Move to Norway means that you would be living in one of the world's safest countries, which was also ranked first on the World Happiness Report for 2017. The most common reasons people consider moving to Norway from Germany are:
the social welfare system;
strong economy;
focus on higher education;
healthcare system;
stunning scenery.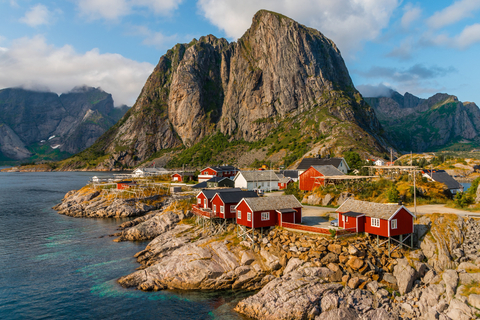 FAQs
Difference between living in Germany vs Norway
Germany is densely populated compared to Norway, with a stereotype leaning toward urban, sophisticated life. At the same time, the Norwegians love countryside life, nature, and being sporty, contemplative, and silent.
Norway is more feminist, while Germany is liberal. In other words, it is important for women to have a job, while Germany seems to be more conservative about gender roles. By the way, Germany is much more relaxed about prostitution, unlike Norway, which has feminist views.
People: Germany vs Norway
Norwegians don't really care about titles and hierarchies, while in Germany you must address people properly and add their titles.
Germans are rigid with the law, Norwegians quite like them too, but are less strictly enforced.
Germans are more likely to show their discomfort when you do something they didn't expect, and Norwegians will simply look and smile.
Cost of living in Norway compared to Germany
You can make 29.5% more money in Norway, which has a GDP per capita of $72,100 as of 2017, while in Germany, the GDP per capita is $50,800 as of 2017.
In Germany, you will pay a 23.3% higher top tax rate, while Norway has a top tax rate of 38.5% as of 2017. In Germany, the top tax rate is 47.5% as of 2016.
The overall cost of living in Germany is 30% less than living in Norway.
EU citizen: how difficult is it to move to Norway?
When you move from the EU to Norway, you must fulfill certain conditions. You can work, study or live, but you must register with the police after three months. You are in one of the following categories to qualify for residence in Norway: worker/job seeker, student, person with own funds, employee of a foreign business registered in an EU/EEA country, or self-employed.
Move to Norway: Pros and Cons
Pros:
Norway has a strong economy
It's not overcrowded
The country has beautiful scenery
Low crime rates
The Healthcare system is greatly developed Great education system
Cons:
in comparison to other countries may be difficult in the beginning
The weather is something that will take time for you to get used to
It takes time to learn Norwegian
Tobacco and alcohol are very expensive and aren't available like they are in Germany
Properties are very expensive
Eating out is expensive
Healthcare in two countries: What is the contrast?
In Germany, women are 3.5 times more likely to die during childbirth. In Norway, approximately 2.0 women per 100,000 births die during labor as of 2017. In Germany, 7.0 women do as of 2017.
In Germany, children are 32.0% more likely to die during infancy. In Norway, approximately 2.5 children die before they reach the age of one as of 2020. In Germany, on the other hand, 3.3 children do as of 2020.
Health insurance in Norway
As an EEA citizen, you have the right of living in Norway and receiving planned healthcare within the specialized healthcare service. You must pay for the treatment out of pocket, and talk about the reimbursement with your national healthcare insurer.
You can use your European Health Insurance card from any EU/EEA country if you're staying in Norway.
Moving to Norway for work
If you're looking to find a job in Norway and considering moving household goods to Norway, it is required to apply for a "residence permit for work."
If you move as a jobseeker you are permitted to stay up to six months, this also applies to people who lost their jobs.
If you are employed by a company registered in an EU/EEA country, that has a contract with a Norwegian company to carry out an assignment in Norway, or if you are self-employed, you are entitled to register as an employee of a foreign business.
Tax implications: different between Germany and Norway
People working in Norway will get a tax refund. It provides a summary of your earnings, deductions, assets, and debt. You must ensure that the information on your tax return is accurate to prevent overpaying taxes. However, if you use the Pay As You Earn program, you won't receive the tax return and will get a tax receipt instead.
Why move to Norway?
Moving to Norway from EU countries, especially from Germany, provides a better overall quality of life, from healthcare to the economy, as well as better employment opportunities. As soon as you settle in Norway and start making friends with other people, you will notice a significant improvement in your professional and social life. You will also be surprised that moving to Oslo, Norway offers different kinds of entertainment compared to living in Berlin.
Quality of life in Norway
Norway is country with lowest rates of undernourishment and unsafe water in the world. They give 12 months of leave to new parents, and only 0.07% of people are homeless.
Taxes are high, but that means that school and university are free, healthcare is at an enviable level. You're properly supported if you lose your job.
Norway is the LGBT heaven, famous for being the 10h safest country for LGBT people, all individuals are protected by the anti-discrimination law, and same-sex marriage and adoption have been legal since 2009.
Moving to Norway as a pensioner
Norway doesn't offer retirement visas.
Advices to move to Norway
Signing up for a Norwegian language course is an important first step. It can be difficult to find a job without knowing the local language. Despite the fact that most Norwegians speak excellent English.
When importing stuff into the country, a copy of the shipper's passport and an inventory of every item being brought into Norway, both in English and Norwegian, are required.
Personal belongings are allowed to be imported without paying customs duties and declaring them. However, the total retail value of these items must not exceed NOK 6,000. Cash in excess of NOK 25,000 must be declared before importation.
Don't even try to move all your stuff by car, it's already a stressful process. Instead, rent a moving van from Germany to Norway, and make this whole process a lot easier and quicker.
Nuances of moving to Norway: car re-registration
If you are planning to move to Norway permanently, you can apply for a temporary driving license to use a foreign-registered vehicle. This permit can be issued for a period of up to 14 days. You will be asked to provide evidence of your relocation: a certificate of relocation, an employment contract or other relevant documentation. You must apply before importing the vehicle. In some cases, this permit allows you to drive with foreign license plates for up to two years.
Ready for your move to Norway?
Moving from Germany to Norway is relatively easy because you don't have to worry about applying for a visa if you come from Germany. At Moovick, we take away the other stress of booking and packing. We would help you move from where you are to your destination as quickly and smoothly as possible.