Moving from
Germany to Denmark
How It Works
Post task
Post your task details and description on our website or app
Get offers
Receive offers from nearby service providers in PDF format with booking link
Discuss
Use Moovick Messenger to discuss details and choose the best option based on ratings and reviews
Book
Book and get your task done effortlessly
Moovick is an all-in-one platform that provides clients with on-demand, professional Service Providers for moves and home renovation jobs in real-time for their day-to-day needs.
Car (Taxi / Combo)
Perfect for small boxes, airport pick ups and luggage transfer.
Van (7-17 m3)
Great for moving studio or one bedroom apartments with basic furniture items and boxes.
3.5T Truck (20-24 m3)
Best for 1-2 bedroom apartments, small homes moves and commercials goods.
7.5T (+) Trucks
Best for 2 to 3 room apartments and upto 10 standard size pallets
Select your moving package
All packages includes Driver, Vehicle, fuel and taxes
Economy
For Individuals looking to get tasks done affordably
Android and iOS App for posting your task
Access to 1700+ reviewed and verified Service Providers
Limitless Chats & Negotiations
Book Now Pay Later option
Moovick Support in selecting professionals
Premium
For Premium Individuals & Businesses
Book on-the-go with a 3-minute booking process
Work only with Moovick assigned Premium Movers with 4,7/5,0 or higher ratings
Moovick's personalized premium dashboard
Live Tracking of your goods
Moovick's premium support throughout the task
Comprehensive insurance
Multiple free reschedulings
Possibility to directly invoice your employer / job centre through Moovick
Packing Material (on request)
Business
For SME Business Entities
All in Premium
Dedicated Account Manager to understand your personalized needs
Customized Transport Solutions with LTL and pooled cargos
Personalized route optimization to ensure maximum savings
Discounted rates for recurring orders
Storage Facility (on request)
Contact us
Use Cases

Vinayak
Best service received
Delivery partner was very friendly and flexible. He was hard working and made sure that all assemblies are done correctly. I would recommend all to use Moovick for relocation service.
Relocation:
Service detail:
Home Move, furniture and boxes
Cost:

Shamsul
Moovick offers a very high standard of professional service
They completely hand hold you through out the process. Its like almost being with you in person. I was coordinated for my case by "Misha" and the communication was crisp and clear. Strongly recommend.
Relocation:
Service detail:
Home Move, furniture and boxes
Cost:

Geetika
I had a very comfortable and good experience
The customised delivery support was very prompt over WhatsApp (communication in English which was super helpful). I was able to arrange a very last minute delivery of something I found on Ebay (for a sunday morning). The driver was also very helpful and went the extra mile helping with things that weren't necessarily a part of the service. Highly recommended to try this!
Relocation:
Service detail:
Furniture pickup & Assembly
Cost:

Claudia
Excellent experience
I sent the WhatsApp well after 'after hours' and Misha from Moovick support was extremely efficient and helpful. This was a last minute booking from our side as our confirmed moovers had to cancel and i was so pleasantly surprised that within minutes Misha had confirmed that Olek would be available! Olek you guys were amazing thank you so much for being efficient and so friendly! Will definitely recommend and use this service next time.
Relocation:
Service detail:
Home Move, furniture and boxes
Cost:

Satish
Excellent support provided
They helped us decide the appropriate size of the transport vehicle based on the number of items. The transport vehicle was very good and also the driver was very helpful. A 10 out of 10 for everything. I would definitely recommend the service.
Relocation:
Service detail:
Home Move, furniture and boxes
Cost:

Patrick
The driver and helpers were very professional and quick in the entire process
The decisions for splitting and loading between two vehicles were made on the go and the assembly service was also good. Thanks to moovick for being in constant communication for support. Highly recommend the service.
Relocation:
Service detail:
Home Move, furniture and boxes
Cost:

Varun
The only reasons I am giving 5 stars
All in all, I have had a very smooth experience with LP support team, and would absolutely recommend the platform to anyone; ESPECIALLY, if you are new to the city, don't speak German and need support in English, or are on a budget with moving within the city. The price is very reasonable for the service offered, of course this might be quite dynamic considering your package, but we ultimately pay for the service and trust, I believe!
Relocation:
Service detail:
Furniture transport & Assembly
Cost:

Sharmin
I highly recommend this service for a reasonable price
Great customer support through WhatsApp even on holidays. Moovick helped me move from Munich to Hamburg very easily. The driver was very professional and punctual. To be honest, this is the best customer service I have experienced in Germany. 💯
Relocation:
Service detail:
Home Move, furniture and boxes
Cost:

Laura
Excellent service!
Kamran went above and beyond! He understood exactly what I needed. Communication was always quick and smooth. I am very picky with the services I receive and he exceeded my expectations! Thank you, Kamran!
Home improvement:
Service detail:
Cost:
Things to know before moving to Denmark
There are several eye-opening things that many of us don't know about Denmark. You know most toys in the world are either from America or some parts of Europe, Denmark owns LEGO. The building block toy originates from the Danish kingdom. They take cleanliness very seriously. One might think because they are surrounded by water, it wouldn't be clean, but the country guards against polluting its waters and maintains it regularly. Denmark owns the highest stake in the shipping containers used around the world, even though they don't export much. Some of the other important things you should know about Denmark.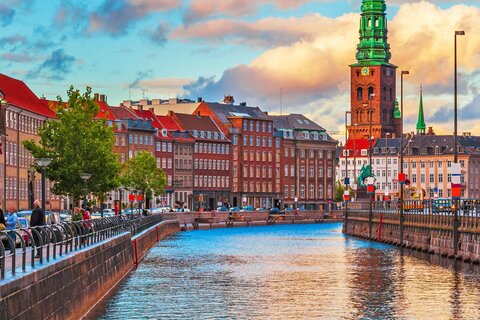 FAQs
Why move to Denmark?
The popular word and notion on the street about Denmark are how it looks after its citizens. Denmark is seen as a country with the love of motherhood — always wanting to protect its children. Denmark upholds the nordic values of every date. It is seen as a country with a society with the highest form of equality, a nordic principle that holds men and women in the same light. Denmark also boasts fantastic landscapes that can be useful when you want to relax.
Before we show you how to move to Denmark, let's show you some things you might not know about Denmark.
Cost of living Denmark vs Germany
The cost of living in Denmark is higher compared to Germany. If you are moving from Germany you would need to adjust to this. Below are some examples of basic needs and what they cost in both countries;
Eating in a low-budget restaurant in Germany would cost you about €12 while it costs about €19
A cappuccino you'd get in Germany for around €2 while in Denmark it shoots up to about €5
Imported beers that cost less than €4 go for about €7 in Denmark
A more critical look into the cost of living between Germany and Denmark revealed that:
consumer prices in Denmark including rent are 21% higher than in Germany
Rent in Denmark is 15% higher than in Germany.
The purchasing power of the average Dane in Denmark is 3.35% lower than what an average person enjoys in Germany.
Restaurants in Denmark are more expensive than in Germany. Restaurants in Denmark have prices 57.72% higher than those in Germany
Groceries are higher in Denmark as well. 23.73% higher than Germany.
Several things like these make living in Denmark expensive. However, some things make it easy for people to live.
The utilities in both countries are very different. Utilities like light, heating, and gas are higher in Germany whereas it's quite lower in Denmark. For instance, light, water, and heat bills in Germany are around €269 while in Denmark these types of bills are about €180.
So what the Danish people pay more for in basic things like food, drinks, and clothing, they gain with a relatively low amount in utilities compared to other European countries.
Tax implications: difference between Germany and Denmark
Tax is another interesting thing about living in Denmark. The most regular Dane or someone you'd call the average person pays up to 45% in tax implications on income. Denmark also has a 25% VAT on goods. However, education and healthcare are free in Denmark, so you can see where all the money is going.
Difference between living in Germany and Denmark
One of the things you enjoy in Germany is more stable weather that allows you to do a lot of outdoor activities. Denmark has extremely cold weather; it is not all that bad because you can easily adapt. And it also has a beautiful summer that allows you to enjoy your outdoor activities. Summer is beautiful in Denmark, winter on the other hand is cold, and when it isn't it is raining.
Living among Danes can be an eye-opening and interesting experience because they are one of the freest people in the world. They might appear too free which is something nice to adjust to.
People: Germany vs Denmark
The people of Denmark are known as the Danish people or Danes. You can call them Danes or refer to them as Danish, while we call citizens of Germany Germans. They are very people. Some might say 'not entirely' but they are in the first or second position. They are welcoming. They won't turn away strangers, something that has stayed with them since the Vikings' days. They are also happy people and wouldn't let anything stand in the way of fun or a party.
Although the statistics put Finland as the happiest people in the world, the difference is very little and Denmark follows closely.
Health insurance in Denmark
Denmark is one of the best countries when it comes to a publicly funded healthcare system. A large chunk of their tax goes into funding the healthcare of the country.
Healthcare in two countries: what is the contrast?
Germany is one of the most developed countries in the world. Their healthcare system is one of envy that has seen people from other parts of the world from Africa, Europe and the Americas come for treatment. This is the same thing with Denmark as well. In every aspect that has to do with health and the care of people, Germany scored over 70% in all these aspects, with Denmark edging them with some strong decimals in experience and competence, as well as in modern types of equipment for diagnosis. Overall there's not much difference, so if you decide to relocate to Denmark, you are getting the best healthcare in the world.
Quality of life in Denmark
Denmark boasts of an amazing standard of living. Although they have one of the highest prices in the world, the benefits they enjoy because of this is something that trumps other countries.
Healthcare is free, education is free, and everyone is entitled to allowances as a child until they turn 18.
There are maternity benefits for new mothers as well.
They have well-maintained roads that are also quite extensive and welcoming.
There are bicycle lanes and a consistent transport system to make the commute easy.
Denmark: car re-registration
Denmark sees bringing your car into the country as importation. Because your car is registered in another country, the law is that you re-register your car within 14 days of entering the country.
When you enter Denmark and you take up or get a residence, you need to register your car within 14 days
When you enter Denmark and you've got a personal identification number or CPR number, you have to register your car within 14 days as well.
Now that we know some interesting and necessary things about Denmark, how do you get there?
How to move to Denmark from Germany
Germany shares a land border with Denmark around one of its states — Schleswig-Holstein. It is the only land border Germany shares with Denmark. And if you are asking how easy it is to move to Denmark, the European Union Freedom of Movement Act makes it easy for you to move into Denmark with just your passport.
If you are planning an international move and looking for assistance, you can use professional services specializing in international removals to Denmark like Moovick. We can provide guidance and support throughout the process, ensuring a smooth transition to your new home in Denmark.
How to move to Copenhagen, Denmark
There is a total of 670km between Germany and Denmark, and there are 3 ways of getting to Denmark from Germany; bus, train, and aeroplane.
Taking a bus to Copenhagen would take you about 10 hours if you include stops it could take another extra 3 to 4 hours. The cost of traveling by bus is between €22 to €27.
Driving yourself to Denmark could take half of the day, about 11 hours ad 30 minutes. Plan your trip well, find gas stations where you could relax, and a hotel to rest when it gets dark, and you could be getting to Denmark in about 20 hours including refilling fuel and sleep.
Traveling by train gives you about 7 hours and 10 minutes of travel at a cost between €98 to €143.
There are several airports where you can take a plane to Denmark from Germany.
From Hamburg airport, you can get a plane to Copenhagen: the cost is between €48 to €251 and a 2 hours and 45 minutes duration.
From Berlin Brandenburg to Copenhagen: this is a flight that takes about 4 hours and costs between €39 to €159.
From Frankfurt to Copenhagen: this is another 4 hours flight and it costs between €86 to €294
From Dusseldorf to Copenhagen: also a 4 hours flight and a cost between €65 to €225.
EU Citizen: how difficult is it to move to Denmark?
The European Union has made moving to any European country easy if you are a citizen of any other European country. So as a German, you can get into any European country except the UK without a visa.
Moving to Denmark for Work
Denmark's official website claims there are over 2000 vacancies in the country, and the most amazing thing about this is that it is from only their top companies. There are smaller companies you can work with as well. Jobs are not too scarce to see in Denmark. If you are an EU or Switzerland citizen, you don't need to apply for a work permit before you can start working in Denmark. The work and life balance are also one of the best in the world.
Moving to Denmark as a pensioner
If you plan to move to Denmark as a pensioner receiving a pension in another country, talk to the company paying your pension about how you can continue receiving your pension and how it could affect you.
How much to move to Denmark?
If you need a moving service in Denmark, you can always choose Moovick for this. It will cost you a 40 euro/km, but you can move all your furniture and necessary belongings hassle-free.
Regarding the cost of moving to Denmark, it depends on the mode of transportation you choose. If you plan to drive, you would need to budget for fuel, food, and accommodation, as it's a long trip.
If you prefer to fly, the cost will vary based on the city you are moving from. Generally, you can expect to budget between €65 to €500 for a one-way flight.
Move to Denmark: pros and cons
Pros
You enjoy good public transport and bicycle lanes
Free education and healthcare
Best quality of living
Cons
High cost of living which includes high food and rent prices.
Ready to move to Denmark?
Stop asking how hard it is to move to Denmark. You can see it's not difficult.
Are you ready to moving to Denmark from Germany? Then you have everything you need, and you can contact us for further questions and help to move.