Moving from
Germany to Austria
How It Works
Post task
Post your task details and description on our website or app
Get offers
Receive offers from nearby service providers in PDF format with booking link
Discuss
Use Moovick Messenger to discuss details and choose the best option based on ratings and reviews
Book
Book and get your task done effortlessly
Moovick is an all-in-one platform that provides clients with on-demand, professional Service Providers for moves and home renovation jobs in real-time for their day-to-day needs.
Car (Taxi / Combo)
Perfect for small boxes, airport pick ups and luggage transfer.
Van (7-17 m3)
Great for moving studio or one bedroom apartments with basic furniture items and boxes.
3.5T Truck (20-24 m3)
Best for 1-2 bedroom apartments, small homes moves and commercials goods.
7.5T (+) Trucks
Best for 2 to 3 room apartments and upto 10 standard size pallets
Select your moving package
All packages includes Driver, Vehicle, fuel and taxes
Economy
For Individuals looking to get tasks done affordably
Android and iOS App for posting your task
Access to 1700+ reviewed and verified Service Providers
Limitless Chats & Negotiations
Book Now Pay Later option
Moovick Support in selecting professionals
Premium
For Premium Individuals & Businesses
Book on-the-go with a 3-minute booking process
Work only with Moovick assigned Premium Movers with 4,7/5,0 or higher ratings
Moovick's personalized premium dashboard
Live Tracking of your goods
Moovick's premium support throughout the task
Comprehensive insurance
Multiple free reschedulings
Possibility to directly invoice your employer / job centre through Moovick
Packing Material (on request)
Business
For SME Business Entities
All in Premium
Dedicated Account Manager to understand your personalized needs
Customized Transport Solutions with LTL and pooled cargos
Personalized route optimization to ensure maximum savings
Discounted rates for recurring orders
Storage Facility (on request)
Contact us
Use Cases

Vinayak
Best service received
Delivery partner was very friendly and flexible. He was hard working and made sure that all assemblies are done correctly. I would recommend all to use Moovick for relocation service.
Relocation:
Service detail:
Home Move, furniture and boxes
Cost:

Shamsul
Moovick offers a very high standard of professional service
They completely hand hold you through out the process. Its like almost being with you in person. I was coordinated for my case by "Misha" and the communication was crisp and clear. Strongly recommend.
Relocation:
Service detail:
Home Move, furniture and boxes
Cost:

Geetika
I had a very comfortable and good experience
The customised delivery support was very prompt over WhatsApp (communication in English which was super helpful). I was able to arrange a very last minute delivery of something I found on Ebay (for a sunday morning). The driver was also very helpful and went the extra mile helping with things that weren't necessarily a part of the service. Highly recommended to try this!
Relocation:
Service detail:
Furniture pickup & Assembly
Cost:

Claudia
Excellent experience
I sent the WhatsApp well after 'after hours' and Misha from Moovick support was extremely efficient and helpful. This was a last minute booking from our side as our confirmed moovers had to cancel and i was so pleasantly surprised that within minutes Misha had confirmed that Olek would be available! Olek you guys were amazing thank you so much for being efficient and so friendly! Will definitely recommend and use this service next time.
Relocation:
Service detail:
Home Move, furniture and boxes
Cost:

Satish
Excellent support provided
They helped us decide the appropriate size of the transport vehicle based on the number of items. The transport vehicle was very good and also the driver was very helpful. A 10 out of 10 for everything. I would definitely recommend the service.
Relocation:
Service detail:
Home Move, furniture and boxes
Cost:

Patrick
The driver and helpers were very professional and quick in the entire process
The decisions for splitting and loading between two vehicles were made on the go and the assembly service was also good. Thanks to moovick for being in constant communication for support. Highly recommend the service.
Relocation:
Service detail:
Home Move, furniture and boxes
Cost:

Varun
The only reasons I am giving 5 stars
All in all, I have had a very smooth experience with LP support team, and would absolutely recommend the platform to anyone; ESPECIALLY, if you are new to the city, don't speak German and need support in English, or are on a budget with moving within the city. The price is very reasonable for the service offered, of course this might be quite dynamic considering your package, but we ultimately pay for the service and trust, I believe!
Relocation:
Service detail:
Furniture transport & Assembly
Cost:

Sharmin
I highly recommend this service for a reasonable price
Great customer support through WhatsApp even on holidays. Moovick helped me move from Munich to Hamburg very easily. The driver was very professional and punctual. To be honest, this is the best customer service I have experienced in Germany. 💯
Relocation:
Service detail:
Home Move, furniture and boxes
Cost:

Laura
Excellent service!
Kamran went above and beyond! He understood exactly what I needed. Communication was always quick and smooth. I am very picky with the services I receive and he exceeded my expectations! Thank you, Kamran!
Home improvement:
Service detail:
Cost:
Things to know before moving to Austria
If you are considering a move to Austria from Germany, there are some things you should know before making a move. Austria has been accepting migrants as part of the EU migrant relocation program, and there are many opportunities for those who want to move to the country. This program is designed to help newcomers settle into life in Austria.
As the world becomes increasingly globalized, more and more people are moving to new countries in search of opportunities. If you're thinking of making a move to Austria, there are a few things you should know first.
For starters, Austria is a welcoming country with a population that's open to immigration. Over 25 percent of the population in Austria is made up of immigrants, and the government actively supports their integration into Austrian society. This is because Austria is bordered by eight countries. If you're looking to move to Austria for work or study, keep reading, we've gathered the most important information you need to know.
This country is home to a thriving economy with plenty of business opportunities for young people. Austria has consistently ranked as one of the best places in the world to do business, and its economy is considered one of the most stable in Europe.
The language spoken in Austria is German. If you do not speak German, it will be important for you to learn the language before moving.
Austria is a very safe country with low crime rates. You will feel safe and comfortable living here. The climate in Austria is temperate, meaning that it is not too hot or too cold, which makes it a great place to live all year round.
Austria is a beautiful country with a rich culture and great quality of life. It's no wonder so many people choose to relocate here!
If you're interested in making the move to Austria, we can help you get started. Contact us today to learn more.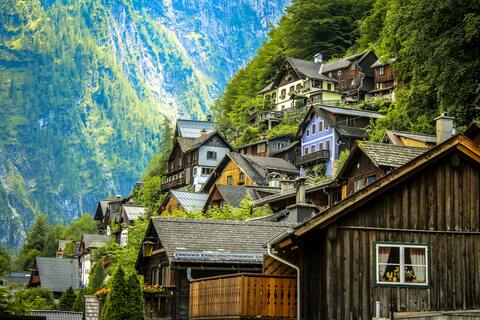 FAQs
Difference between living in Germany vs Austria
The cost of living in Germany is usually a bit higher than in Austria. In Germany, the healthcare system is public and universal, while in Austria, it is mostly privatized. The German education system is considered to be one of the best in the world, while the Austrian education system is more relaxed and less structured.
Germany is known to be a bit more business-oriented, while Austria has a reputation for being friendlier and having a better quality of life.
People: Germany vs Austria
Germany and Austria are two very different countries. Germany is known for its industriousness and efficiency, while Austria is known for its art and culture. In terms of personality, Germans are known for being direct and practical, while Austrians are known for being more laid-back and relaxed.
Germans are more likely to view the world objectively, while Austrians are more likely to take a subjective approach.
Cost of living in Austria compared to Germany
The cost of living in Austria is slightly higher than in Germany. In Austria, basic necessities such as food and clothing tend to be more expensive, while rent and transportation costs are comparable.

Vienna's public transportation system, which includes buses, trams, and a subway system, is efficient and convenient, with frequent and reliable services. However, the cost of transportation in Vienna is slightly higher than in Munich. A single ticket for public transportation in Vienna costs €2.60, while in Munich, it costs €2.90.

Housing is another aspect where Vienna's cost of living is slightly higher than in Munich. Despite being comparable to major German cities, rent prices in Vienna are on average 16% higher than in Munich.
EU citizen: How difficult is it to move to the Austria
If you are a citizen of an EU country, it is relatively easy to move to Austria and get a job. It is not difficult to move to Austria if you are a European Union citizen. There are few requirements, and the process is relatively straightforward. You will need to have a valid passport or ID card, and you'll need to provide proof that you have enough funds to cover your expenses during your stay. Also, you will require health insurance.
Move to Austria: pros and cons
Pros:
The weather is temperate and generally mild, with four distinct seasons.

The cost of living in Austria is relatively low when compared to other Western European countries.

Austria's healthcare system is considered one of the best in the world.

Austria has a strong economy and is considered a safe and stable place to live.
Cons:
The public transportation system in Austria can be quite expensive.

Austria is landlocked, so you will need to find another way to get to the ocean.

The winters can be quite cold and dark, and the summers can be quite hot and humid.
Healthcare in 2 countries: what is the contrast
Germany is one of the most developed countries in the world. Their healthcare system is one of envy that has seen people from other parts of the world from Africa, Europe and the Americas come for treatment. This is the same thing with Denmark as well. In every aspect that has to do with health and the care of people, Germany scored over 70% in all these aspects, with Denmark (click to know more about this country) edging them with some strong decimals in experience and competence, as well as in modern types of equipment for diagnosis. Overall there's not much difference, so if you decide to move, you are getting the best healthcare in the world.
Health insurance in the Austria
The health insurance system in Austria is a mixed public and private system. Austria has three main types of health insurance: state, private, and occupational. State health insurance is mandatory for all residents in Austria. Private health insurance is available as an option, but is not mandatory. Occupational health insurance is available for employees of certain companies.
The state health insurance system is funded by compulsory contributions from both employers and employees and provides basic hospital, medical, and prescription drugs coverage. Premiums paid by the insured individual's fund the private health insurance system. Contributions from both employers and employees fund the occupational health insurance system.
The private health insurance system typically provides more comprehensive coverage than the state health insurance system. The occupational health insurance system typically provides coverage between the state and private systems.
All three types of health insurance in Austria offer a choice of providers. Patients are free to choose any provider they wish, regardless of their type of health insurance. However, out-of-pocket costs can vary depending on the health insurance type and the chosen provider.
Moving to Austria for work
If you are a qualified and experienced professional, applying for a skilled worker visa may be best. This visa allows you to live and work in Austria for up to six years. You will need an offer of employment from an Austrian company, and your skills must be in demand in Austria.
If you need the required qualifications or experience, or if you are not able to speak German, your best option may be to find a job in Austria through an online job board or by networking with locals. There are also many English-speaking jobs in Austria, so it is worth checking out job postings in both English and German.
Tax implications: different between Germany and Austria
Germany and Austria have different tax implications because they have different tax systems. In Germany, income tax is based on a person's income, while in Austria, it is based on the person's assets. This means that in Germany, people are taxed based on how much money they earn, while in Austria people are taxed based on how much money they have. This can lead to different outcomes for people in each country. For example, a person who earns a lot of money in Germany may end up paying a lot of income tax, while a person who has a lot of assets in Austria may not pay as much income tax.
Why move to Austria?
There are many opportunities that come with moving to Austria. The country is centrally located in Europe, making it a prime location for businesses and travelers. The standard of living is good and the economy is powerful. Additionally, Austria offers a wide variety of cultural experiences and activities. There are many opportunities for those who want to live in a beautiful, peaceful country with a high quality of life.
Quality of life in Austria
The quality of life in Austria is quite high. There are many benefits to living in Austria, including a robust economy, an excellent healthcare system, and a high standard of living. In addition, Austria is a lovely country with plenty of natural scenery and cultural attractions. Overall, the quality of life in Austria is excellent.
Moving to Austria as a pensioner
Yes, moving to Austria as a pensioner is advisable. The cost of living is lower when compared to other European countries. There are many benefits available to retirees, including tax breaks and discounts on public transportation. Austria has a high quality of life, excellent health care, and a robust social safety net.
Advice to move to Austria
Austria is a great place to live! The quality of life is high, and there are many opportunities for work and recreation. If you're thinking of moving to Austria, here are some reasons why you should:
The cost of living in Austria is relatively low, compared to other Western European countries. Because of this, living there is more affordable.
The healthcare system in Austria is excellent, and it's one of the best places in the world to receive medical treatment.
The public transportation system in Austria is perfect, and it's easy to get around the country using trains, buses, and trams.
There are plenty of things to do in Austria. The country is home to some of the most beautiful mountains, lakes, and forests in Europe. It's also close to other major tourist destinations such as Italy, France, and Germany.
Nuances of moving fo Austria: car re-registration
If you are moving to Austria and already have a registered car in your name, you will need to re-register the car in Austria within six months of moving. The process is relatively simple: you will need to provide your registration certificate, proof of insurance, and proof of ownership (e.g. title deed or vehicle registration certificate). You may also need to have the car inspected by the Austrian authorities.
How to move to Vienna
If you're considering a move from Germany to Austria, specifically to the captivating city of Vienna, it's important to plan your relocation carefully. Here's a helpful guide to assist you in navigating the process, including tips on moving to Vienna and finding a reliable moving company:
Researching Vienna: Familiarize yourself with the city's unique charm, rich history, and cultural offerings. Explore Vienna's districts, landmarks, and vibrant neighbourhoods to determine where you would like to reside.
Visa and Residence Permit: Check the visa requirements for moving to Austria from Germany. Depending on your circumstances, you may need to apply for a residence permit. Contact the Austrian embassy or consulate in Germany for accurate and up-to-date information.
Housing: Begin your search for housing in Vienna. Consider your preferences, budget, and desired location. Online platforms, real estate agents, and local newspapers can provide valuable resources to find your ideal home.
Moving Company in Vienna: Research and select a reputable moving company to assist you with the logistics of your move. Look for companies with experience in international relocations and positive customer reviews. Moovick meets all the above-mentioned criteria.
Transportation: Plan your transportation from Germany to Vienna. Whether you choose to drive, fly, or utilize public transportation, consider the most convenient and cost-effective option for you and your belongings.
Settling In: Once you arrive in Vienna, take time to familiarize yourself with the city and its surroundings. Register your residency, open a bank account, and handle any necessary paperwork. Embrace the local culture, cuisine, and language to make your integration into Viennese life even more enjoyable.
Moving from Germany to Vienna presents an exciting opportunity to immerse yourself in Austria's art, culture, and historical wonders. By following this guide and enlisting the help of a reliable moving company, your transition to Vienna will be a memorable and smooth experience.
Ready for your move to Austria?
Austria is a great place to move to. The quality of life is high, and there are plenty of job opportunities. If you're looking for a new start, consider moving to Austria. Register today to move to Austria and starting a new life in this beautiful country.