Moving from
Germany to France
How It Works
Post task
Post your task details and description on our website or app
Get offers
Receive offers from nearby service providers in PDF format with booking link
Discuss
Use Moovick Messenger to discuss details and choose the best option based on ratings and reviews
Book
Book and get your task done effortlessly
Moovick is an all-in-one platform that provides clients with on-demand, professional Service Providers for moves and home renovation jobs in real-time for their day-to-day needs.
Car (Taxi / Combo)
Perfect for small boxes, airport pick ups and luggage transfer.
Van (7-17 m3)
Great for moving studio or one bedroom apartments with basic furniture items and boxes.
3.5T Truck (20-24 m3)
Best for 1-2 bedroom apartments, small homes moves and commercials goods.
7.5T (+) Trucks
Best for 2 to 3 room apartments and upto 10 standard size pallets
Select your moving package
All packages includes Driver, Vehicle, fuel and taxes
Economy
For Individuals looking to get tasks done affordably
Android and iOS App for posting your task
Access to 1700+ reviewed and verified Service Providers
Limitless Chats & Negotiations
Book Now Pay Later option
Moovick Support in selecting professionals
Premium
For Premium Individuals & Businesses
Book on-the-go with a 3-minute booking process
Work only with Moovick assigned Premium Movers with 4,7/5,0 or higher ratings
Moovick's personalized premium dashboard
Live Tracking of your goods
Moovick's premium support throughout the task
Comprehensive insurance
Multiple free reschedulings
Possibility to directly invoice your employer / job centre through Moovick
Packing Material (on request)
Business
For SME Business Entities
All in Premium
Dedicated Account Manager to understand your personalized needs
Customized Transport Solutions with LTL and pooled cargos
Personalized route optimization to ensure maximum savings
Discounted rates for recurring orders
Storage Facility (on request)
Contact us
Use Cases

Vinayak
Best service received
Delivery partner was very friendly and flexible. He was hard working and made sure that all assemblies are done correctly. I would recommend all to use Moovick for relocation service.
Relocation:
Service detail:
Home Move, furniture and boxes
Cost:

Shamsul
Moovick offers a very high standard of professional service
They completely hand hold you through out the process. Its like almost being with you in person. I was coordinated for my case by "Misha" and the communication was crisp and clear. Strongly recommend.
Relocation:
Service detail:
Home Move, furniture and boxes
Cost:

Geetika
I had a very comfortable and good experience
The customised delivery support was very prompt over WhatsApp (communication in English which was super helpful). I was able to arrange a very last minute delivery of something I found on Ebay (for a sunday morning). The driver was also very helpful and went the extra mile helping with things that weren't necessarily a part of the service. Highly recommended to try this!
Relocation:
Service detail:
Furniture pickup & Assembly
Cost:

Claudia
Excellent experience
I sent the WhatsApp well after 'after hours' and Misha from Moovick support was extremely efficient and helpful. This was a last minute booking from our side as our confirmed moovers had to cancel and i was so pleasantly surprised that within minutes Misha had confirmed that Olek would be available! Olek you guys were amazing thank you so much for being efficient and so friendly! Will definitely recommend and use this service next time.
Relocation:
Service detail:
Home Move, furniture and boxes
Cost:

Satish
Excellent support provided
They helped us decide the appropriate size of the transport vehicle based on the number of items. The transport vehicle was very good and also the driver was very helpful. A 10 out of 10 for everything. I would definitely recommend the service.
Relocation:
Service detail:
Home Move, furniture and boxes
Cost:

Patrick
The driver and helpers were very professional and quick in the entire process
The decisions for splitting and loading between two vehicles were made on the go and the assembly service was also good. Thanks to moovick for being in constant communication for support. Highly recommend the service.
Relocation:
Service detail:
Home Move, furniture and boxes
Cost:

Varun
The only reasons I am giving 5 stars
All in all, I have had a very smooth experience with LP support team, and would absolutely recommend the platform to anyone; ESPECIALLY, if you are new to the city, don't speak German and need support in English, or are on a budget with moving within the city. The price is very reasonable for the service offered, of course this might be quite dynamic considering your package, but we ultimately pay for the service and trust, I believe!
Relocation:
Service detail:
Furniture transport & Assembly
Cost:

Sharmin
I highly recommend this service for a reasonable price
Great customer support through WhatsApp even on holidays. Moovick helped me move from Munich to Hamburg very easily. The driver was very professional and punctual. To be honest, this is the best customer service I have experienced in Germany. 💯
Relocation:
Service detail:
Home Move, furniture and boxes
Cost:

Laura
Excellent service!
Kamran went above and beyond! He understood exactly what I needed. Communication was always quick and smooth. I am very picky with the services I receive and he exceeded my expectations! Thank you, Kamran!
Home improvement:
Service detail:
Cost:
Things to know before moving to France
Despite the fact that Germany is one of the leading locations for high living standards, some people may choose to change their surroundings and seek new chances. France is an excellent alternative for German investors looking to expand their operations in the neighboring nations, which is why some German businessmen may choose to relocate to France.
The tax system, highly qualified workforce, liberal legislation, and the entire focus on civil rights are just a few of the characteristics that define France in broad strokes. For some, staying in France is a possibility, and they will apply for citizenship. In 2018, 6.5 million immigrants made up 9.7% of the French population. 4.1 million were non-citizens, with 2.4 million acquiring French citizenship.
If you want to move from Germany to France, you must be aware that the procedure is very simple because Germany and France are members of the European Union. This implies you won't require a tourist visa, a residence permit or a short or long-stay visa to relocate to France from Germany.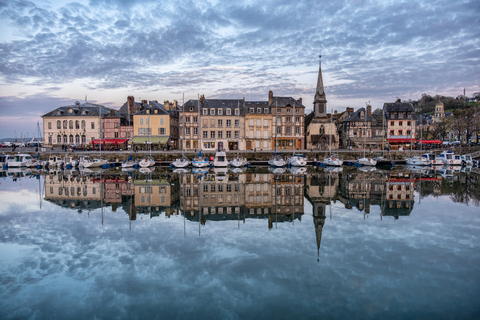 FAQs
Difference between living in Germany vs France
There is no broad answer as to which country delivers a better quality of life because their lifestyles and perspectives on what is considered good or terrible differ widely. People in Germany are more like Americans in that they want to earn a lot of cash, buy great things, and live in luxurious apartments. Where you work and how much money you make often define your social position. Cities are desirable locations to live in since they are tidy, orderly, and secure.
In contrast, France follows the "French way of life," which stresses spirituality above commerce. Individuals aren't concerned about owning a premium car or home; they choose to spend their time outdoors with their friends, discussing and debating various issues. It is not necessary to spend a lot of money because utilities and rent are lower than in Germany, and many cultural activities are free. Although the local infrastructure is not as efficient as in Germany, it is far less expensive and has a higher proportion of walking people. Rather than high-tech, you might immerse yourself in culture and history.
People: Germany vs French
Despite the fact that France and Germany are borders, their customs and cultures are significantly different. Whether you're visiting, migrating to, or simply curious about either nation. Now we'll look at some notable cultural differences between France and Germany.
Punctuality is an important and highly valued characteristic of the German worldview. They are praised for being punctual and disciplined, regardless of whether they are on their way to work or an appointment. The French, on the other hand, regularly fail to arrive on time.
In France, working hours are 35 hours a week, beginning at 9:30 a.m. and ending at 5 or 6 p.m., but in Germany, working hours are 40 hours, beginning at 8 a.m. and ending at 4 p.m.
Breakfast in Germany often begins at 6:30 a.m. and ends at 7:30 a.m., with boiled eggs, vegetables, ham, cheese, and bread, but French people like something sweet for breakfast, such as baguette with butter and jam or their renowned croissant with coffee.
Cost of living in France compared to Germany
France has higher restaurant pricing (19.20%) and consumer prices (including rent) (5.70%) than Germany. Groceries are also significantly more costly in France; for example, 500 grams of cheese costs $5.97 in Germany but $7.87 in France. French groceries are 44% more costly than German groceries. Only transportation (14.5% cheaper) and housing (13.5% cheaper) are available in France. Overall, living in France is around 15% more expensive than living in Germany. France's average cost of living ($1363) is 3% more than Germany's ($1325). France was placed 29th among the world's most costly nations, while Germany was ranked 30th.
Things to know before moving to France
France is undoubtedly one of the most gorgeous nations in Europe. There is enough to fall in love with, from the rocky mountains of the Alps and Pyrenees to the vast sands of the Atlantic coast. And that's without even mentioning the numerous historic cities, fascinating culture, and, of course, delectable cuisine. There are several things that must be done before relocating to France.
Open a French bank account
Making a payment option in France greatly simplifies life. It is definitely less expensive than withdrawing money or paying bills with your country's bank card. Owning a French account will be necessary for everything from paying bills to getting a mortgage, so place it at the top of your to-do schedule. To create a French bank account, you'll need confirmation of a residency permit as well as several additional papers.
In order to secure a long-stay visa, you must normally demonstrate that you have appropriate healthcare coverage from a firm that works in France. The coverage must cover normal medical checkups as well as an emergency treatment for the duration of your visa. To ensure that your insurance is valid for your visa, contact your local French embassy or consular office to find out exactly what is necessary.
The living costs will vary greatly depending on where you reside. Paris, for example, will be more expensive to live in than other places around the country. Wherever you want to travel, there are various expenses to consider, such as housing rent, household expenditures, food bills, socializing charges, and so on.
Exchange Your Driving License
Based on where your license was granted, you may need an international permit to drive in France, or your license may be valid for a limited time in France. The good news is that those with non-European licenses granted by foreign authorities can still drive legally in France during the first year of a long-stay visa.
File Your First Tax Return
When you relocate to France, you instantly become a resident for tax purposes, which says you must submit a tax return. Every French resident is required by law to file a tax return, regardless of whether they are required to pay taxes.
Get a French Social Security Number
Temporary citizens of France are required by law to enroll in France's public healthcare system, known as 'L'Assurance Maladie.' To join, you must first have lived in France for three months and then register for a social security number.
EU citizen: How difficult is it to move to France?
Moving to France entails more than just choosing a property near your favorite pâtisserie, this is a significant perk. It might be difficult to relocate here, mainly if you do not know French and wish to live in the countryside. However, because of a simple immigration procedure and substantial transportation infrastructure, the practical aspects of relocating here alone or with family may be accomplished with proper planning. Whether you choose to live in the busy City of Lights or a tranquil village on the French Riviera, this book will teach you all you need to know about relocating to France.
Relocating to France as an EU citizen requires no documentation. You are exercising your EU free movement rights. However, the Mairie of the commune wherever you lived would prefer it if you came in with your passports after a few weeks and registered yourself. You don't have to disclose income or pay taxes for the first half of the year. You schedule an appointment with the tax office in May of the third year, and they will provide you login information so you may report your income for the entire prior year online. If you purchase house, the Notaire will inform the tax authorities, who will issue you a charge for 'taxe fonciere,' which is similar to a property tax, within a few weeks. The key thing you should be concerned about is obtaining medical coverage as quickly as possible. You will be insured by your home country's medical insurance for the first several months.
Move to France: Pros and Cons
While migrating to France may be a once-in-a-lifetime chance, living in the nation of cheese and wine has both advantages and disadvantages. So here are some pros and cons in France.
Pros:
Generally, regardless of wealth, all people in France have access to universal health care. This involves everything from doctor's appointments to dental care and medicines.
If there is one advantage to working in France, it is the labor regulations. All employees are recruited under an agreement that ensures their rights. Generally, there are two sorts of contracts: permanent contracts and fixed-term contracts. And getting laid off or fired is extremely tough as long as the firm remains.
According to statistics, France is among the most ecological countries on earth, and is classified as "one of the greenest countries in the world." This might be due to the country's efforts to prevent water contamination.
Enjoy superb cuisine and wine while seeing France's spectacular buildings, monuments, and areas of interest, such as The Louvre, Cathedrale Notre-Dame, and, of course, the Eiffel Tower. There is a wide range of activities to see and do in France, with each city, town, or village offering something unique.
Cons:
This one is related to the French bureaucracy mentioned above. However, because it is so aggravating, it needs its own area. One of the most difficult tasks you will face as an ex-pat in France is renewing your visa. Overall, for each renewal, you will be without a visa for 3-6 months, preventing you from leaving the country.
In France, there are a lot of taxes. Currently, the corporate tax in France is 46%. However, that is not the sole tax. In France, taxes pay for things like medical insurance, unemployment, education, and transportation. Moving to France has both advantages and disadvantages.
When corporations seek to set up shop in Europe, France is frequently last on the list. This, of course, is related to taxes. To hire you, your company must pay a tax known as charges patronales (employer contributions). The percentage might range between 25 and 45% of your total pay.
The majority of flats and residences in France are rather ancient. While they are attractive, they lack sufficient insulation, have small rooms, and just one bathroom. It is unusual to see flats or houses that lack light fixtures or kitchen equipment. Nevertheless, there are some that offer up-to-date furniture but are hard to find and much more expensive.
Healthcare in 2 countries: what is the contrast
Germans and French people place a high emphasis on solidarity, which is rarely addressed by US politicians. This notion underpins both Germany's statutory health insurance system and France's Social Security, both of which are pillars of a social democracy that values equality as much as personal freedom. In addition to increasing health expenditure, both France and Germany impose ring-fenced health levies while pushing consumers to purchase 'top-up' private medical insurance. A patient has the option of being treated in either a public or private hospital, with the treatment being paid for through taxes, privately, or a combination of the two.
Health insurance in France
Based on the World Health Organization's classification of healthcare provider performance, France is one of the world's healthiest countries. France has great health care, from preventative healthcare to immediate operation.
In addition to excellent public healthcare, most French citizens pay for additional French health insurance. This is called "mutuelle" in France and is intended to mitigate higher health and medical expenditures. Doctor visits are one of those extra medical charges. The state only pays 70%, allowing the patient to pay the remaining 30%.
Moving to France to work
If you are not a citizen, you will need a working visa to work in France. If you're going to France, particularly for work, your business will have supported you and you won't have to worry. However, if you intend to work in France after migrating, you will require a French work permit. It is not difficult to apply for a visa if you can find work. They support various types of employment and are valid for a year with a simple renewal process. You just must be in good standing with the authorities and have your new employer vouch for you.
Tax implications: differences between Germany and France
Corporate income tax rates
France has a higher effective corporation tax rate than Germany. Germany charges a 15% company tax, which is augmented by a 5.5% solidarity surcharge and a 13.64% decentralized tax. The French corporate tax rate is 33.33%, with a 3.3% solidarity levy for major enterprises.
The fundamental distinction between the use of tax losses in France and Germany is in the forfeiture regulations, which in France are based on a change in activity rather than a change in ownership. Furthermore, the German regulations allow for a one-year loss carry-back with a maximum of 511.500 €, but the French rules allow for a one-year loss carry-back with a maximum of 1 million euros.
The French « Intégration fiscale » grouping method has a greater minimal holding demand than the German system, although the French tax combining is more advantageous.
How different are the salaries in France and Germany
To get a comparable net wage, the gross compensation in Germany maybe 10 to 20% greater than in France. The sum of the tax to be paid in both nations is significantly dependent on the level of pay. Nonetheless, family status has a major impact on the tax rate that is imposed. In general, income tax deductions in Germany are substantially higher than in France. As a result, an employee in Germany earns a substantially lower net compensation for the same gross wage as an employee in France. A position with the same total income in France is thus far more pricey for the employer than in Germany.
Quality of living in France
According to recent data, France is now one of the finest locations to live in Europe. In a recent uSwitch research, the country topped the league, while the UK was ranked last. Working hours, VAT, vacations, health, and education spending, and weather all contributed to the French having the greatest standard of living in Europe — and the British having the worst. According to the report, the circumstances in the UK were so severe that one in ten people considered fleeing to France, Italy, or Spain. The average yearly income level in France is £7,000 less than in the UK, yet the French appear to be content with their lot.
Moving to France as a pensioner
Retirees can apply for a visiting visa instead. To obtain a visiting visa, you must demonstrate that you have enough money to maintain yourself in France and that you have private health insurance. You must also submit a declaration declaring that you will not work for pay while in France. In general, it is not hard for North Americans to obtain long-term residence and retire in France, however, you must consult with an attorney before making any preparations. There will be a lot of documentation required, and the present needs are:
A passport that has been signed and is valid for three months after the final day of stay
One passport-size photo that has been glued/stapled to the form
A valid passport
Income documentation
One signed and legibly filled out an application form
Medical insurance documentation
Evidence of lodging in France
Letter pledging not to seek a job in France
If appropriate, a marriage certificate
An e-ticket or reservation record indicating the departure date to France.
One long-term resident form must be filled out, dated, signed, and notarized.
Moving Furniture to France
Moving to France may involve little more than packing a few suitcases and driving to a furnished apartment on the continent for some people. It's not that straightforward for many other people. There are various solutions accessible for folks who must relocate more than can be placed into their automobile. Carelessness in shipping furniture to France for lengthy excursions, as well as a lack of suitable protective measures, might result in damaged products that must be replaced. Cerfa form 10070 must be submitted. This form includes the declaration of duty-free entrance into France of non-EU personal property, as well as the declaration of any goods that are not covered by the exclusion clauses.
Moving furniture to France has two different ways. You can either move your furniture by plane or ferry, which will cost you around €430 or you can move it by train, van or other transport for €300 without the requirement to file a customs declaration.
Cost of moving to France
The general living expenses in France are fairly expensive and is determined by a number of factors, including where you live in the nation. Paris is routinely recognized as one of the world's most costliest. Although Paris is a popular tourist destination, there are numerous equally appealing locations of France with lots to offer and all substantially reduced living costs. Living in major cities will always be more expensive than living in rural places.
Moving household goods to France
If you're thinking how to relocate household goods and possessions, one of the initial things you should bear in mind is that some commodities, such as alcohol, cigarettes, and animal products, are restricted by French norms. This is helpful fact to consider before you begin packing, so you definitely know what to bring while relocating to France and what should be left at home. When opting to relocate, you must decide which home things to send. It is preferable to begin with a detailed list of the items you wish to transport. It is advisable to have an idea of the weight and size of your things. You will also need to pick if you want to transport your things via air, sea, or land. Insurance for the shipment of your household items is also something to think about in case your possessions are damaged during the shipping procedure.
Advices to move to France
Moving to a new nation is an exciting experience. Here's what you should know before buying a home and relocating to France to ensure everything goes as smoothly as it can. Here are some advises that can help you more.
Finding the best-fitting house for you
Wherever you purchase a house in France will be determined by the lifestyle you seek. Winter sports lovers and adventurers will desire a property in the French Alps, particularly with ski-in/ski-out access. Anyone looking for warmth and year-round sunlight may consider living on the French Riviera. Paris and Nice are vibrant and metropolitan, but Bordeaux and Provence are serene and surrounded by magnificent countryside. Overall, there is a lot to think about when making buying decisions in France: where and how to seek, how to discover the ideal home, the country's distinct buying procedure, and so on.
Register with French authorities and get a VISA
Based on your citizenship, you may require a French visa to enter France, residency permission to stay in France for longer than three months, or even both. There may be additional prerequisites to satisfy if you plan to educate in France. You don't require a visa to relocate to France if you presently reside in the EU.
To get a long-stay visa, you must register with the Office Francais de l'Immigration et de l'Intégration (OFII) 3 months after relocating to France. In addition, regardless of your nationality, you must register with French authorities. Registration is a time-consuming procedure that includes an interview and a medical examination, so it's best to get started as quickly as possible.
Open a French bank account
Getting a French credit card will make payment processing easier. You may even be obliged to open a French bank account in order to pay for your rent or be paid by your employer. You'll need an ID and passport, as well as confirmation of your French residency, such as a lease contract, and, if you have one, a residence permit. Some banks will allow you to create a French debit card before relocating, but make certain to ask about their stance about people migrating to France. Your French bank account may be opened in one day, and your bank card and checkbook will arrive within 10 business days.
Paying TAXES
If you intend to live and work in France for far more than 182 days a year, you will be deemed a tax resident as soon as you arrive. When you relocate to France and become a French resident, you must pay taxes by May 31 or the month of June, based on how you submit your tax return - if you file online, you have until June to submit. In order to pay social security, you must also register with the tax office or Mairie. If you do not pay your taxes on time, you may be penalized up to 10% of the total amount owed.
Health insurance
In France, health insurance is required. When you relocate to France, you will be obliged by law to get health insurance. You will be allowed to access the French health service exclusively in this manner. Most people who come to France will be eligible for the official French health insurance, known as sécurité sociale. Because French healthcare does not cover 100% of most insurance payments, many people choose to obtain extra insurance to fill the shortfall. In this instance, or if you do not qualify for state health insurance, you must enroll in private health insurance. You should also register with a regional dentist and a doctor as soon as possible.
Driving in France
To drive a car in France, you must have a valid driving license obtained in an EU or EEA nation. You can drive in France for up to a year with an International Driving Permit or your local driving license translated into French if you have a non-European license. There are a few general guidelines for driving in France such as:
Respect the speed limits: 130 km/h on highways, 50 km/h in cities. Other routes have speed limits of 90 km/h.
All kids under the age of ten must ride in specially designed seats.
When driving in France, you must have your driver's license, passport, and insurance paperwork with you.
In France, you must drive on the right side of the road.
Nuances of moving to France: car re-registration
The procedure for registering a foreign automobile with French plates has recently been altered and is now only available online through an account on the ANTS website. You are required to identify yourself via FranceConnect, a method of logging in to many official state websites, like local authorities and healthcare Cpams, without having to enter separate passwords again. The majority of the information needed may be found on the car's current registration papers. This comprises the plate number, the date of purchase, the date on the current registration certificate, and the date of initial registration, as well as an 11-digit number known as the Numéro de formule du certificat d'immatriculation in France. Enter the car's make and model, as well as the vehicle identification number, color, and if it is new or used.
Ready for your move to France?
France is a trendy first-class country with every amenity and infrastructure imaginable. Moving to France may be a smooth adjustment, with high-speed trains linking you to all regions of Europe, WiFi in most local cafés, and enough culture to satisfy any hunger. And Foreign Living is available to assist you. The French get five weeks of paid time off per year, work fewer hours per week, and have the world's greatest healthcare system, as stated by the World Health Organization. You, too, may escape the rat race and relocate to France. This change also might help you live longer: on average, the French live longer, healthier lifestyles than Americans. Some attribute this to their decreased stress levels.