Moving from
Germany to Latvia
How It Works
Post task
Post your task details and description on our website or app
Get offers
Receive offers from nearby service providers in PDF format with booking link
Discuss
Use Moovick Messenger to discuss details and choose the best option based on ratings and reviews
Book
Book and get your task done effortlessly
Moovick is an all-in-one platform that provides clients with on-demand, professional Service Providers for moves and home renovation jobs in real-time for their day-to-day needs.
Car (Taxi / Combo)
Perfect for small boxes, airport pick ups and luggage transfer.
Van (7-17 m3)
Great for moving studio or one bedroom apartments with basic furniture items and boxes.
3.5T Truck (20-24 m3)
Best for 1-2 bedroom apartments, small homes moves and commercials goods.
7.5T (+) Trucks
Best for 2 to 3 room apartments and upto 10 standard size pallets
Use Cases

Vinayak
Best service received
Delivery partner was very friendly and flexible. He was hard working and made sure that all assemblies are done correctly. I would recommend all to use Moovick for relocation service.
Relocation:
Service detail:
Home Move, furniture and boxes
Cost:

Shamsul
Moovick offers a very high standard of professional service
They completely hand hold you through out the process. Its like almost being with you in person. I was coordinated for my case by "Misha" and the communication was crisp and clear. Strongly recommend.
Relocation:
Service detail:
Home Move, furniture and boxes
Cost:

Geetika
I had a very comfortable and good experience
The customised delivery support was very prompt over WhatsApp (communication in English which was super helpful). I was able to arrange a very last minute delivery of something I found on Ebay (for a sunday morning). The driver was also very helpful and went the extra mile helping with things that weren't necessarily a part of the service. Highly recommended to try this!
Relocation:
Service detail:
Furniture pickup & Assembly
Cost:

Claudia
Excellent experience
I sent the WhatsApp well after 'after hours' and Misha from Moovick support was extremely efficient and helpful. This was a last minute booking from our side as our confirmed moovers had to cancel and i was so pleasantly surprised that within minutes Misha had confirmed that Olek would be available! Olek you guys were amazing thank you so much for being efficient and so friendly! Will definitely recommend and use this service next time.
Relocation:
Service detail:
Home Move, furniture and boxes
Cost:

Satish
Excellent support provided
They helped us decide the appropriate size of the transport vehicle based on the number of items. The transport vehicle was very good and also the driver was very helpful. A 10 out of 10 for everything. I would definitely recommend the service.
Relocation:
Service detail:
Home Move, furniture and boxes
Cost:

Patrick
The driver and helpers were very professional and quick in the entire process
The decisions for splitting and loading between two vehicles were made on the go and the assembly service was also good. Thanks to moovick for being in constant communication for support. Highly recommend the service.
Relocation:
Service detail:
Home Move, furniture and boxes
Cost:

Varun
The only reasons I am giving 5 stars
All in all, I have had a very smooth experience with LP support team, and would absolutely recommend the platform to anyone; ESPECIALLY, if you are new to the city, don't speak German and need support in English, or are on a budget with moving within the city. The price is very reasonable for the service offered, of course this might be quite dynamic considering your package, but we ultimately pay for the service and trust, I believe!
Relocation:
Service detail:
Furniture transport & Assembly
Cost:

Sharmin
I highly recommend this service for a reasonable price
Great customer support through WhatsApp even on holidays. Moovick helped me move from Munich to Hamburg very easily. The driver was very professional and punctual. To be honest, this is the best customer service I have experienced in Germany. 💯
Relocation:
Service detail:
Home Move, furniture and boxes
Cost:

Laura
Excellent service!
Kamran went above and beyond! He understood exactly what I needed. Communication was always quick and smooth. I am very picky with the services I receive and he exceeded my expectations! Thank you, Kamran!
Home improvement:
Service detail:
Cost:
Things to know before moving to Latvia
Moving to Latvia often means talking about life in Riga, the capital. But the country offers many more opportunities throughout the country.
Latvians often wax poetic about their country, which they call the 'land that sings'. Sandwiched between Estonia to the north, Lithuania to the south and Russia and Belarus to the east, Latvia is also well known for its art nouveau architecture, the many ruined castles that dot its vast valleys and national parks, and the bulbous cathedral domes that dot the country.
Despite its drawbacks, which we'll tell you about below, by the time you've finished reading this article you'll almost certainly include Latvia as one of your choices for a move to Northern Europe.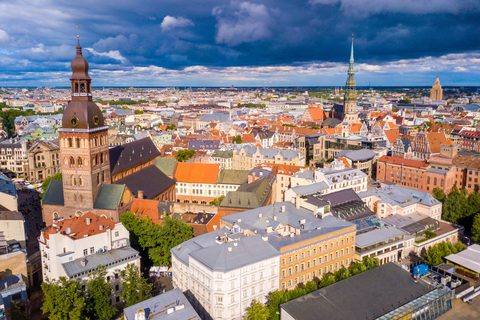 FAQs
Difference between living in Germany vs Latvia
Since Germany is considered the leading European power, it would be unfair to compare them as "equals". Latvia is not only a much smaller country in terms of territory, but also in terms of population.
While it is true that some aspects are very similar, such as political stability and climate, in others, such as civil rights or the health care system, Latvia loses out. But the big "advantage" of Latvia over Germany is its low cost of living.
Practically everything is different between Germany and Latvia and, perhaps, this is the main reason for moving, a complete change of life.
Peoples: Germany vs Latvia
Latvians are known to have a somewhat brusque character, and even more so with foreigners. Don't expect many smiles... In fact, it's likely that someone will accidentally bump into you and walk away without apologizing or even looking at you. Certainly the German style is much more "politically correct".
Although Latvia is now an EU country, in many respects it is years behind the Western world and its culture. And this is because of the great influence the Soviet Union had on the country. intolerance towards homosexuals, racism, the way of thinking... Everything is based on old Soviet stereotypes.
In fact, Latvia is one of the seven European countries that do not recognise any form of same-sex union, and a recent study says that it is the second worst European country to be LGTBI. Quite the opposite of progressive Germany, which is an international example in the fight for the human rights of LGBTI people. If you are concerned about sexual or racial diversity you might want to think twice before moving to Latvia, because they still have a long way to go in this respect.
Another barrier could be language. In this Baltic country, it is common to hear only two languages: Latvian and Russian. As in its neighboring countries, due to the long period of occupation by the USSR, a large part of the population still speaks Russian, mostly older people who did not learn the official language. English is frowned upon, let alone German!
Cost of living in Latvia compared to Germany
The cost of living in Latvia is 33% cheaper than in Germany.
Starting with the main thing, housing. Renting in Latvia is no problem, as there is plenty to choose from. To give you a rough idea, we'll take as an example what you'll find in Riga, the country's capital and largest city, where a one-bedroom flat costs around 320 euros/month. If you settle for renting a one-bedroom apartment, the price can drop to less than 150 euros. You won't find a flat for less than 500 euros even in the most remote and unpopulated cities of the country.
Food, transport, clothes, personal care, leisure and entertainment... Everything is 15% to 50% cheaper than in Germany.
Latvia has a relatively low cost of living compared to the more developed countries in the region. That is why it is a favourite destination for foreign students on a low budget or young couples who want to spend the first years of their life together saving as much as possible.
EU citizen: How difficult is it to move to Latvia
As an EU citizen, you will not encounter any problems if you plan to relocate to Latvia.
As a member state of the European Union, European citizens can travel freely and work in the country. Latvia is also a member of the Council of Europe and is part of the Schengen area. The only drawback is that, with only one major international airport, moving to Latvia is not as easy as moving to larger European nations - but it's not impossible!
Germans, as EU citizens, can reside in Latvia without a residence permit. If you expect to stay for more than 90 days per semester, you must register with the Latvian Department of Citizenship and Migration.
You do not need to register if:
Your stay in Latvia exceeds six months and the main purpose of your stay is to seek employment.
If you are working in Latvia but commute at least once a week to another EU country
If you are a student in a recognised institution in Latvia and the duration of your studies does not exceed one year.
For registration with the Department of Citizenship and Migration it is necessary to provide a contract of employment or a letter from a Latvian company announcing the employment of the person to be registered or proof of sufficient means of livelihood.
Latvia provides expatriates with almost all the rights granted to citizens. Expatriates who have permanent resident status are free to move to another country while retaining all the rights and privileges granted in Latvia and are extended the same social guarantees as Latvian citizens. The only rights limited to citizens are the right to vote and to hold a position in the civil service linked to national security.
Move to Latvia: pros and cons
We have already detailed many aspects of Latvian life and society that differ from German society. Here is a short summary in the form of a Pros/Contras list:
Pros:
Beautiful scenery, charming countryside, and cities
Ideal place to live or work
Rich history and cosmopolitan atmosphere in Riga
Perfect for nature lovers with hiking and cycling trails
High quality of life
Opportunities for leisure and recreation
Excellent healthcare system
Strong education system
Strong economy and safe environment
Stable economy and low crime rate
Member of the European Union for added stability and security
Great opportunities for business growth and development
Easy to find a good job for qualified personnel
Cons:
Harsh winters (though may not be a problem for someone used to snow and cold)
Language barrier, with Latvian being the official language
Learning Latvian can be challenging for non-English speakers
Patchy internet and mobile phone coverage
Long waiting times and frustrating customer service
Healthcare in two countries: what is the contrast
Latvia, a country with a population of approximately 2 million inhabitants, has a health care system very similar to that of the rest of the European Union, with one unique feature, about 47% of its population is considered healthy.
We can divide Latvia's health care system into two types: the public, with services provided by the states and municipalities, which can be used by all permanent residents free of charge, and the private health care system, which obviously has to be paid for.
Within the free health system provided by the government, for longer treatments, it is necessary for the family doctor (general practitioner) to refer the patient to a specialist, in order for the state to pay these charges. However, this process can take several months before the patient is seen.
All residents in the country are free to choose their family doctor and, to be free of charge, this choice must be registered, but it is not possible to register several family doctors at the same time.
All family doctor services are covered by the government and, at present, there are even scheduled visits completely free of charge. If not fully covered by the government, the patient must pay a fee of around 2 euros for care. Dental care is free for children and adolescents under 18, but other citizens must cover their own costs and only some medicines are partially covered by health plans.
In order for the patient to be seen by specialists free of charge, a referral must be made by the general practitioner. In some cases, the patient must contribute a fee of around 5 euros.
Some specialists can be consulted without a referral, such as gynaecologists, ophthalmologists and paediatricians. If the patient's expenses exceed the range of 570 euros, the patient is exempted from paying other health expenses during the year.
It was only in 2014 that electronic health record systems started to be accepted in the country. The health information system started to be used to store patient information in a more organised and technological way, as well as to facilitate the exchange of information between patients, doctors and health institutions.
In addition, there are other known advantages of electronic health record (EHR) systems, which are giving patients greater control over their health, improving health in society, reducing time spent on bureaucracy and improving patient treatment, giving greater health effectiveness.
Latvia's public health care system also works so well that many foreigners visit Latvia for the sole purpose of undergoing surgery.
Moving to Latvia for work
Yes, it is true that the unemployment rate is 7.6% compared to 3.5% in Germany. And yes, language can be a big barrier to finding a job. But with a good command of English or Russian you can quickly find a job in sectors ranging from ICT, electronics, the chemical industry, to the important field of financial services.
Salaries in Latvia are not competitive compared to the rest of Northern Europe. The minimum wage is €500. This is a far cry from the €1,621 offered in Germany. But it is worth noting that the cost of living is much lower, so it pays to move and work in Latvia. At the same time, women's incomes are about 17% lower than men's.
However, working conditions are similar to those in other European countries: there is a 40-hour working week, a normal working day cannot exceed eight hours. And employees are entitled to a minimum of four weeks' paid holiday and annual leave on public holidays.
Tax implications: different between Germany and Latvia
With the aim of fostering mutual economic relations and eliminating tax obstacles, the Republic of Latvia and the Federal Republic of Germany reached an agreement on the Avoidance of Double Taxation in Income Tax and Wealth Tax.
What does this mean? There is a risk that your income will be taxed twice if two countries are entitled to tax your income because, for example:
You live in one EU country but work in another (cross-border commuter)
You are posted abroad for a short assignment
You live and are looking for work abroad and have transferred unemployment benefits from your home country
You have retired in one country and receive a pension from another
In these situations, although you will always be subject to the tax rules of your country of residence, you may also have to pay tax in the other country. Fortunately, however, most countries have double taxation agreements. These agreements usually prevent you from double taxation:
under many bilateral tax treaties, the amount of tax you paid in the country where you work will be deducted from the tax you owe in your country of residence
in other cases, income earned in the country where you work may be taxable only in that country and be exempt from tax in your country of residence
You should be aware that the tax rates in the two countries involved are likely to be different. If the tax rate in the country where you work is higher, that is the final rate you will pay, even if the tax paid in that country is offset against the tax due in your country of residence, or if your country of residence exempts you from any other tax. To claim exemption from double taxation, you may have to prove where you are resident and that you have already paid tax on your income.
In general, the Latvian tax system is characterized by a high degree of transparency and low rates, which is highly appreciated by the mass of foreign entrepreneurs who have decided to open their businesses in Latvia. Corporate income tax is 15% and is one of the lowest rates in the EU. It has a standard VAT rate of 21% and personal capital gains tax is 15%.
Why move to Latvia?
To sum up, the proximity to the sea, low prices compared to the rest of Europe, the high quality of life and the ease of finding skilled work or setting up a business attract many migrants to Latvia.
Despite the cold climate and the not-so-modern mentality of Latvian society, the quiet and measured life in Latvia is still very attractive to many.
Quality of live in Latvia
Latvia is the best choice of life for those who love quiet and peaceful cities with the atmosphere of old Europe. You should also look beyond Riga.
Just 20 minutes from Riga you'll find Latvia's favorite seaside resort town. With more than 20 kilometers of sand, there's plenty of space for sunbathing and a refreshing dip in the summer. There are also spas to relax at any time of the year. As one of Riga's favorite excursions, the streets of Jurmala are lively at weekends.
The town of Cesis is one of Latvia's cultural centers. Its main attraction is the medieval castle which houses an exhibition on its history, as well as a workshop where traditional Latvian jewelry and other handicrafts are made. The park surrounding the castle is usually very lively, especially when concerts are held in the summer. Beyond the castle, the historic center of Cesis has 800 years of history and many charming corners to discover.
Kuldiga is another beautiful town to see in Latvia. Its cobbled streets, restored wooden houses, gardens and streams criss-crossing the town create a fairytale setting. Strolling through Kuldiga will take you back in time and make for a completely relaxing atmosphere - ideal for a romantic getaway! If you're planning to relocate to or from Latvia, rely on the expertise of Riga movers to handle your moving needs with professionalism and efficiency.
The Gauja National Park is a must for nature lovers, it was the first in the country and is still the largest. It covers the entire valley of the Gauja River, leaving postcard-perfect scenery in its wake. Lose yourself in the lush forests, hike to the top of a cliff and marvel at the views or explore the various caves within the park.
Most cities throughout the country offer education and health care at the best European level. Also nature and cleanliness. Living costs are low and it is easy to save money as there are many public services guaranteed by the government.
Moving to Latvia as a pensioner
Latvia's biggest attraction for a pensioner is outdoor fun. The Baltic country is one of the most popular destinations when it comes to enjoying the great outdoors. Specifically in the city of Liepaja, also known as the 'Windy City', expats will find the Seaside Park, which is a three-kilometer wooded park that serves as home to more than 140 species of imported and local trees. In addition to swimming, visitors to Seaside Park will also enjoy playing mini-golf, tennis, trampolining and go-karting.
Jūrmala is also famous. It was once the most prestigious spa and seaside destination in the former Russian Empire. And although the fever for healing waters is now a thing of the past, it's still a popular place to enjoy a host of unique treatments, including chocolate baths. Even if you don't fancy a swim from the shallow beach, it's worth the trip from the Latvian capital to admire the beautiful wooden mansions and see the glitz of the nouveau riche.
July to August are the warmest months in Latvia and it's also the best time of year for swimming. The country has the longest sandy beaches in Europe and a popular place to be is the picturesque beach at Cape Kolka, where the Baltic Sea meets the Gulf of Riga.
Other top destinations for expats in Latvia include Livu Aquapark, one of the largest water amusement parks in Northern Europe, and Tarzans, which is a huge adventure park located in Sigulda. Expat parents with children who love animals can also go to Vienkocu Park, where they will see various animal sculptures, fairy tale characters, manor houses and the first sandbag house in Latvia.
Advices to move to Latvia
Now that you know all the good and not that good things that life in Latvia has to offer, here are a few tips before hiring your Moovick provider to Latvia.
First of all, try to move to the capital, because as a foreigner you may have language problems at first. Outside the capital Riga people speak almost no English, let alone German!
Secondly, don't try to move all your capital and savings at first. Prices are very good and with little money you will live well.
Thirdly, don't be surprised if Latvians don't welcome you with open arms. They are a bit brusque.
Finally, although Latvia has tried to catch up with other European countries in terms of development, its Soviet heritage holds it back. Corruption, for example, remains one of its biggest obstacles. It is not uncommon to hear talk of money laundering or bribery.
Nuances of moving to Latvia: car re-registration
Easy. To import your vehicle to Latvia just have the following documents ready:
Certificate of registration of the vehicle and state registration number of the vehicle
Passport or ID card of the person presenting the document
You will have to pass a technical inspection of the vehicle and pay registration fees, not more than €5.
Ready for your move to Latvia?
Latvia is a beautiful Baltic country abundant in lush green landscapes and wide beaches, rich in culture and history. Here you will find what everyone is looking for: a constant movement towards professional growth and a life lived in the arms of Mother Nature.