Moving from
Germany to Finland
How It Works
Post task
Post your task details and description on our website or app
Get offers
Receive offers from nearby service providers in PDF format with booking link
Discuss
Use Moovick Messenger to discuss details and choose the best option based on ratings and reviews
Book
Book and get your task done effortlessly
Moovick is an all-in-one platform that provides clients with on-demand, professional Service Providers for moves and home renovation jobs in real-time for their day-to-day needs.
Car (Taxi / Combo)
Perfect for small boxes, airport pick ups and luggage transfer.
Van (7-17 m3)
Great for moving studio or one bedroom apartments with basic furniture items and boxes.
3.5T Truck (20-24 m3)
Best for 1-2 bedroom apartments, small homes moves and commercials goods.
7.5T (+) Trucks
Best for 2 to 3 room apartments and upto 10 standard size pallets
Select your moving package
All packages includes Driver, Vehicle, fuel and taxes
Economy
For Individuals looking to get tasks done affordably
Android and iOS App for posting your task
Access to 1700+ reviewed and verified Service Providers
Limitless Chats & Negotiations
Book Now Pay Later option
Moovick Support in selecting professionals
Premium
For Premium Individuals & Businesses
Book on-the-go with a 3-minute booking process
Work only with Moovick assigned Premium Movers with 4,7/5,0 or higher ratings
Moovick's personalized premium dashboard
Live Tracking of your goods
Moovick's premium support throughout the task
Comprehensive insurance
Multiple free reschedulings
Possibility to directly invoice your employer / job centre through Moovick
Packing Material (on request)
Business
For SME Business Entities
All in Premium
Dedicated Account Manager to understand your personalized needs
Customized Transport Solutions with LTL and pooled cargos
Personalized route optimization to ensure maximum savings
Discounted rates for recurring orders
Storage Facility (on request)
Contact us
Use Cases

Vinayak
Best service received
Delivery partner was very friendly and flexible. He was hard working and made sure that all assemblies are done correctly. I would recommend all to use Moovick for relocation service.
Relocation:
Service detail:
Home Move, furniture and boxes
Cost:

Shamsul
Moovick offers a very high standard of professional service
They completely hand hold you through out the process. Its like almost being with you in person. I was coordinated for my case by "Misha" and the communication was crisp and clear. Strongly recommend.
Relocation:
Service detail:
Home Move, furniture and boxes
Cost:

Geetika
I had a very comfortable and good experience
The customised delivery support was very prompt over WhatsApp (communication in English which was super helpful). I was able to arrange a very last minute delivery of something I found on Ebay (for a sunday morning). The driver was also very helpful and went the extra mile helping with things that weren't necessarily a part of the service. Highly recommended to try this!
Relocation:
Service detail:
Furniture pickup & Assembly
Cost:

Claudia
Excellent experience
I sent the WhatsApp well after 'after hours' and Misha from Moovick support was extremely efficient and helpful. This was a last minute booking from our side as our confirmed moovers had to cancel and i was so pleasantly surprised that within minutes Misha had confirmed that Olek would be available! Olek you guys were amazing thank you so much for being efficient and so friendly! Will definitely recommend and use this service next time.
Relocation:
Service detail:
Home Move, furniture and boxes
Cost:

Satish
Excellent support provided
They helped us decide the appropriate size of the transport vehicle based on the number of items. The transport vehicle was very good and also the driver was very helpful. A 10 out of 10 for everything. I would definitely recommend the service.
Relocation:
Service detail:
Home Move, furniture and boxes
Cost:

Patrick
The driver and helpers were very professional and quick in the entire process
The decisions for splitting and loading between two vehicles were made on the go and the assembly service was also good. Thanks to moovick for being in constant communication for support. Highly recommend the service.
Relocation:
Service detail:
Home Move, furniture and boxes
Cost:

Varun
The only reasons I am giving 5 stars
All in all, I have had a very smooth experience with LP support team, and would absolutely recommend the platform to anyone; ESPECIALLY, if you are new to the city, don't speak German and need support in English, or are on a budget with moving within the city. The price is very reasonable for the service offered, of course this might be quite dynamic considering your package, but we ultimately pay for the service and trust, I believe!
Relocation:
Service detail:
Furniture transport & Assembly
Cost:

Sharmin
I highly recommend this service for a reasonable price
Great customer support through WhatsApp even on holidays. Moovick helped me move from Munich to Hamburg very easily. The driver was very professional and punctual. To be honest, this is the best customer service I have experienced in Germany. 💯
Relocation:
Service detail:
Home Move, furniture and boxes
Cost:

Laura
Excellent service!
Kamran went above and beyond! He understood exactly what I needed. Communication was always quick and smooth. I am very picky with the services I receive and he exceeded my expectations! Thank you, Kamran!
Home improvement:
Service detail:
Cost:
Things to know before moving from Germany to Finland
Finland is among the top ten countries in terms of living standards in Europe and the world as a whole.
Finland has a high standard of living, security, lack of corruption and bureaucracy, excellent environment, one of the best education and social protection systems. Finnish society is very tolerant of immigrants. In the 70s, in connection with the aging of the population, a state program was introduced to attract immigrants to renew the country's gene pool.
The environment in Finland is known for its prosperity and stability. Thus, in the ranking of the healthiest countries, which takes into account environmental and demographic conditions (air pollution, access to clean drinking water, etc.), compiled by Forbes experts, Finland ranks 3rd in the world. At the same time, tap water in Finland and, in particular, in Helsinki, is recognized by experts as the cleanest in the world. Water is supplied here through the world's longest (124 km) tunnel carved into the rocks.
This beauty and clarity will not leave anyone indifferent, so many EU citizens choose to move to Finland for a great quality of life. Below you will find the essential list of things to know before moving to Finland.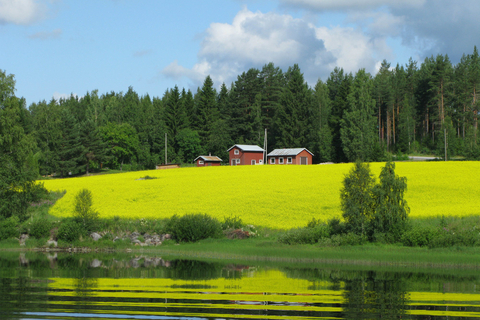 FAQs
Differences between living in Germany vs Finland
Finland has the status of a country with the most favorable living conditions. The infrastructure and social services are well developed. The country is also included in the list of the safest countries in the world. However, the cost of living and taxes in Finland are higher than the EU average.
Many services are financed by taxes, which can save the population a little. These include: education, public health services, and financial support for families with children.
Modern Germany is one of the most economically developed states. In addition, its internal political structure is exemplary. A similar trend is observed in other spheres of life and activity of the population. Most likely, this is what attracts migrants to this country, who have literally overwhelmed it lately.
Peoples: Germany vs Finland
Before moving to Finland, you should be prepared for the new lifestyle, people and culture. While looking for friends in Finland, here are a few qualities you should know about Finns:
All Finns are extremely punctual people, so if you make an appointment at 8, be sure that the Finn will be there at exactly 8:00 and not a minute later. Finns perceive any delay as a sign of disrespect.
In Finland, feminism has become extremely widespread, so it is customary to treat women here in the same way as men.
Laws and adherence to them are unshakable for Finns. So, don't be surprised if a neighbor who recently smiled at you calls the police for turning on the TV or music loudly.
The Finns literally exalt their personal space. Therefore, interference in personal affairs, problems and conversations about personal life is a taboo in Finland.
Cost of living in Finland compared to Germany
For a comfortable life in the big cities of Finland, a family of two needs to have a budget of 2200 to 2400€ per month. In rural areas or outside major cities, these costs will be somewhat lower.
EU Citizen: How difficult is it to move to Finland
If you are an EU citizen, you do not need a residence permit to live or work in Finland. If you plan moving to Finland with relocation services for more than three months, you must register your right to reside. While moving to Finland, EU citizens are generally entitled to social security in their place of residence, such as statutory health insurance benefits and family benefits.
Moving to Finland: Pros and Cons
As in any country, Finland has both pros and cons. If you are planning to move to Finland, then real feedback from people will be especially valuable to you.
Let's start with the pros, which are noted by almost everyone:
Ecology
Honesty, responsiveness, friendliness of Finns
Stability, social security
High quality of life
State care and security
Caring for children and people with disabilities
Education (its features, approach, accessibility)
multiculturalism
Solving administrative issues via the Internet
Attitude towards animals and nature
More significant cons are:
difficult language
job search in the first stages, if there is no knowledge of the language (Finnish, English)
high taxes
cost of groceries and utilities
sluggishness of public services
queues in public clinics and the cost of medicine in private clinics
occasional cases of prejudice against immigrants
Healthcare in Germany and Finland: The contrast
The quality of the Finnish healthcare system, its accessibility, inclusiveness and efficiency, and most importantly, the highest level of professional training of specialists, is beyond doubt. Yes, there are countries where the indicators are even better, and medicine is even more accessible, but Finland is rightfully among the most advanced countries. The low number of deaths from the coronavirus can serve as another confirmation of this.
For citizens of the country and holders of a residence permit in Finland, the public health care system is free. The rest of the expats have to pay for the treatment themselves, the cost varies depending on the municipality. A visit to a doctor in a district hospital costs from 20 €, in a specialized one - from 40 €. Treatment in a hospital from 50 € per day. Therefore, we advise you to have health insurance in Finland, because this is a guarantee of your safety. The country has a system of compulsory health insurance KELA, it applies to everyone, including the homeless and unemployed.
Moving to Finland for work
Citizens of EU countries do not need a work permit in Finland. You can start working as soon as you arrive in the country.
Get a tax card (verokortti) from the nearest tax office (Verotoimisto) and present it to your employer. Your employer will need it to pay salaries and withhold taxes.
You need to obtain a Finnish personal identification number (henkilötunnus). A personal identification number can be obtained from the Digital Information and Population Records Agency (Digi- ja väestötietovirasto) or the tax office (verotoimisto). Take a valid ID or passport with you, as well as an employment contract.
If you are planning to work in Finland for more than 3 months, apply for registration of the right of residence as an EU citizen to the Migration Service on the Enter Finland portal or at the nearest service point of the Migration Service.
If you are moving to Finland permanently for at least a year and wish to register at your place of residence, please notify the Digital Information and Population Records Agency of your move. If you have a place of residence in Finland, you generally have the right to use the services of the municipality of your place of residence.
Tax system: Difference between Germany and Finland
The Finnish tax system is impeccable. Many will agree that it is in this country that the highest taxes. On average, a Finnish citizen deducts about 36% of his salary every month. For foreign citizens, the amount of tax payments is 35 – 40%.
Why move to Finland?
It's just great to live in Finland, life is quiet, calm, safe. People send their children to school alone, leave their bikes in the yard, and a lost wallet will surely return to its owner.
Still in Finland there is no cult of workaholism - everyone is trying to maintain a balance between life and work. So, no one will expect labor exploits from you and will not require you to stay in the office until late.
Quality of life in Finland
The Finnish education system, which ranks first in international rankings, the high competitiveness of the economy, low levels of corruption, technological development and environmental friendliness are praised all over the world. And Finnish cities have been recognized more than once as the best places to live on our planet.
Surely you yourself have already heard at least once that the life of people in Finland is wonderful, because everything is done for them! There is a high level of security and an ecologically clean area, and the people themselves feel the attention and care from the state, they know what their taxes are spent on and receive various social assistance.
Anyone who has visited Finland will also definitely mention the impeccable order in everything and the efficient functioning of all service sectors, and those who are tired of megacities and noisy cities will certainly note the local silence, tranquility and regularity of life.
Moving to Finland as a pensioner
You can apply for a pension from an EU country that has a social security agreement with Finland, by completing the same form that you use to apply for a pension from Finland.
In Finland, the retirement pension usually starts at the age of 63-68. Disabled citizens can receive a disability pension. On average, people retire at age 61. If desired, the pensioner can continue to work.
Nuances of moving to Finland: car re-registration
If you want to register an imported vehicle in Finland, you must pay the vehicle tax and bring the vehicle in for registration. If you wish to use the vehicle before registration, you must first file a declaration of use with the Finnish tax administration. The certificate of conformity facilitates the process in Finland.
Advice to expats
For some, immigration is suitable, for others, it is not. But here are what many expats may advise those who are still planning.
First of all, learn Finnish, especially if you are considering moving to Finland. If you plan to work in an international company, of which there are a lot in Finland (the country has advanced far in the IT field), then you need English. In general, English is now needed almost everywhere, and its need is obvious.
Surely you yourself have already heard at least once that the life of people in Finland is wonderful, especially when it comes to relocation. Expert expats advise all newcomers to be open, sociable, not afraid of anything, build a new life, and use all opportunities. And at the same time, do not forget to respect the country, its customs, and people. When it comes to relocating, it's worth considering hiring a professional moving company Finland to assist you with the logistics of your move. They can help ensure a smooth transition and take care of the transportation of your belongings to your new home.
Are you ready to move to Finland?
If this guide helped you understand the process of moving to Finland, it is time to find a good moving company to transport your belongings safely, whether you are moving to Germany from Finland or vice versa. Moovick is one of the experienced companies that will help you securely pack and ship your stuff to your new home. The company provides high quality relocation services to both individuals and families in EU countries.