Moving from
Germany to Sweden
How It Works
Post task
Post your task details and description on our website or app
Get offers
Receive offers from nearby service providers in PDF format with booking link
Discuss
Use Moovick Messenger to discuss details and choose the best option based on ratings and reviews
Book
Book and get your task done effortlessly
Moovick is an all-in-one platform that provides clients with on-demand, professional Service Providers for moves and home renovation jobs in real-time for their day-to-day needs.
Car (Taxi / Combo)
Perfect for small boxes, airport pick ups and luggage transfer.
Van (7-17 m3)
Great for moving studio or one bedroom apartments with basic furniture items and boxes.
3.5T Truck (20-24 m3)
Best for 1-2 bedroom apartments, small homes moves and commercials goods.
7.5T (+) Trucks
Best for 2 to 3 room apartments and upto 10 standard size pallets
Select your moving package
All packages includes Driver, Vehicle, fuel and taxes
Economy
For Individuals looking to get tasks done affordably
Android and iOS App for posting your task
Access to 1700+ reviewed and verified Service Providers
Limitless Chats & Negotiations
Book Now Pay Later option
Moovick Support in selecting professionals
Premium
For Premium Individuals & Businesses
Book on-the-go with a 3-minute booking process
Work only with Moovick assigned Premium Movers with 4,7/5,0 or higher ratings
Moovick's personalized premium dashboard
Live Tracking of your goods
Moovick's premium support throughout the task
Comprehensive insurance
Multiple free reschedulings
Possibility to directly invoice your employer / job centre through Moovick
Packing Material (on request)
Business
For SME Business Entities
All in Premium
Dedicated Account Manager to understand your personalized needs
Customized Transport Solutions with LTL and pooled cargos
Personalized route optimization to ensure maximum savings
Discounted rates for recurring orders
Storage Facility (on request)
Contact us
Use Cases

Vinayak
Best service received
Delivery partner was very friendly and flexible. He was hard working and made sure that all assemblies are done correctly. I would recommend all to use Moovick for relocation service.
Relocation:
Service detail:
Home Move, furniture and boxes
Cost:

Shamsul
Moovick offers a very high standard of professional service
They completely hand hold you through out the process. Its like almost being with you in person. I was coordinated for my case by "Misha" and the communication was crisp and clear. Strongly recommend.
Relocation:
Service detail:
Home Move, furniture and boxes
Cost:

Geetika
I had a very comfortable and good experience
The customised delivery support was very prompt over WhatsApp (communication in English which was super helpful). I was able to arrange a very last minute delivery of something I found on Ebay (for a sunday morning). The driver was also very helpful and went the extra mile helping with things that weren't necessarily a part of the service. Highly recommended to try this!
Relocation:
Service detail:
Furniture pickup & Assembly
Cost:

Claudia
Excellent experience
I sent the WhatsApp well after 'after hours' and Misha from Moovick support was extremely efficient and helpful. This was a last minute booking from our side as our confirmed moovers had to cancel and i was so pleasantly surprised that within minutes Misha had confirmed that Olek would be available! Olek you guys were amazing thank you so much for being efficient and so friendly! Will definitely recommend and use this service next time.
Relocation:
Service detail:
Home Move, furniture and boxes
Cost:

Satish
Excellent support provided
They helped us decide the appropriate size of the transport vehicle based on the number of items. The transport vehicle was very good and also the driver was very helpful. A 10 out of 10 for everything. I would definitely recommend the service.
Relocation:
Service detail:
Home Move, furniture and boxes
Cost:

Patrick
The driver and helpers were very professional and quick in the entire process
The decisions for splitting and loading between two vehicles were made on the go and the assembly service was also good. Thanks to moovick for being in constant communication for support. Highly recommend the service.
Relocation:
Service detail:
Home Move, furniture and boxes
Cost:

Varun
The only reasons I am giving 5 stars
All in all, I have had a very smooth experience with LP support team, and would absolutely recommend the platform to anyone; ESPECIALLY, if you are new to the city, don't speak German and need support in English, or are on a budget with moving within the city. The price is very reasonable for the service offered, of course this might be quite dynamic considering your package, but we ultimately pay for the service and trust, I believe!
Relocation:
Service detail:
Furniture transport & Assembly
Cost:

Sharmin
I highly recommend this service for a reasonable price
Great customer support through WhatsApp even on holidays. Moovick helped me move from Munich to Hamburg very easily. The driver was very professional and punctual. To be honest, this is the best customer service I have experienced in Germany. 💯
Relocation:
Service detail:
Home Move, furniture and boxes
Cost:

Laura
Excellent service!
Kamran went above and beyond! He understood exactly what I needed. Communication was always quick and smooth. I am very picky with the services I receive and he exceeded my expectations! Thank you, Kamran!
Home improvement:
Service detail:
Cost:
Things to know before moving to Sweden
Are you planning to move to Sweden? Sweden is a charming country with friendly residents, first-rate public services and a business culture that promotes a healthy work-life balance. Not surprisingly, many people choose to move to the largest Scandinavian nation, Sweden, to enjoy all it has to offer. Before international moving to Sweden with removals, there are a few crucial things to know before you go. From the Accommodation and cost of living to the Swedish food, coffee drinking, and queue habit, as well as the women-friendly environment, these considerations are practical and beneficial, and they may make any relocation go more smoothly.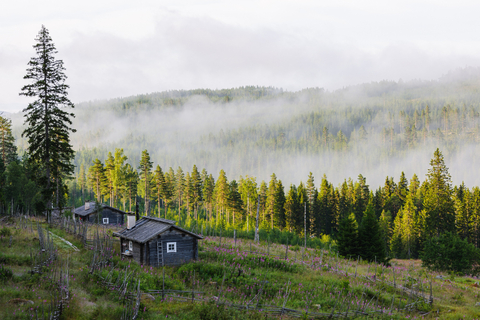 FAQs
Difference between living in Germany Vs. Sweden
Comparing the practices and customs in Germany and Sweden would expose you to a few differences between the Germans and the Swedish people. International moving to Sweden from Germany would remind you there are still ten EU countries that do not use the Euro currency. Germany's no-free water policy can also make you consider moving to Stockholm, Sweden. Other differences include the contrasting cost of living in the two countries, the alcoholic beverage control system in Sweden, unregulated taxi rates in Sweden, and the lack of credit card payment options in areas of Germany.
Peoples: Germany Vs. Sweden
Germany, like Sweden, has a significant proportion of blondes with blue eyes in the coastal districts. The proportion of people with darker hair and brown eyes rises as you move further inland, particularly close to the Czech Republic's border. Germans keep track. The time you spend doing something is as important as the result or value. While in Sweden, there is a more relaxed way of looking at this. If you need to go to the dentist, just tell your manager, and that's it!
Cost of living in Sweden compared to Germany
The cost of living in Germany is quite reasonable compared to Sweden's high cost. With an average of 950 euros, you can cover your monthly living expenses. The pretty good life in Sweden comes at a price. The cost of living in Sweden is high and with high tax rates. In fact, the cost of living in Sweden is 1.95% greater than it is in the UK, so it could be worthwhile to put aside a few pennies before relocating.
Move to Sweden: Pros and Cons
Pros:
Social coffee break i.e. Fika

The effective social welfare system

Reliable public transportation system

Food! So many tasty traditional treats

Women friendly environment

Work-life balance

Internet speed
Cons:
High cost of living with taxes

Expats finding it challenging to get a job

High housing prices

Difficulty in integrating into the Swedish society

Long and dark winter months

Government control of alcohol stores
Healthcare in 2 countries: what is the contrast
Germany and Sweden have excellent healthcare systems, but both have weaknesses.
Germany
As a resident, you're not immediately covered. Uninsured individuals are entirely on their own if this occurs, and this happens mainly with the unemployed

Doctors will most likely bill you for whatever they like if you have private insurance.
Sweden
The healthcare system prioritizes according to the severity of the condition. You might have to wait months before a doctor would see you if you are dealing with a minor ailment.

Going through all sorts of digital loops and queue makes booking appointments with doctors hard.
EU citizen: how difficult is it to move to Sweden
You are permitted to work, study, reside and start a business in Sweden as an EU citizen without a residence permit. The term "right of residence" refers to the ability of nationals of the EU/EEA to stay in Sweden without a visa. If you are working, self-employed, a student, or have enough money to sustain yourself, you can live where you choose.
You can get to Sweden from Germany by bus, car, rail, and air. Traveling by air takes an average of four hours, depending on the location, while the train takes about 19 hours. Traveling to Sweden from Germany by car and bus takes 14 & 20 hours, respectively.
Health insurance in Sweden
Private health insurance is rare in Sweden. Some private corporations do occasionally provide health insurance for senior-level staff and expats who are not EU citizens who want to avoid a waiting list and have immediate access to specific specialists. Expats from the EU can receive public healthcare services provided they are with their European Health Insurance Card, which they obtained in their home country.
Moving to Sweden for work
If you are an EU citizen, you can start working directly after arriving in Sweden. You are permitted to work, establish and run a private business in Sweden without a residence permit. But if you are moving to Sweden as a non-EU/EEA citizen, you must get your residence and work permit before you can work.
Tax implications: the difference between Germany and Sweden
The German tax system operates a progressive tax rate; most people will have their employer deduct income tax from their paychecks. In Sweden, most people pay only local taxes on their annual income; Sweden's typical local tax rate is 32.34 percent. Sweden's tax systems include a "basic deduction'' which is a sum exempt from taxable income. Earners above a certain income threshold the tax agency sets also pay 20 percent state tax.
Why move to Sweden?
Sweden is an excellent country to move to with its friendly residents, first-rate public services, and business culture that supports a healthy work-life balance. The following are reasons why you may consider moving to Sweden;
Freedom of speech and movement

High quality of life

An excellent work environment with good pay

Almost all citizens are bilingual and speak English

The low-income gap between genders

Parental leave benefits

Excellent healthcare system
Quality of life in Sweden
Sweden ranks highly on quality of life. This is due to the country's high sustainable development, freedom, environmental performance, happiness levels, freedom of speech, and migrant acceptance. The life expectancy age was pegged at 82.4 years in 2017.
Moving to Sweden as a pensioner
Long-term residents of an EU country may relocate to Sweden to work, study, or live independently, such as on a pension from their home nation. Although, you must apply for a residence permit if you want to stay for more than three months.
Nuances of moving to Sweden: car re-registration
If you bring a car into Sweden, you can use it for one week, after which you must re-register the vehicle. You must report your car to Swedish Customs when entering Sweden from a non-EU nation. The first step in the registration process is verification of origin. Other steps are;
Getting an appointment for a registration inspection and technical identity verification.
The car is allocated a Swedish registration number
Test the roadworthiness of the car
Licensing the vehicle for use
How to move to Sweden
Having all the required documents makes your move to Sweden an easy one. If you are an EU citizen, there is very little you will have to do since citizens of EU countries have the right of residence in Sweden. In some instances, Non-EU/EEA nationals have to tender an offer of employment from a Swedish company before arrival. It is necessary for all foreign nationals and expats who plan to move to Sweden to obtain a residence permit before entering the country.
There is no quarantine requirement for pets that have had their required vaccinations, although pets from a country deemed "high risk" for rabies must be immunized for one month before arriving in Sweden.
Moving to Malmo, Sweden
Malmo remains the friendly and relaxed location for expats moving to Sweden. Malmö is one of Sweden's foremost economic and education hubs, with a favorable environment for entrepreneurs. The moderate size of the city also makes it easier to navigate with a bicycle rather than a car. Expats moving company to Malmo Sweden, and intend to stay longer than 90 days must get a visa.
Ready for your move to Sweden?
No matter where you are coming from now, You surely want a stress-free trip to Sweden! Moovick like international removals to Sweden eases you off the stress of booking and packing. We would help you move from where you are to your destination as quickly and smoothly as possible.