Moving from
Germany to Czechia
How It Works
Post task
Post your task details and description on our website or app
Get offers
Receive offers from nearby service providers in PDF format with booking link
Discuss
Use Moovick Messenger to discuss details and choose the best option based on ratings and reviews
Book
Book and get your task done effortlessly
Moovick is an all-in-one platform that provides clients with on-demand, professional Service Providers for moves and home renovation jobs in real-time for their day-to-day needs.
Car (Taxi / Combo)
Perfect for small boxes, airport pick ups and luggage transfer.
Van (7-17 m3)
Great for moving studio or one bedroom apartments with basic furniture items and boxes.
3.5T Truck (20-24 m3)
Best for 1-2 bedroom apartments, small homes moves and commercials goods.
7.5T (+) Trucks
Best for 2 to 3 room apartments and upto 10 standard size pallets
Select your moving package
All packages includes Driver, Vehicle, fuel and taxes
Economy
For Individuals looking to get tasks done affordably
Android and iOS App for posting your task
Access to 1700+ reviewed and verified Service Providers
Limitless Chats & Negotiations
Book Now Pay Later option
Moovick Support in selecting professionals
Premium
For Premium Individuals & Businesses
Book on-the-go with a 3-minute booking process
Work only with Moovick assigned Premium Movers with 4,7/5,0 or higher ratings
Moovick's personalized premium dashboard
Live Tracking of your goods
Moovick's premium support throughout the task
Comprehensive insurance
Multiple free reschedulings
Possibility to directly invoice your employer / job centre through Moovick
Packing Material (on request)
Business
For SME Business Entities
All in Premium
Dedicated Account Manager to understand your personalized needs
Customized Transport Solutions with LTL and pooled cargos
Personalized route optimization to ensure maximum savings
Discounted rates for recurring orders
Storage Facility (on request)
Contact us
Use Cases

Vinayak
Best service received
Delivery partner was very friendly and flexible. He was hard working and made sure that all assemblies are done correctly. I would recommend all to use Moovick for relocation service.
Relocation:
Service detail:
Home Move, furniture and boxes
Cost:

Shamsul
Moovick offers a very high standard of professional service
They completely hand hold you through out the process. Its like almost being with you in person. I was coordinated for my case by "Misha" and the communication was crisp and clear. Strongly recommend.
Relocation:
Service detail:
Home Move, furniture and boxes
Cost:

Geetika
I had a very comfortable and good experience
The customised delivery support was very prompt over WhatsApp (communication in English which was super helpful). I was able to arrange a very last minute delivery of something I found on Ebay (for a sunday morning). The driver was also very helpful and went the extra mile helping with things that weren't necessarily a part of the service. Highly recommended to try this!
Relocation:
Service detail:
Furniture pickup & Assembly
Cost:

Claudia
Excellent experience
I sent the WhatsApp well after 'after hours' and Misha from Moovick support was extremely efficient and helpful. This was a last minute booking from our side as our confirmed moovers had to cancel and i was so pleasantly surprised that within minutes Misha had confirmed that Olek would be available! Olek you guys were amazing thank you so much for being efficient and so friendly! Will definitely recommend and use this service next time.
Relocation:
Service detail:
Home Move, furniture and boxes
Cost:

Satish
Excellent support provided
They helped us decide the appropriate size of the transport vehicle based on the number of items. The transport vehicle was very good and also the driver was very helpful. A 10 out of 10 for everything. I would definitely recommend the service.
Relocation:
Service detail:
Home Move, furniture and boxes
Cost:

Patrick
The driver and helpers were very professional and quick in the entire process
The decisions for splitting and loading between two vehicles were made on the go and the assembly service was also good. Thanks to moovick for being in constant communication for support. Highly recommend the service.
Relocation:
Service detail:
Home Move, furniture and boxes
Cost:

Varun
The only reasons I am giving 5 stars
All in all, I have had a very smooth experience with LP support team, and would absolutely recommend the platform to anyone; ESPECIALLY, if you are new to the city, don't speak German and need support in English, or are on a budget with moving within the city. The price is very reasonable for the service offered, of course this might be quite dynamic considering your package, but we ultimately pay for the service and trust, I believe!
Relocation:
Service detail:
Furniture transport & Assembly
Cost:

Sharmin
I highly recommend this service for a reasonable price
Great customer support through WhatsApp even on holidays. Moovick helped me move from Munich to Hamburg very easily. The driver was very professional and punctual. To be honest, this is the best customer service I have experienced in Germany. 💯
Relocation:
Service detail:
Home Move, furniture and boxes
Cost:

Laura
Excellent service!
Kamran went above and beyond! He understood exactly what I needed. Communication was always quick and smooth. I am very picky with the services I receive and he exceeded my expectations! Thank you, Kamran!
Home improvement:
Service detail:
Cost:
Things To Know Before Moving to Czech Republic
Before you officially move to Prague, you need to know some of the following things. It is much easier to remember all the important information before your arrival, because if you arrive unprepared, you will need a lot more time to find your way in the new environment.
Finding a house or apartment in Prague is not an easy task - housing facilities in Prague fill up very quickly, so you can't expect to find what you want immediately in 1 day. It would be best if you book your perfect place in this magical city a month before your arrival.
Tourists are an indispensable factor during your stay - If you have decided to move to the Czech Republic or specifically Prague, be prepared to meet a bunch of tourists at every corner. Prague is one of the most visited cities in Europe, so expect to hear your native language almost as often as Czech.
Citizens pay two types of tax - when you become an official citizen of the Czech Republic, you must pay health insurance and social security taxes. That comes out to around 4,200 kc per month, but still compared to the overall taxes of the EU countries, it is cheaper.
Czechs are not really fans of foreign nationals - imagine being surrounded by strangers all your life who are interested in everything about your city. By now, you would have been asked the same questions a thousand times, and you would be very bored of it all. Don't be upset if you don't get a very friendly welcome from them, but in time you will surely meet many locals who you will become friends with.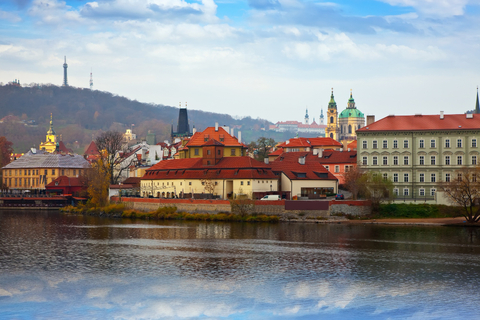 FAQs
Difference between living in Berlin vs Prague
Looking at the Czech Republic and Germany objectively, we can say that they are two completely different cultures. The Czech Republic has a different language and seems to be more hedonistic, while Germany is the complete opposite. In addition to the fact that when we think of workaholics, we immediately think of Germans, the German language is not even similar to the Czech language. But if we take a closer look at how things are, we will notice a huge similarity between these two countries. An immigrant from Berlin to Prague will adapt very easily, both to the people and their lifestyle, as well as to the benefits that the country offers to EU citizens. The main differences between these two countries can be broken down as follows:
Types of uniqueness: When we say that a city is unique, it means that we cannot find anything similar anywhere. Berlin and Prague are such cities, but each in its own way. While Berlin is the more modern metropolis of Germany, and gives the vibes of urban life, Prague is special for its rich history and old-fashion style of construction. The Old Town, synagogues, and buildings from the Middle Ages give Prague a Gothic style, while the Berlin Wall, many jazz cafes and sculptures evoke memories from the last century.
Prices: When you move to Prague, you will be surprised how much cheaper the city is in the country that is right next to one of the most expensive. Salaries and living standards are very different when comparing Berlin and Prague. An excellent example of this is the cappuccino you drink in Berlin for $3.15, in Prague you can get the same for $2.66, which is almost a dollar difference. At the same time, the prices come as another good reason to move to the Czech Republic.
Years: Although I wouldn't say that age is the difference between these two cities, it is certainly an important factor in determining which place is perfect for your stay. If you are younger, Berlin may still be a more interesting place for you, both because of the excellent nightlife and because of the fast-paced everyday life that suits younger people. If you are at a more mature age, even if you are about to retire, the quality of life in the Czech Republic, beautiful views and promenades are great to enjoy there.
People: Germany vs Czech Republic
"Should I move to Prague? How will I adapt there? But it's a completely different nation and language, how should I learn?" If these are the questions that bother you, you've come to the right place. Although many people think that the Czech Republic and Germany are two different cultures and that the difference in their lifestyle is huge, this is not the case at all. Apart from sharing a border of over 800 kilometers, Czechs and Germans have much more in common. Their similarities and differences can be classified into the following two groups:
similarities: food, architecture, relationships between people, healthcare, education, etc.

differences: by far the biggest difference is nation and language. The Czech language is a Slavic language, while the German language is of Germanic origin.
Cost of living in Prague compared to Berlin
How to move to the Czech Republic, with as little spending as possible? It is a well-known fact that Germany is one of the most developed countries in the EU, and that it is also one of the most expensive to live in. If you move to Prague straight from Berlin, don't be surprised at the extremely low prices that await you. It's not that the Czech Republic is only a cheaper country, but the standard of living is also lower, so the cost of living in Berlin is even 41% more expensive than in Prague.
The cost of living for one person in Berlin is $1761 on average, while in Prague it is $1245, so a dinner in a restaurant for two people in Berlin is $38.5 on average, while in Prague it is about $10 cheaper and is $29.4, all according to livingcost.org.
How Are They Officially Ranked?
Berlin is ranked 2074th, and Prague 3352nd ($1761 vs $1245) in the list of the most expensive cities in the world.
Moving to Czech, especially if it is about moving to Prague - the main destination of this unique country will be a very pleasant surprise, when we talk about money. We are sure that you will adapt very easily to the new conditions, and even laugh about the question that worries you so much (i.e. is currently worrying) - Should I move to Prague?
Move to Czech Republic: Pros and Cons
Find out below what the greatest benefits and drawbacks of moving to Czech Republic are:
Pros:
Vibrant social scene and a wealth of outdoor pursuits
Low rate of crime
Cheap, useful, clean and modern public transport
Very affordable prices for all kinds of services and goods
Excellent attitude towards foreigners in terms of high salaries, bonuses and housing offers from employers
Cons:
If a taxi driver notices you are a foreigner, they may try to trick you
Accommodation for foreigners can be more expensive than for locals
Inadequate client service
If you are not an EU citizen, you cannot buy property, and your work visa only lasts for 2 years
Winters are chilly and gloomy
Health insurance in 2 countries: what is the contrast?
Health Insurance in the Czech Republic
Known as one of the best health insurances, the standard of healthcare in the Czech Republic is at a very high level. Easy accessibility, affordability, and excellent service in the provision of medical treatments make the Czech Republic a well-known destination for medical tourism in Europe. It is mandatory to have health insurance in the Czech Republic, either private or public. By paying a monthly amount, all citizens, residents and employees of Czech companies are provided with insurance from a public health insurance provider, while people staying for a shorter period must pay privately, and tourists are provided with travel insurance.
Health Insurance in Germany
One of the greatest healthcare systems in the world is found in Germany. The majority of German citizens and residents are covered by the government-run public health insurance program, which is paid for by national taxes paid by the taxpayers. In turn, regardless of wealth or status, everyone gets access to high-quality, cheap healthcare.
Main Contrast Between German and Czech Health Insurance
In contrast to Germany, which has a universal multi-payer healthcare system funded by both statutory health insurance (Gesetzliche Krankenversicherung) and private health insurance (Private Krankenversicherung), the Czech Republic has a universal health care system based on a compulsory insurance model, with fee-for-service care being funded by mandatory employment-related insurance plans since 1992.
EU citizen : Is it easy to move to the Czech Republic?
EU citizens can move to the Czech Republic visa-free due to its 2004 membership in the EU. Other nationals must apply for a visa before moving. U.S. citizens staying in the Czech Republic for less than 90 days without business or personal reasons do not need a visa. Information on entry and residence can be found on the Czech Republic's Ministry of Foreign Affairs' website.
Except for potential workers, holders of blue cards, and nationals of the EU, Iceland, Norway, Liechtenstein, and Switzerland, a visa is always necessary to work in the Czech Republic. If you do not hail from one of these nations, you must apply for a visa at a Czech mission abroad well in advance of your departure.
Obtaining a GNP permit when moving to Czech Republic
Prior to receiving a residence permit, you must first get a visa in the majority of situations (marriage, education, employment, and family reunification). Next, you must put together a group of documents:
passport;
two color images;
insurance;
zero criminal history;
financial statement;
proof that there are no questionable open debts;
a guide to renting or purchasing a home;
document-based relocation: Order of admission to the faculty, job contract, etc.
statement.
Upon arrival, all paperwork must be turned in to the embassy or the interior ministry. The applicant must meet certain requirements, including having 116 euros in their account each month to cover expenses. Moving from Berlin to Prague can be a real challenge if you don't organize everything you need in time, but by listening to all our moving tips and services we offer, your journey will certainly be easier.
Relocating to Prague and Czech Republic for work
Although unemployment is low in the Czech Republic, which is now experiencing economic development, there are still a lot of skill gaps in the nation. Opportunities for employment for expats remain high despite the fact that under Czech legislation a business may only give a job to a foreigner if they are unable to locate a qualified Czech or EU native to fill the position. Even though it would be advantageous to learn Czech, particularly outside of Prague, doing business with foreign corporations sometimes requires only English or even German proficiency. EU residents do not need to have a work permit or a visa in order to live and work in the Czech Republic.
If you are not an EU citizen you will require a long-term residency visa with the ability to work in the Czech Republic. The Blue Card and the Employee Card are the two varieties.
The Blue Card - Only those who have been offered a full-time job contract for at least one year at an agreed salary that is at least 1.5 times greater than the average gross Czech annual salary and who possess high-level professional or academic credentials in a field that is in demand in the Czech Republic are eligible for Blue Cards. The Blue Card is only good for a total of two years after it is granted, which is the duration of your job contract plus three months.

Employee Card - All employment kinds are covered by employee cards.
Tax Implications: Different between Germany and Czech Republic
Why move to the Czech Republic? In addition to so many reasons mentioned so far, tax implications are certainly another bonus. Your income tax in the Czech Republic is 15% for gross salary under 155,644 CZK, or 23% for gross salary over 155,644 CZK, which is almost minimum compared to other EU members (Denmark - 55.90%, France - 30%).
Furthermore, Germany has a good tax system. In Germany, the income tax is progressive, rising from 1% to 42% or, for very high incomes, 45%, over time. For 2022, taxable income between €58,597 and €277,825 is subject to a 42% tax rate.
Why Move to Czech Republic?
If you are still in a dilemma about whether to move to Prague or another Czech city, you need to look at all the pros and cons that follow.
From guaranteed security, excellent nightlife, beautiful views and promenades, stunning architecture, first-class, and authentic food, unlimited time to hang out over cheap beers, warm summers and chilly winters that enchant when the cities are decorated to high salaries for the chosen profession, good health, and education system, the Czech Republic is a great place to spend your life, whether you are still in your puberty or late years.
The decision that awaits you is not easy at all, but if you move to Czechia permanently, you will certainly not regret it.
Quality of Life in Czech Republic
The Czech Republic is placed 24th out of 149 nations in the Quality of Life Index, which was created by Deloitte in association with the nonprofit Social
Progress Imperative.
Above it are the Czech Republic's neighbors Germany (#8) and Austria (#20), while Slovakia (#35) and Poland (#33) are below this country. The Czech Republic is one of the top 15 peaceful nations in the world. The nation is ranked 6th in the world for cleanliness and sustainability. It boasts exceptional food and water quality, a healthy environment, and consistently positive health indicators.
Czechia boasts 12 UNESCO world heritage sites, 2000 and more castles and hundreds of foreign businesses, making it a quality place for foreigners to settle down.
Moving to Czechia as a pensioner
As it is one of the most beautiful cities in the world, Prague is the retirement dream of many people. If you retire at 63 in the Czech Republic, your golden age will be filled with beautiful experiences. Unfortunately, the Czech Republic still does not have retirement visas. If you are looking into retiring in the Czech Republic after living and working somewhere else your whole life, you won't be eligible for receiving any pensions.
Advices to move to Czech Republic
Friendly advice in important life decisions, such as moving, is always desirable. According to the people who moved to the Czech Republic before you, these are the things you need to know before moving to Prague!
Learn Czech! - English is not as widely spoken in Prague as it is in Berlin, so you will need the help of a translator at almost every step. If you want to fit in as soon as possible, learn Czech and the locals will definitely respect you more.
September can be very cold, so we recommend you to bring warmer clothes.
Beware of pickpocketing, especially if someone realizes you are a foreigner!
Don't smile at people passing by. Czechs are not very friendly at all times, and you don't want anyone to think you're crazy, do you?
Uber is good, but nothing beats the development of public transport in Prague. While the metro is the fastest, trams and buses are easier to navigate around in.
Beware of tourist traps! Eat and party only at trusted places, preferably with your local friends.
The weather can be very rainy throughout the year, so be prepared to wear waterproof boots most of the time!
Nuances of moving to Czech Republic: car re-registration
You just moved to the Czech Republic and don't know how to re-register your car? We are here to help you. The process of re-registering a car is quite complicated, but the most important thing is that you have all the necessary documents. In the text below, read how to re-register a new or used vehicle in the Czech Republic!
Czech Republic: New Vehicle Registration Imported From Within the EU
You require the following papers in order to register a new vehicle:
Automobile insurance

Registration certificate, COC lists, and invoices

Confirmation of Inspection

Czech Residency Permit: As a German immigrant, this section may be most important for you. Even if you have a passport from an EU member state, you need a Czech residence permit to purchase a new vehicle. If you don't have Czech Residency Permit, you can register a car in your company's name or under your trade license, and the vehicle will then be considered a business vehicle. It has the following problems as a result:
As opposed to personal automobiles, you must pay road taxes
It costs extra to get auto insurance
Additional costs include parking permits.
Czech Republic: Used Vehicle Registration Imported From Within the EU
For registering a used car imported from within the EU to the Czech Republic, you need the following documents:
Confirmation of inspection
Proof of Insurance
CoC Lists
Original Vehicle Certificates
CZ Residency Permit
Ready For Your Move to Czech Republic?
If you think that after all these tips, moving from Berlin to Prague with our movers couldn't be easier, you are wrong. With moving company Moovick, all the worries about booking and packing are left in our hands, and you can carefree enjoy your trip, for which, luckily, you don't even need a visa. By opting for our services, all worries that sound like: "How to move to Czech Republic, I'm not ready, should I move to Prague - is it a big challenge?" go with the air, and the only thing left to worry about is what you should visit first!