Moving from
Netherlands to Norway
How It Works
Post task
Post your task details and description on our website or app
Get offers
Receive offers from nearby service providers in PDF format with booking link
Discuss
Use Moovick Messenger to discuss details and choose the best option based on ratings and reviews
Book
Book and get your task done effortlessly
Moovick is an all-in-one platform that provides clients with on-demand, professional Service Providers for moves and home renovation jobs in real-time for their day-to-day needs.
Car (Taxi / Combo)
Perfect for small boxes, airport pick ups and luggage transfer.
Van (7-17 m3)
Great for moving studio or one bedroom apartments with basic furniture items and boxes.
3.5T Truck (20-24 m3)
Best for 1-2 bedroom apartments, small homes moves and commercials goods.
7.5T (+) Trucks
Best for 2 to 3 room apartments and upto 10 standard size pallets
Select your moving package
All packages includes Driver, Vehicle, fuel and taxes
Economy
For Individuals looking to get tasks done affordably
Android and iOS App for posting your task
Access to 1700+ reviewed and verified Service Providers
Limitless Chats & Negotiations
Book Now Pay Later option
Moovick Support in selecting professionals
Premium
For Premium Individuals & Businesses
Book on-the-go with a 3-minute booking process
Work only with Moovick assigned Premium Movers with 4,7/5,0 or higher ratings
Moovick's personalized premium dashboard
Live Tracking of your goods
Moovick's premium support throughout the task
Comprehensive insurance
Multiple free reschedulings
Possibility to directly invoice your employer / job centre through Moovick
Packing Material (on request)
Business
For SME Business Entities
All in Premium
Dedicated Account Manager to understand your personalized needs
Customized Transport Solutions with LTL and pooled cargos
Personalized route optimization to ensure maximum savings
Discounted rates for recurring orders
Storage Facility (on request)
Contact us
Use Cases

Vinayak
Best service received
Delivery partner was very friendly and flexible. He was hard working and made sure that all assemblies are done correctly. I would recommend all to use Moovick for relocation service.
Relocation:
Service detail:
Home Move, furniture and boxes
Cost:

Shamsul
Moovick offers a very high standard of professional service
They completely hand hold you through out the process. Its like almost being with you in person. I was coordinated for my case by "Misha" and the communication was crisp and clear. Strongly recommend.
Relocation:
Service detail:
Home Move, furniture and boxes
Cost:

Geetika
I had a very comfortable and good experience
The customised delivery support was very prompt over WhatsApp (communication in English which was super helpful). I was able to arrange a very last minute delivery of something I found on Ebay (for a sunday morning). The driver was also very helpful and went the extra mile helping with things that weren't necessarily a part of the service. Highly recommended to try this!
Relocation:
Service detail:
Furniture pickup & Assembly
Cost:

Claudia
Excellent experience
I sent the WhatsApp well after 'after hours' and Misha from Moovick support was extremely efficient and helpful. This was a last minute booking from our side as our confirmed moovers had to cancel and i was so pleasantly surprised that within minutes Misha had confirmed that Olek would be available! Olek you guys were amazing thank you so much for being efficient and so friendly! Will definitely recommend and use this service next time.
Relocation:
Service detail:
Home Move, furniture and boxes
Cost:

Satish
Excellent support provided
They helped us decide the appropriate size of the transport vehicle based on the number of items. The transport vehicle was very good and also the driver was very helpful. A 10 out of 10 for everything. I would definitely recommend the service.
Relocation:
Service detail:
Home Move, furniture and boxes
Cost:

Patrick
The driver and helpers were very professional and quick in the entire process
The decisions for splitting and loading between two vehicles were made on the go and the assembly service was also good. Thanks to moovick for being in constant communication for support. Highly recommend the service.
Relocation:
Service detail:
Home Move, furniture and boxes
Cost:

Varun
The only reasons I am giving 5 stars
All in all, I have had a very smooth experience with LP support team, and would absolutely recommend the platform to anyone; ESPECIALLY, if you are new to the city, don't speak German and need support in English, or are on a budget with moving within the city. The price is very reasonable for the service offered, of course this might be quite dynamic considering your package, but we ultimately pay for the service and trust, I believe!
Relocation:
Service detail:
Furniture transport & Assembly
Cost:

Sharmin
I highly recommend this service for a reasonable price
Great customer support through WhatsApp even on holidays. Moovick helped me move from Munich to Hamburg very easily. The driver was very professional and punctual. To be honest, this is the best customer service I have experienced in Germany. 💯
Relocation:
Service detail:
Home Move, furniture and boxes
Cost:

Laura
Excellent service!
Kamran went above and beyond! He understood exactly what I needed. Communication was always quick and smooth. I am very picky with the services I receive and he exceeded my expectations! Thank you, Kamran!
Home improvement:
Service detail:
Cost:
What to know before moving to Norway
If you are a Norwegian citizen or a passport bearer from the EU region or the Schengen nations, for EU citizens moving to Norway from EU will not require a visa - but you will face stay limits that would not apply in an EU country.
However, it is important to note that even though you may not need a visa to enter Norway, there are certain rules and regulations regarding residency and employment that you need to be aware of when relocating to Norway from the EU.
Getting an apartment in Norway is neither simple nor inexpensive, which is why many Norwegians choose to own rather than rent. The difficulty is that, while you may be able to locate more affordable housing outside of large towns like Oslo, Bergen, Trondheim, or Stavanger, the big cities are typically where the work possibilities are. You'll realize how costly eating out is, and you'll prioritize cooking at home. Then, in the grocery, you'll realize that products you've become accustomed to considering pricey back home are rather affordable here - and your diet will soon be a little more Norwegian.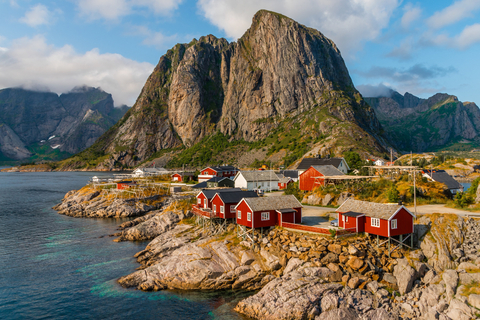 FAQs
People: Netherlands vs Norway
The two nations have the same cultural heritage: tolerant and democratic Protestantism. The distinction is in the method of life. The Netherlands has a population density of roughly 400 people per square kilometer, whereas Norway has barely 10. Modern Norwegian is a Danish dialect, while Danish is related to Dutch, Friesian, and Anglo-Saxon. A large number of young Dutch families with small children travel to Norway. They come here to live in the highlands, surrounded by nature. They are quite welcome here since they acquire the language quickly and bring their trades with them to contribute to local life.
Cost of Living in Amsterdam Compared to Oslo
Amsterdam is a fantastic place to live in if you want to make a difference in your life. The city provides its citizens with a dynamic nightlife, inventive events, and exciting meeting places. Amsterdam is one of those places that is always evolving and living there will never tire you. An individual's monthly expenses are mostly determined by their lifestyle. However, the approximate cost of living in Amsterdam for a family of four or a couple is € 3,500, and € 2,100 for a student. Furthermore, a bachelor's monthly living expenses in Amsterdam are € 2,300.
Moving to Oslo Norway, the cost of living is also expensive. It is, in reality, one of Europe's most costly cities to live in. This is especially true when it comes to home pricing. Estates in the city, both for rent and buy, are equivalent to those in other wealthy European towns such as Zurich and Copenhagen. The city has a high net migration rate, drawing expats from Norway, Europe, and other parts of the world. Despite not being a member of the European Union, Norway is a member of the European Economic Area, and EU and EEA citizens enjoy the same rights as Norwegian nationals to work in Norway. Check out the following figures regarding the cost of living in Oslo, Norway: The Norwegian krone is the country's currency. As of December 2022, the exchange rate is one dollar to 9.85 NOK.
Difference between living in the Netherlands vs Norway
According to a recent Eurostat survey, prices for products and services in the Netherlands are higher than the EU average. Transportation expenses and restaurant and hotel prices are substantially above average, energy and gas prices are approximately average, while food, household appliances, and consumer electronics prices are well below the EU average. However, costs differ between rural and urban areas. The most of foreigners settle in the Randstad, the most densely populated region in the Netherlands, which includes Rotterdam, Amsterdam, The Hague, and Utrecht. Many international institutions and schools have their headquarters here.
In Norway, the cost of living is relatively high. However, this is mitigated by the high compensation offered to employees and workers. Electricity, heating, cooling, water, and trash services cost an average of 1,571 NOK (171 USD) per month for an 85 square meter flat in Norway. Internet access with 60 Mbps or higher and unlimited data costs an average of 473 NOK (51 USD).
How difficult is it for an EU citizen to move to Norway?
Legally, moving to Norway as an EU citizen is not hard because Norway is a member of the EEA, thus you do not need a work permission to do so. In practice, it depends. Mostly your line of work. Unless you work in a highly required sector, finding a job there is difficult. Norway is not a member of the EU since its people rejected membership in two national referendums.
However, the country retains close relations with Europe due to its participation in the European Economic Area. This brings all EU nations, as well as Norway, Iceland, and Liechtenstein, into the European single market. Freedom of movement of commodities and persons follows. Citizens of all member nations have the right to reside and work in Norway under these restrictions. To remain longer than three months, you must register in one of the following categories: employed, self-employed, posted worker, or student. Moving to Norway to EU is much easier than it seems.
Pros and Cons of moving to Norway
PROS
Offshore oil and gas fields make for nearly 20% of the country's economy
While Norway is a beautiful nation, you will not encounter many visitors, and the country is not overcrowded.
The crime rate in Norway is among the lowest in the world
The healthcare system is largely supported by business and employee payroll contributions, as well as taxes collected.
The government funds the school system. Tuition and fees are not charged at public colleges. Furthermore, Norway has one of the greatest educational systems in the world.
CONS
In contrast to other nations, the cost of living in Norway is rather high. To make ends meet in this Scandinavian country, you'll need to earn between $2,000 and $4,500 each month.
If you want to drink beer and smoke, you might want to rethink moving to Norway. The price of alcoholic beverages and tobacco goods was 136% more than the European average.
The average cost of a house or apartment in Norway is quite expensive. In Norway, the average price per square meter is roughly $5,150.
Merverdiavgift is a type of sales tax or VAT levied on products and services in Norway. It's applied to practically everything, so there's no way to escape it. That is why going to particular areas might be so expensive, or why costs appear to be exorbitant.
With a secondary education and a highly educated populace, finding a solid job as an expat in Norway might be difficult.
Norway's health insurance
Expats in Norway have access to both the public health care system and health insurance. Vision and dental care are not included. The healthcare system is quite rudimentary, with no holistic methods or natural types of therapy.
In the nation, you will find both public and private hospitals. Four Regional Health Authorities supervise the operation of public hospitals, which are controlled by the Ministry of Health and Care Services. It is the government's obligation to offer healthcare to all citizens, regardless of age, color, gender, income, or location. All inhabitants have access to free healthcare. Municipalities are in charge of primary health and social services.
Moving to Norway to Study
If you are from a country other than the EU/EEA and want to study in Norway, you must apply for a study permit. This is also known as a study permit. You can apply for a residency permit to study in a university, college, or bible school, or to attend folk high school. You can also apply for a study visa if you are a skilled worker and want to learn Norwegian or pursue education in Norway.
Moving to Norway for work
Finding work in Norway is the most challenging challenge for a newbie to the country. Even the most seasoned foreigner will face competition from a highly educated workforce with near-native English language skills. If you are a citizen of another Nordic nation, you have the right to live, work, and study in Norway. You are not required to apply for a residency permit or anything comparable. If you are a citizen of another EU/EEA nation, you can enter Norway freely and remain for up to three months. You must register if you are staying in Norway for longer than three months.
If you are from a nation other than the EU/EEA and wish to relocate to Norway, you must first apply for a residence permit. The fundamental rule is that you must apply for this permission and have it granted before moving to Norway.
Tax implications: difference between the Netherlands and Norway
The Norwegian tax system differentiates between full tax responsibility for resident taxpayers and restricted tax liability for non-resident taxpayers. Residents are taxed on their entire income, whilst non-resident taxpayers are only taxed on certain categories of income derived from Norwegian sources. General income is taxed at a flat 22% rate. The general income tax base includes all taxable income categories. When calculating general income, tax allowances, costs, and some losses are all deductible. The county tax, municipal tax, and state tax are all levied on general income.
The Netherlands taxes its inhabitants on their worldwide income; non-residents are taxed solely on income obtained in the Netherlands from certain sources.
In the Netherlands, global income is split into three categories of taxable income, and each income category is taxed individually under its own schedule, known as a 'box'. Each box has a different tax rate. The total revenue in these three categories determines an individual's taxable income.
Box 1 covers the following taxable income from labor and property ownership:
Earnings from employment.
Ownership of a primary house.
Receipts and payments are made on a regular basis.
Income provisions benefits.
Box 2 denotes taxable income from a significant stake.
Box 3 pertains to taxable income derived from savings and investments.
Quality of live in Norway
Norway, a country in Northern Europe, is well-known for having excellent standards of life in terms of health care, education, and a variety of other areas. Norway is one of the world's leading countries in terms of clean air and water. Approximately 96 percent of Norwegians are happy with their water quality, and the country boasts the world's highest sales of electric automobiles.
Despite the fact that taxes are high, tuition-free public colleges, reduced costs of universal health care, and a higher average yearly pay balance this out. The higher-than-average life expectancy rate is due to universal health care being widely accessible to all inhabitants, as well as the country's clean water and air. Despite the fact that poverty rates are rising, the Norwegian government is working to increase expenditure from its sovereign wealth fund in order to sustain the country's economic development.
Why to move from Norway to Netherlands or vice versa?
Norway to Netherlands
The healthcare system in the Netherlands is effective. Waiting periods are brief, and most physicians speak English fluently.
The low cost of living in the Netherlands is true. However, this does not imply that you cannot handle your finances. A single person's monthly costs are typically approximately €2,591. This figure covers the monthly rent in a non-expensive neighborhood outside of the city center.
If you wish to migrate to the Netherlands, finding work should be your first priority because it will help you secure a visa to reside there.
Netherlands to Norway
Norway has one of the greatest education systems in the world, with free, world-class public education for children and free higher education for anybody, even non-residents. Norway places a high value on education, which is reflected in the system's overall excellence.
The land is lush and green, and it's ideal for trekking in the summer and snow activities in the winter. Nature is always within touching reach, even if you live in a huge city.
Norway is a worldwide leader in a variety of areas, including marine, energy, technology, and communications. And the country has a government that fosters and supports new firms, resulting in around 35,000 new businesses being registered each year.
Moving to Norway as a retiree
Unlike in numerous other European nations, no particular retirement permission is offered. To live in Norway without working, you must have either permanent residency or enough money to support oneself.
Anyone having Norwegian citizenship or permanent residency has gained the right to dwell in Norway indefinitely. This normally necessitates having been born in Norway or having lived here for a set amount of time, which is usually five years for EEA citizens and seven years for everyone else.
If you match the conditions, you can apply for permanent residency, which would allow you to live in Norway until your retirement.
Advice to move to Norway
Moving to Norway is of course a good idea. But there are some things to know before moving to Norway:
Determine the legal prerequisites for moving to Norway.
Make sure you can afford to live in Norway.
Establish your money in Norway.
Find a job and relocate to Norway.
Look for a place to live in Norway.
Check that your healthcare is covered in Norway.
Is moving to Norway a good idea?
Not only is it a highly safe nation in general, but as a resident, you have the impression that you are being taken care of. Health care and education are both free, and even unskilled labor pays well, so as long as you're prepared to put in the effort to learn the language, you should be able to live well here. If you enjoy nature and peace and quiet, don't mind the cold, enjoy cooked potatoes and canned salmon, and are patient, then coming to Norway may be a terrific decision!
Ready for your move to Norway?
Moving to Norway from the Netherlands with your family or alone may be jarring since you must adjust to a new language, daily routine, and culture. We've compiled a list of information about living in Norway that other expats find useful:
Norwegians like sports and spend a lot of time outside of cities. Norwegians also prefer to live in individual residences outside of cities.
Be prepared to pay a high living expense in Norway. Even if the average wage in Norway is at 43,000 NOK (€ 4,000), it is difficult to save money because everything in the country is highly costly.
Norwegians typically work no more than 40 hours a week. They can legitimately claim a double hourly wage if they work in shifts.
Norway has already abandoned cash. As a result, local inhabitants and residents utilize credit cards and mobile payment apps to either buy groceries or pay a fee.