Moving from
Germany to Lithuania
How It Works
Post task
Post your task details and description on our website or app
Get offers
Receive offers from nearby service providers in PDF format with booking link
Discuss
Use Moovick Messenger to discuss details and choose the best option based on ratings and reviews
Book
Book and get your task done effortlessly
Moovick is an all-in-one platform that provides clients with on-demand, professional Service Providers for moves and home renovation jobs in real-time for their day-to-day needs.
Car (Taxi / Combo)
Perfect for small boxes, airport pick ups and luggage transfer.
Van (7-17 m3)
Great for moving studio or one bedroom apartments with basic furniture items and boxes.
3.5T Truck (20-24 m3)
Best for 1-2 bedroom apartments, small homes moves and commercials goods.
7.5T (+) Trucks
Best for 2 to 3 room apartments and upto 10 standard size pallets
Select your moving package
All packages includes Driver, Vehicle, fuel and taxes
Economy
For Individuals looking to get tasks done affordably
Android and iOS App for posting your task
Access to 1700+ reviewed and verified Service Providers
Limitless Chats & Negotiations
Book Now Pay Later option
Moovick Support in selecting professionals
Premium
For Premium Individuals & Businesses
Book on-the-go with a 3-minute booking process
Work only with Moovick assigned Premium Movers with 4,7/5,0 or higher ratings
Moovick's personalized premium dashboard
Live Tracking of your goods
Moovick's premium support throughout the task
Comprehensive insurance
Multiple free reschedulings
Possibility to directly invoice your employer / job centre through Moovick
Packing Material (on request)
Business
For SME Business Entities
All in Premium
Dedicated Account Manager to understand your personalized needs
Customized Transport Solutions with LTL and pooled cargos
Personalized route optimization to ensure maximum savings
Discounted rates for recurring orders
Storage Facility (on request)
Contact us
Use Cases

Vinayak
Best service received
Delivery partner was very friendly and flexible. He was hard working and made sure that all assemblies are done correctly. I would recommend all to use Moovick for relocation service.
Relocation:
Service detail:
Home Move, furniture and boxes
Cost:

Shamsul
Moovick offers a very high standard of professional service
They completely hand hold you through out the process. Its like almost being with you in person. I was coordinated for my case by "Misha" and the communication was crisp and clear. Strongly recommend.
Relocation:
Service detail:
Home Move, furniture and boxes
Cost:

Geetika
I had a very comfortable and good experience
The customised delivery support was very prompt over WhatsApp (communication in English which was super helpful). I was able to arrange a very last minute delivery of something I found on Ebay (for a sunday morning). The driver was also very helpful and went the extra mile helping with things that weren't necessarily a part of the service. Highly recommended to try this!
Relocation:
Service detail:
Furniture pickup & Assembly
Cost:

Claudia
Excellent experience
I sent the WhatsApp well after 'after hours' and Misha from Moovick support was extremely efficient and helpful. This was a last minute booking from our side as our confirmed moovers had to cancel and i was so pleasantly surprised that within minutes Misha had confirmed that Olek would be available! Olek you guys were amazing thank you so much for being efficient and so friendly! Will definitely recommend and use this service next time.
Relocation:
Service detail:
Home Move, furniture and boxes
Cost:

Satish
Excellent support provided
They helped us decide the appropriate size of the transport vehicle based on the number of items. The transport vehicle was very good and also the driver was very helpful. A 10 out of 10 for everything. I would definitely recommend the service.
Relocation:
Service detail:
Home Move, furniture and boxes
Cost:

Patrick
The driver and helpers were very professional and quick in the entire process
The decisions for splitting and loading between two vehicles were made on the go and the assembly service was also good. Thanks to moovick for being in constant communication for support. Highly recommend the service.
Relocation:
Service detail:
Home Move, furniture and boxes
Cost:

Varun
The only reasons I am giving 5 stars
All in all, I have had a very smooth experience with LP support team, and would absolutely recommend the platform to anyone; ESPECIALLY, if you are new to the city, don't speak German and need support in English, or are on a budget with moving within the city. The price is very reasonable for the service offered, of course this might be quite dynamic considering your package, but we ultimately pay for the service and trust, I believe!
Relocation:
Service detail:
Furniture transport & Assembly
Cost:

Sharmin
I highly recommend this service for a reasonable price
Great customer support through WhatsApp even on holidays. Moovick helped me move from Munich to Hamburg very easily. The driver was very professional and punctual. To be honest, this is the best customer service I have experienced in Germany. 💯
Relocation:
Service detail:
Home Move, furniture and boxes
Cost:

Laura
Excellent service!
Kamran went above and beyond! He understood exactly what I needed. Communication was always quick and smooth. I am very picky with the services I receive and he exceeded my expectations! Thank you, Kamran!
Home improvement:
Service detail:
Cost:
Things to know before moving to Lithuania
Do you want to live in a country with a good public health system, growing job opportunities and beautiful nature? Lithuania could be a good choice if you have all these features on your new life list.
Lithuania is the largest and most populous of the Baltic countries in northern Europe. It's borders are bathed by the Baltic Sea and bounded on land by the demarcations of Russia, Poland, Latvia and Belarus. It is now a Schengen state but was part of the USSR for over 50 years, although it was the first state of the Soviet Union to declare its independence in 1990.
And before the global financial crisis of 2008, its economy was the fastest growing among European countries. But after the crash its GDP suffered a dramatic fall and the unemployment rate soared. Fortunately, thanks to the economic and social measures taken by the government, the recovery is now complete. Cities are rapidly changing to become more international, open and creative, while proudly keeping their unique culture.
Moreover, its nature is unique. One third of the country is covered with forests and wonderful landscapes - even the country has its own essence! Developed by Galimard, the Scent of Lithuania is a blend of bergamot, wild flowers, ginger, raspberry and grapefruit, with base notes of amber, cedar, sandalwood, patchouli, and tree moss and tree smoke.
A mild climate accompanies its natural beauty. In Lithuania you can expect warm summers of up to 25 degrees and temperatures below zero in the winter months.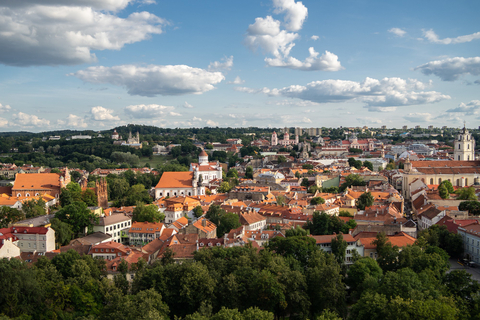 FAQs
Difference between living in Germany vs Lithuania
The main difference is in the way of life. In Lithuania it is more common to rent a house than to buy one. In fact, it's a favorite choice among expats because rents are very low, even in the capital and in the center of big cities - no one wants to be tied down to a mortgage! You can rent a studio or loft from €200 or a huge multi-room flat from €600. In Germany these prices can be double or triple!
Other aspects such as the education system or healthcare are also very different. Read on to find out more.
Peoples: Germany vs Lithuania
Lithuanian society is a mixture of conservative Catholic views and a peculiarly bohemian youth culture. Germany, on the other hand, as a historical country of immigration, has a wide variety of religions in its population. Although it receives people from all over the world, its society is much older than that of Lithuania.
But in general, people in both countries are open-minded and modern. You won't have any problems making friends. But what football is to Germans, basketball is to Lithuanians. It will be more difficult to match sporting passions.
Cost of living in Lithuania compared to Germany
Lithuania has a relatively low cost of living compared to Germany, let alone other Western European countries! In fact, Lithuania was voted one of the cheapest countries in Europe a couple of years ago. However, as in many other countries, accommodation and food costs will be a little higher if you live in or near the capital (Vilnius). Whereas living in a smaller city saves money.
It can be said that, compared to Germany, Lithuania is a very affordable country. It is a great place for a young couple to save money or a pensioner to live comfortably on their pension.
The price of housing, as you have read before, in Lithuania is half or more than in Germany. Both for renting and buying. And if you use Moovick for your move, your new life will be even cheaper!
When it comes to food prices, in Lithuania a meal for two in a restaurant costs about €35, a cappuccino €2.20 and an imported beer about €3. And visiting a local market or a grocery store you can buy a kilo of potatoes or rice for less than €2, as well as one-litre milk for €0.88 and a dozen eggs for €1.50. In Germany these prices would increase by 80%.
Cost of living also includes the internet in your apartment and money to spend on your health and spare time. In Lithuania, you can get an internet subscription with unlimited data for as little as €10 a month. If you want to join a gym, membership will cost €29 a month, depending on the gym, and if you want to visit the cinema, a ticket is €7.
EU citizen: How difficult is it to move to Lithuania
As an EU citizen you will not encounter any problems if you plan moving Germany to Lithuania. The usual procedure is to stay in your new destination for up to 90 days as a tourist; your passport or identity card will suffice as identification. This also applies to Lithuania.
However, if you plan to stay longer, you will need to register and apply for a residence card. In Lithuania, this must be done at the Migration department called MIGRIS by presenting your passport or identity card, an employment contract, the completed residence application form and a state fee of €8.6. With this residence card you will also be issued with your TIN number, an 11 digit number, which is essential for paying your taxes and social security contributions.
Move to Lithuania: pros and cons
As favourable aspects of living in Lithuania, in addition to the education system, health insurance, nature and the low cost of living, it is also worth noting the excellent transport network. In the daily traffic of the metropolis, cars and bicycles coexist perfectly with the metro, trams and buses.
However, Lithuania's biggest drawback is its high number of intentional homicides, one of the highest rates in Europe. Lithuania has even been ranked as the third most murderous country in Europe after Russia and Ukraine. It is also true that most homicides are caused by alcohol abuse.
Nevertheless - and paradoxical though it may seem with the homicide rate - the rates of robbery, rape and other violent acts in the country are extremely low... almost imperceptible. That's why it is entirely possible to walk late at night in major cities without having the feeling that something bad is going to happen.
Also on the downside, especially if you belong to the LGBTQ+ community, is the low tolerance of that people in some cities.
Healthcare in two countries: what is the contrast
Is it an exaggeration to say that Lithuania's health care system is one of the best in the world? Maybe yes, but certainly in some respects it is much better than the German one.
The health system is still recovering from Soviet mismanagement and therefore may not meet the standards of some expatriates. The government has a plan to fund all medical facilities, not only in the major cities but also in the poorer areas. And the most disadvantaged hospitals are compensated by the excellent treatment of Lithuanian doctors.
The medical staff in Lithuania are highly qualified. They have at least 6 years of training before being able to see patients, which ensures that care and sensitivity are their calling card. Given the quality of public medical services, private clinics are rare in Lithuania, although they do exist.
Moving to Lithuania for work
Not only is Lithuania an affordable and beautiful country, but it's also ranked extremely high when it comes to happy employees and work-life balance, something that's very appealing to expats that are interested in moving and working abroad. The Organisation for Economic Co-operation and Development (OECD) ranked the country number 11 for excellent work-life balance. Part-time professional development, part-time fun... doesn't sound bad, does it?
Moving to Lithuania offers great opportunities for job seekers. Lithuania is characterized as one of the countries with the most incredible job offers in Europe, making it an attractive destination for those considering a career change. Vilnius, Kaunas, and Klaipeda are the best cities to work in, providing a vibrant and dynamic environment.
The average salary in Lithuania is around €1.700 a month and the minimum wage established by law is €642 a month, depending on the occupational category.
The main industries in which a German foreigner can be employed are: fintech, outsourcing and tourism.
Lithuanians are known for being hard workers, but work-life balance is taken very seriously. The general work culture in Lithuania is based on both competitiveness and flexible working hours, allowing individuals to achieve a harmonious integration of work and personal life. So, if you're considering moving to Lithuania, you can expect a work environment that values productivity while still recognizing the importance of leisure time and personal well-being.
Tax implications: different between Germany and Lithuania
Currently the official tax is 20% of personal income and is deducted from salary. The 20% rate is applicable if the yearly income is less than 84 average salaries in total. If the yearly income exceeds 84 average salaries, will pay 32% in tax - this happens if work for more than 1 employer. The standard rate of social security contributions is 21.27%, from which 1.77 percent is employer's part and 19.5 percent is employee's part. Additionally, 2.1/3 percent is withheld from the gross employment income of an employee participating in certain pension accumulation plans.
Why move to Lithuania?
Expats relocating to Lithuania will discover a beer- and sports-loving nation with an efficient infrastructure and beautiful countryside views. Along with its medieval-looking cities and the magical dose that beautiful nature has spread here, movers to Lithuania will get an enchanting combination of culture and modernity in whichever city they choose to call home.
Quality of live in Lithuania
With an excellent transport network, one of the best healthcare systems in Europe, a low cost of living, the absence of natural disasters and beautiful and breathtaking landscapes, Lithuania is a country that offers a good quality of life.
Apart from the homicide rate, there are many reasons that make this Western European country one of the best places to emigrate, even if the number of foreigners living in Lithuania is not as high as in other European countries (say Italy, Spain and England).
Of course, the Lithuanian language is extremely complicated. And Lithuanians are proud to speak their language in all areas of life, more so than other languages such as English. But they are also understanding towards foreigners who are still learning the language.
Moving to Lithuania as a pensioner
Known for its stunning scenery, lakes and seaside beaches, Lithuania has plenty of beautiful places to visit and outdoor activities to keep retired expats busy. Add in the low cost of living and free medical care, and it's the perfect destination for the last stage of life.
Advices to move to Lithuania
As a member of Europe, the change of residence to Lithuania will be easy. Before settling in, check out the property market and spend some time renting to get to know the cities, open a new bank account and buy a local phone. Keep calm and be prepared to be surprised!
Nuances of moving to Lithuania: car re-registration
In Lithuania, you can drive a car with a European driver's license as long as it's not expired. Like most countries in Europe, the country has right-hand traffic, so if you are an experienced driver, you will not run into any trouble with forgetting what side of the road to drive on! Although Lithuanian roads are among the best in Eastern Europe, the traffic conditions might differ a bit from what you might be used to since Lithuanian drivers are known to be a bit careless at times.
In order to register a vehicle in Lithuania, the following documents must be presented: certificate of conformity; insurance policy; a document confirming that the car belongs to you; a document confirming that VAT has been paid; proof of roadworthiness test; certificate of payment of registration and road taxes.
Ready for your move to Lithuania?
Across Lithuania, you will find many interesting places to visit and explore. There are many relics of the Soviet period, such as bunkers and museums, but you will also find many more in this country, including beautiful churches, monasteries, and palaces.
Nature is everywhere, as well. Huge natural parks, beautiful beaches with blue flag status and the most active stretch of the Baltic migration flyway, which is considered among the largest in Europe and around the world. Bird watching could be a new hobby!
And the connection between locals and foreigners is excellent. According to the latest data published by the UN, Lithuania is home to 117,218 immigrants, 4.2% of its population. And although immigrants come mainly from other northern European countries, there are about 2,000 Germans living in Lithuania - you'll have no trouble making friends!