Moving from
Germany to Luxembourg
How It Works
Post task
Post your task details and description on our website or app
Get offers
Receive offers from nearby service providers in PDF format with booking link
Discuss
Use Moovick Messenger to discuss details and choose the best option based on ratings and reviews
Book
Book and get your task done effortlessly
Moovick is an all-in-one platform that provides clients with on-demand, professional Service Providers for moves and home renovation jobs in real-time for their day-to-day needs.
Car (Taxi / Combo)
Perfect for small boxes, airport pick ups and luggage transfer.
Van (7-17 m3)
Great for moving studio or one bedroom apartments with basic furniture items and boxes.
3.5T Truck (20-24 m3)
Best for 1-2 bedroom apartments, small homes moves and commercials goods.
7.5T (+) Trucks
Best for 2 to 3 room apartments and upto 10 standard size pallets
Use Cases

Vinayak
Best service received
Delivery partner was very friendly and flexible. He was hard working and made sure that all assemblies are done correctly. I would recommend all to use Moovick for relocation service.
Relocation:
Service detail:
Home Move, furniture and boxes
Cost:

Shamsul
Moovick offers a very high standard of professional service
They completely hand hold you through out the process. Its like almost being with you in person. I was coordinated for my case by "Misha" and the communication was crisp and clear. Strongly recommend.
Relocation:
Service detail:
Home Move, furniture and boxes
Cost:

Geetika
I had a very comfortable and good experience
The customised delivery support was very prompt over WhatsApp (communication in English which was super helpful). I was able to arrange a very last minute delivery of something I found on Ebay (for a sunday morning). The driver was also very helpful and went the extra mile helping with things that weren't necessarily a part of the service. Highly recommended to try this!
Relocation:
Service detail:
Furniture pickup & Assembly
Cost:

Claudia
Excellent experience
I sent the WhatsApp well after 'after hours' and Misha from Moovick support was extremely efficient and helpful. This was a last minute booking from our side as our confirmed moovers had to cancel and i was so pleasantly surprised that within minutes Misha had confirmed that Olek would be available! Olek you guys were amazing thank you so much for being efficient and so friendly! Will definitely recommend and use this service next time.
Relocation:
Service detail:
Home Move, furniture and boxes
Cost:

Satish
Excellent support provided
They helped us decide the appropriate size of the transport vehicle based on the number of items. The transport vehicle was very good and also the driver was very helpful. A 10 out of 10 for everything. I would definitely recommend the service.
Relocation:
Service detail:
Home Move, furniture and boxes
Cost:

Patrick
The driver and helpers were very professional and quick in the entire process
The decisions for splitting and loading between two vehicles were made on the go and the assembly service was also good. Thanks to moovick for being in constant communication for support. Highly recommend the service.
Relocation:
Service detail:
Home Move, furniture and boxes
Cost:

Varun
The only reasons I am giving 5 stars
All in all, I have had a very smooth experience with LP support team, and would absolutely recommend the platform to anyone; ESPECIALLY, if you are new to the city, don't speak German and need support in English, or are on a budget with moving within the city. The price is very reasonable for the service offered, of course this might be quite dynamic considering your package, but we ultimately pay for the service and trust, I believe!
Relocation:
Service detail:
Furniture transport & Assembly
Cost:

Sharmin
I highly recommend this service for a reasonable price
Great customer support through WhatsApp even on holidays. Moovick helped me move from Munich to Hamburg very easily. The driver was very professional and punctual. To be honest, this is the best customer service I have experienced in Germany. 💯
Relocation:
Service detail:
Home Move, furniture and boxes
Cost:

Laura
Excellent service!
Kamran went above and beyond! He understood exactly what I needed. Communication was always quick and smooth. I am very picky with the services I receive and he exceeded my expectations! Thank you, Kamran!
Home improvement:
Service detail:
Cost:
Things to know before moving to Luxembourg
Is Luxembourg easy to move to? The ease of relocation to Luxembourg for an EU citizen depends on several factors, including but not limited to their citizenship, employment status, and financial stability. However, as an EU member state, Luxembourg has freedom of movement policies that allow citizens from other EU countries to live and work in Luxembourg without needing a visa or work permit. Therefore, the process of moving from Berlin to Luxembourg may be relatively straightforward for EU citizens.
One more of the most common questions we get from people who plan to move to this destination is, "Is Luxembourg the perfect place to live?" Well, why don't you let us reveal the facts here, so you can decide for yourself!
Luxembourg is something of a fairy-tale country with a history of remarkable battles, conquests, monarchs, and castles. But moving to Luxembourg is about more than just its rich history, Luxembourg is widely known for its multicultural blend in populace. Foreigners and expatriates make up just about 48% of the population; many of which are French, Portuguese, and German.
Luxembourg does feel like a very small, serene country in comparison to Germany (not just by virtue of size). There are no traffic backups, hardly any honking, and plenty of space for everyone! With all the gardens, castles, and museums, the city center is stunning and gives off the impression of a miniature dreamscape version of Vienna.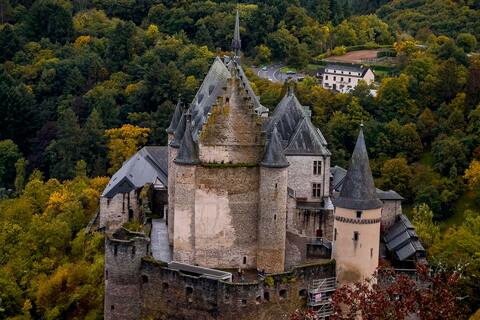 FAQs
Difference between living in Germany vs Luxembourg
You may find yourself on the opposite end of the spectrum living in Luxembourg since Luxembourg has a lower income tax rate and a higher VAT rate on goods and services while it is vice-versa for Germany.
You would really be spending more on housing if you were living here, even with these differentials in mind. It's crucial to remember that this does not indicate that you will pay more for commodities if you are living in Luxembourg!
Peoples: Germany vs Luxembourg
While Germans value tradition and the old ways in many sectors, you will find out that Luxembourgers are more progressive in their approach to things.
You already know that in Germany, those with greater incomes reside in the city, in Luxembourg, most folks, especially the affluent, prefer the countryside. The high standard of living that Luxembourgers enjoy is well known around the world, and they are proud to openly flaunt it. In this small country, the range of incomes is not particularly wide here, everyone has a good piece of the pie.
Luxembourgish, which is similar to Dutch, was chosen as the nation's official language in 1984. Many German words have a similar sound in Luxembourgish, which has been growing in popularity and is currently spoken by roughly 77% of Luxembourgers.
Cost of living in Luxembourg compared to Germany
Luxembourg clearly has a higher cost of living than Germany. An apartment in Germany typically costs roughly €600 per month to rent. For a two-bedroom flat, you should prepare to pay roughly €1,000 per month in Luxembourg.
However, in Luxembourg, food is less expensive. A lunch for two at a mid-range restaurant may be had for as low as €15 (US$17), or much less if you choose to cook for yourself.
Their comprehensive and effective public transportation system includes a first-rate train system that runs on time, spotless buses, clean trams, and even a boat service! This means it won't take you long to travel anywhere in the country.
Interesting facts about Luxembourg
As a newcomer to Luxembourg, you must possess a number of documents; Budget for the letting agency fee, which is equal to one month's rent plus 17% VAT, as well as for home insurance.
To begin the process of becoming a permanent resident, you must register at the population office. Depending on your citizenship, you will either receive an ID card or a residence permit after registering. Once you find a permanent residence, you can report your change of address.
Meanwhile, Sundays are a holiday in Luxembourg, but gas station shops are an exception. Some supermarkets stay open until 11 a.m. on Sundays, so plan your grocery run accordingly.
When relocating, you might face a few protocols that can be annoying. Many times, you need to provide proof of your residence in Luxembourg in order to open a bank account or rent an apartment. There are, however, relocation packages in company that can assist you in organizing your affairs accordingly.
EU citizen: How difficult is it to move to Luxembourg
If you're an EU national and intend to stay in Luxembourg, you won't require a visa. EU citizens are free to relocate and live wherever they want within the EU. You only need to register with the local government or submit an application for a residency permit if you want to stay for more than three months.
Move to Luxembourg: pros and cons
Pros
Luxembourg has significantly lower living expenses than other European nations like the UK and Germany.

Luxembourg is Europe's highest-paid nation. An employee's average monthly wage is roughly $4,000. The monthly rent is less than €1,000 ($1,140), and food prices are also relatively affordable.

With an average age of 83, Luxembourg has the highest life expectancy in the EU. Additionally, it has more doctors per capita than any other nation in Europe!

A work visa is not required to reside in Luxembourg. No application is required for a residency permit either.
Cons
Be ready for the high cost of living in the capital if you're moving to Luxembourg.

The typical week for a worker in Luxembourg is 46 hours, as opposed to 40 hours in the US and 37.4 hours in Germany.

Compared to Americans or Britons, Luxembourgers are more likely to speak English, but it might be challenging to find a doctor who does.

Bureaucratic red tape can occasionally feel overpowering. There will be moments when everything will seem like a struggle.
Healthcare in 2 countries: what is the contrast
Compared to Germany, Luxembourg has a more centralized healthcare system. It enables the government to distribute resources, making care coordination simpler. Additionally, a wider range of service providers, such as both public and private hospitals, are available in Luxembourg to offer medical services. Germany, on the other hand, mandates health insurance, which pays for the majority of costs while also providing a few options for those who don't want any coverage at all.
Health insurance in Luxembourg
The government of Luxembourg dedicates about 6% of its GDP to healthcare, making it one of the best-funded and highest-quality systems in Europe. All expats are eligible for free public healthcare, which covers about 84% of the cost. Employers and employees contribute to the cost of care with employer and employee contributions. Many expats occasionally try to purchase additional private insurance policies to pay for the portion of medical costs that the state does not cover.
Moving to Luxembourg for work
If you are an EU citizen and relocating to Luxembourg, you will need a residence permit to live and work there. As a student, researcher, trainee, employee or independent contractor, you are eligible to apply for a residency permit. Applying at your local commune (municipality) as soon as possible after arriving is the first step in getting a permit.
Tax implications: difference between Germany and Luxembourg
Germany and Luxembourg have quite distinct tax systems. Income taxes are progressive in Germany. Starting at 14%, rates grow gradually to 42%. Additionally, there is a top rate of 45% for those with extremely high incomes.
However, the tax code in Luxembourg is more intricate. Residents, non-residents, and legal entities fall into three different tax categories. Rates for each category vary, going from 0% to 42%. Even though this top rate may seem high, it is still lower than that of nearby nations like Belgium.
Why move to Luxembourg?
Having a yearly income of $57,000 on average, Luxembourg is ranked among the top 20 nations with the highest quality of life in the world according to international rankings and surveys. This is because of its safe environment, as well as its political and economic stability. Being a truly multicultural nation with a long history of accepting immigrants, Luxembourg offers exceptional quality for both locals and expatriates.
Quality of life in Luxembourg
You can rely on Luxembourg to be one of the best European countries to live in; among other amenities, you'll have access to some of the world's top healthcare facilities.The city also has a stellar safety record, and a high standard of environmental quality. It is also a good location for digital nomads because it is connected and has high internet access.
Moving to Luxembourg as a pensioner
Early retirement is permitted under Luxembourg's generous retirement system, but you must first fulfill certain criteria in order to start receiving your pension. You may apply for a full pension if you are over 65 and have resided in Luxembourg for five years.
Moving to Luxembourg as a pensioner can be a daunting task, but with the right moving company, it can be a stress-free experience. When searching for a moving company in Luxembourg, it's important to find one that has experience in handling international moves, especially for retirees.
Advices to move to Luxembourg
1. To organize your move, start planning at least 3 to 6 months in advance.
2. Ensure that the entire family has a valid residency permit.
3. Prioritize your luggage. The cost of transporting things will increase as you add more stuff.
4. Bring only valuable items, and make an effort to bring as few home items as possible.
5. Your best ally is a seasoned international moving company with experience moving to Luxembourg from overseas.
Nuances of moving to Luxembourg: car re-registration
You must register your car with the SNCA if you are moving to Luxembourg. The simplest way to do this is to fill out the application form after downloading it from their website. Once you've done that, you must submit it along with ownership documentation, a VAT calculation, and an insurance certificate in good standing.
Ready for your move to Luxembourg?
Vanuit Duitsland naar Luxemburg verhuizen is vrij eenvoudig. Het is een geweldige plek om te wonen, met veel aardige mensen en veel voordelen. Je zult zeker blij zijn dat je de stap hebt gewaagd als het tijd is om vrienden te maken of een baan te vinden in Luxemburg!

Bij Moovick nemen we de andere stress van het boeken en inpakken weg. Wij helpen je zo snel en soepel mogelijk van je locatie naar je bestemming te verhuizen.