Moving company in Leipzig

Moovick is a company that provides relocation services in Leipzig. We serve as a 'one-stop' Leipzig moving company to give our clients professional and efficient moving services. In addition, we offer home renovation services for your new home in Leipzig! You can select one of our packages (Economy, Premium, or Business) in accordance with your needs on relocation to Leipzig. Lastly, you can book everything from the comfort of your own house via our app Moovick, found on the App Store and Google Play.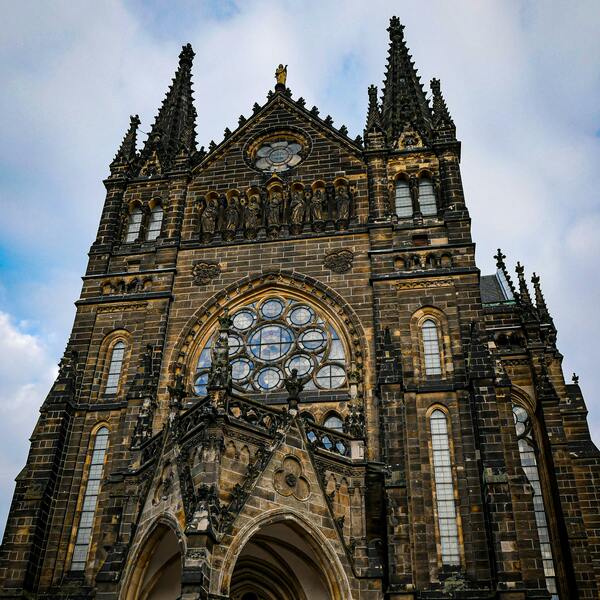 How It Works
Post task
Post your task details and description on our website or app
Get offers
Receive offers from nearby service providers in PDF format with booking link
Discuss
Use Moovick Messenger to discuss details and choose the best option based on ratings and reviews
Book
Book and get your task done effortlessly
Let`s calculate your move
Advantages of relocation services in Leipzig
Leipzig has a booming biotechnology industry and conducts world-class medical research, making it a desirable destination for professionals to live. The reasons why many individuals consider moving to Leipzig as a good decision are rounded out by its world-class culture. The city has one of the three highest standards of living in all of Europe. If you are torn between organizing everything yourself or hiring a Leipzig moving company, consider the following advantages of relocation services in Leipzig before making your decision.
A smoother process
Employing a moving company allows you to unwind and concentrate on other things. The relocation companies help you starting from the smallest details, up to the complete moving process. Further, services such as loading and unloading as well as the packaging of your belongings are covered. Moovick is highly professional and always aims to ease your process.
Effective and well-planned
Moovick is an organized and effective company that provides easy relocation to Leipzig. Your belongings will be expertly packaged to avoid loss or damage during the relocation. Additionally, Moovick uses specialist equipment to transport your furniture and other valuables securely, so that your moving is as effective and well-planned as it can be.
Moving safely
Moovick aids in making sure the transfer is secure and safe. We will pack your possessions securely in boxes and relocate them with the proper approach. Additionally, we are certified and insured, so you are secured in case something goes wrong during the transfer. Without the bother of remembering and handling everything on your own regarding your move, relocation services in Leipzig assist you in arranging your move.
Want to pick up more cities to move to? See other destinations 👉Moving to Stuttgart, Moving to Bremen, Moving to Hamburg.
Select your moving package
All packages includes Driver, Vehicle, fuel and taxes
Economy
Best for small moves, quick transport from point A to B with boxes and little or no furniture
Vehicle with driver
Loading - Unloading help
Email support
Premium
Best for short and long distance moves within city, country or across Europe, with or without furniture
All in Economy
Driver + helper (s)
Packing upon request
Disassembly & Assembly service
Assistance in search for movers and right van size
Dedicated support via WhatsApp
Business
Best for businesses, corporate employees, etc. looking for a comfort move
All in Economy & Premium
Free packing material
Dedicated move manager
Moving with only 5star reviewed movers
Free multiple rescheduling
Direct invoicing to client, employer or job centre possible
WhatsApp & Phone support
Check out other home improvement services
Why choose us?
Experience is the key of success and that's what our service providers have in abundance
50+
cities across


FAQs
What can't we bring?
At Moovick, we've created a marketplace where customers have access to professional movers, handymen & cleaners to help them complete their move.
Whilst our services are vast, there are some items that we are prohibited to move. We will not move items that break state and federal laws. Hazardous materials, alcohol, firearms, counterfeit items, and any other potentially criminal items are prohibited, and you are nobly requested not to include them in the package for moving.
Can my furniture be disassembled and reassembled?
Yes, your medium to large-sized furniture can be disassembled and reassembled to help complete the move as safely and efficiently as possible.
This helps to keep your items intact and helps to prevent damage during your relocation to/from Leipzig. Beds, tables, chairs, cabinets, etc are examples of furniture that may need to be disassembled and reassembled.
Don't worry about damage or breakage! Our professional workers are equipped with liability insurance to protect your valuables!
If your items require even more protection, feel free to book an additional packaging service with our providers.
Can I move abroad with Moovick?
Yes, international moving to/from Leipzig is easy with Moovick! We offer international moving services from Germany to the Netherlands, UK, France, Switzerland, Austria & Denmark to name a few. Check here for a list of countries and solutions to meet your needs.
Do you offer office transportation services?
We are an extensive moving company in Leipzig and we offer exceptional office relocation services to and from Leipzig.
We have a wide array of transportation modes to choose from. Our movers provide you with access to cars, SUVs, trucks, and more to suit your needs.
We have other business solutions available through Moovick business such as employee relocation and freight forwarding.
Are there any extra fees I need to be aware of?
At Moovick we're transparent with our fees which means there are no hidden fees! Upon selecting a service that suits your needs, our platform shows you the total cost of your move.
When do I have to start planning the move?
We want you to have a smooth relocation, so we suggest you book your move as soon as possible! Book your move as soon as your plan is ready!
Otherwise, book your moves ideally 3-4 weeks in advance during peak season. This gives you ample time to search through offers and find the right service for you.
Use Cases

Vinayak
Best service received
Delivery partner was very friendly and flexible. He was hard working and made sure that all assemblies are done correctly. I would recommend all to use Moovick for relocation service.
Relocation:
Service detail:
Home Move, furniture and boxes
Cost:

Shamsul
Moovick offers a very high standard of professional service
They completely hand hold you through out the process. Its like almost being with you in person. I was coordinated for my case by "Misha" and the communication was crisp and clear. Strongly recommend.
Relocation:
Service detail:
Home Move, furniture and boxes
Cost:

Geetika
I had a very comfortable and good experience
The customised delivery support was very prompt over WhatsApp (communication in English which was super helpful). I was able to arrange a very last minute delivery of something I found on Ebay (for a sunday morning). The driver was also very helpful and went the extra mile helping with things that weren't necessarily a part of the service. Highly recommended to try this!
Relocation:
Service detail:
Furniture pickup & Assembly
Cost:

Claudia
Excellent experience
I sent the WhatsApp well after 'after hours' and Misha from Moovick support was extremely efficient and helpful. This was a last minute booking from our side as our confirmed moovers had to cancel and i was so pleasantly surprised that within minutes Misha had confirmed that Olek would be available! Olek you guys were amazing thank you so much for being efficient and so friendly! Will definitely recommend and use this service next time.
Relocation:
Service detail:
Home Move, furniture and boxes
Cost:

Satish
Excellent support provided
They helped us decide the appropriate size of the transport vehicle based on the number of items. The transport vehicle was very good and also the driver was very helpful. A 10 out of 10 for everything. I would definitely recommend the service.
Relocation:
Service detail:
Home Move, furniture and boxes
Cost:

Patrick
The driver and helpers were very professional and quick in the entire process
The decisions for splitting and loading between two vehicles were made on the go and the assembly service was also good. Thanks to moovick for being in constant communication for support. Highly recommend the service.
Relocation:
Service detail:
Home Move, furniture and boxes
Cost:

Varun
The only reasons I am giving 5 stars
All in all, I have had a very smooth experience with LP support team, and would absolutely recommend the platform to anyone; ESPECIALLY, if you are new to the city, don't speak German and need support in English, or are on a budget with moving within the city. The price is very reasonable for the service offered, of course this might be quite dynamic considering your package, but we ultimately pay for the service and trust, I believe!
Relocation:
Service detail:
Furniture transport & Assembly
Cost:

Sharmin
I highly recommend this service for a reasonable price
Great customer support through WhatsApp even on holidays. Moovick helped me move from Munich to Hamburg very easily. The driver was very professional and punctual. To be honest, this is the best customer service I have experienced in Germany. 💯
Relocation:
Service detail:
Home Move, furniture and boxes
Cost:

Laura
Excellent service!
Kamran went above and beyond! He understood exactly what I needed. Communication was always quick and smooth. I am very picky with the services I receive and he exceeded my expectations! Thank you, Kamran!
Home improvement:
Service detail:
Cost:
Experience your move!
Wether its domestic or international, we plan a stress free experience for you and your loved ones