Moving company in Utrecht

Moovick – Your Company for Moving to Utrecht in the Netherlands
Here at Moovick, we're more than happy to help you with your move to Utrecht in the Netherlands. Utrecht is one of the Netherlands' most dynamic cities, with a vibrant student population, beautiful cathedral and a characterful central canal. If you're lucky enough to be moving there, then Moovick can is there for you every step of the way. Forget conventional moving company – Moovick can provide moving services for your move to Utrecht that are local to you, at competitive rates.
How It Works
Post task
Post your task details and description on our website or app
Get offers
Receive offers from nearby service providers in PDF format with booking link
Discuss
Use Moovick Messenger to discuss details and choose the best option based on ratings and reviews
Book
Book and get your task done effortlessly
Select your moving package
All packages includes Driver, Vehicle, fuel and taxes
Economy
For Individuals looking to get tasks done affordably
Android and iOS App for posting your task
Access to 1700+ reviewed and verified Service Providers
Limitless Chats & Negotiations
Book Now Pay Later option
Moovick Support in selecting professionals
Premium
For Premium Individuals & Businesses
Book on-the-go with a 3-minute booking process
Work only with Moovick assigned Premium Movers with 4,7/5,0 or higher ratings
Moovick's personalized premium dashboard
Live Tracking of your goods
Moovick's premium support throughout the task
Comprehensive insurance
Multiple free reschedulings
Possibility to directly invoice your employer / job centre through Moovick
Packing Material (on request)
Business
For SME Business Entities
All in Premium
Dedicated Account Manager to understand your personalized needs
Customized Transport Solutions with LTL and pooled cargos
Personalized route optimization to ensure maximum savings
Discounted rates for recurring orders
Storage Facility (on request)
Contact us
Check out other home improvement services
What Makes Moovick Different from Other Movers?
Moovick is essentially a platform that allows movers across the Netherlands and Germany to sell their services online. We have thousands of movers registered on our site, across the width and breadth of both of these countries. What's more, we are currently semi-operational in Belgium and Luxembourg, and looking to become fully operational in those countries in the near future.
Our platform makes it easy for customers to find movers and other handymen near them. Customers have access to movers at far more competitive prices than conventional moving service, especially since movers are often so close to customers to start with that extra expenses can be avoided. Should you need any additional help with your move, including assembly or disassembly and painting, then Moovick can help with that too – it is often the case that the person providing your moving service in Utrecht will also be happy to carry out some handymen tasks, killing two birds with one stone.
Why choose us?
Experience is the key of success and that's what our service providers have in abundance
50+
cities across


Moovick is an all-in-one platform that provides clients with on-demand, professional Service Providers for moves and home renovation jobs in real-time for their day-to-day needs.
Car (Taxi / Combo)
Perfect for small boxes, airport pick ups and luggage transfer.
Van (7-17 m3)
Great for moving studio or one bedroom apartments with basic furniture items and boxes.
3.5T Truck (20-24 m3)
Best for 1-2 bedroom apartments, small homes moves and commercials goods.
7.5T (+) Trucks
Best for 2 to 3 room apartments and upto 10 standard size pallets
Renting a Moving Van to Utrecht
With Moovick, it's never been easy to rent a moving van for your move to Utrecht. But it's worth knowing that Moovick offers bespoke moving services depending on your needs – through our platform, it is easy to select the exact size of vehicle you need for your move. If you don't have that many belongings, or are moving to a property that is already semi-furnished, then you can choose a car. If you require large items of furniture, including sofas and pianos, to be moved, then you can easily select a truck. And of course, there's always the classic option of renting a moving van to help you with your move to Utrecht.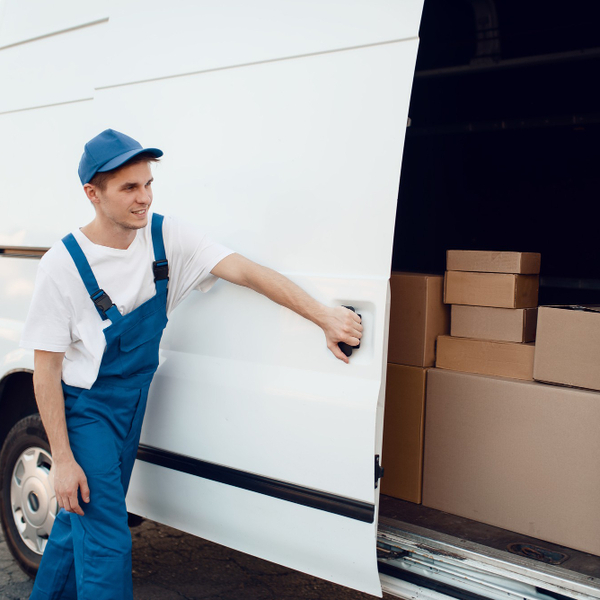 Moving Your Business to Utrecht
We don't offer moves for individuals at Moovick. If you're looking to move your business to this vibrant and happening city, then we've got you covered. Moving your company to Utrecht may be a daunting prospect, but we've supported many companies in moving to new cities, not just domestically but also internationally. If you're based in Germany or elsewhere in the Netherlands, then we'd be happy to help you move your company or business to Utrecht. We imagine that you have a lot of belongings and potentially goods that you would need to move, so we would encourage you to look for movers near you – using our platform – who offer moving services by truck. Once you get in touch with them through our website which seamlessly connects local movers and customers, they'll be able to start helping you to organise your move straight away.
| | |
| --- | --- |
| 💰Min moving price - 40 EUR | 🤝Business services - available |
| 💰Max moving price - 85 EUR | 🌐Where to order the service - moovick.com |
| 🚚Other moving - Haarlem, Leiden, Amsterdam, etc. | 📲App - for Android, IOS |
| 📍Short distance - up to 100km | 💶How to make a payment - 100% or part of the booking amount |
| 📍Long distance - more than 100km | 💳Payment systems - debit and credit cards, online banking Sofort, Ideal, cash |
| 🛠Additional services - cleaning, handyman, (dis-) assembly of furniture | 🕐Working hours - set by the client |
Use Cases

Vinayak
Best service received
Delivery partner was very friendly and flexible. He was hard working and made sure that all assemblies are done correctly. I would recommend all to use Moovick for relocation service.
Relocation:
Service detail:
Home Move, furniture and boxes
Cost:

Shamsul
Moovick offers a very high standard of professional service
They completely hand hold you through out the process. Its like almost being with you in person. I was coordinated for my case by "Misha" and the communication was crisp and clear. Strongly recommend.
Relocation:
Service detail:
Home Move, furniture and boxes
Cost:

Geetika
I had a very comfortable and good experience
The customised delivery support was very prompt over WhatsApp (communication in English which was super helpful). I was able to arrange a very last minute delivery of something I found on Ebay (for a sunday morning). The driver was also very helpful and went the extra mile helping with things that weren't necessarily a part of the service. Highly recommended to try this!
Relocation:
Service detail:
Furniture pickup & Assembly
Cost:

Claudia
Excellent experience
I sent the WhatsApp well after 'after hours' and Misha from Moovick support was extremely efficient and helpful. This was a last minute booking from our side as our confirmed moovers had to cancel and i was so pleasantly surprised that within minutes Misha had confirmed that Olek would be available! Olek you guys were amazing thank you so much for being efficient and so friendly! Will definitely recommend and use this service next time.
Relocation:
Service detail:
Home Move, furniture and boxes
Cost:

Satish
Excellent support provided
They helped us decide the appropriate size of the transport vehicle based on the number of items. The transport vehicle was very good and also the driver was very helpful. A 10 out of 10 for everything. I would definitely recommend the service.
Relocation:
Service detail:
Home Move, furniture and boxes
Cost:

Patrick
The driver and helpers were very professional and quick in the entire process
The decisions for splitting and loading between two vehicles were made on the go and the assembly service was also good. Thanks to moovick for being in constant communication for support. Highly recommend the service.
Relocation:
Service detail:
Home Move, furniture and boxes
Cost:

Varun
The only reasons I am giving 5 stars
All in all, I have had a very smooth experience with LP support team, and would absolutely recommend the platform to anyone; ESPECIALLY, if you are new to the city, don't speak German and need support in English, or are on a budget with moving within the city. The price is very reasonable for the service offered, of course this might be quite dynamic considering your package, but we ultimately pay for the service and trust, I believe!
Relocation:
Service detail:
Furniture transport & Assembly
Cost:

Sharmin
I highly recommend this service for a reasonable price
Great customer support through WhatsApp even on holidays. Moovick helped me move from Munich to Hamburg very easily. The driver was very professional and punctual. To be honest, this is the best customer service I have experienced in Germany. 💯
Relocation:
Service detail:
Home Move, furniture and boxes
Cost:

Laura
Excellent service!
Kamran went above and beyond! He understood exactly what I needed. Communication was always quick and smooth. I am very picky with the services I receive and he exceeded my expectations! Thank you, Kamran!
Home improvement:
Service detail:
Cost:
Experience your move!
Wether its domestic or international, we plan a stress free experience for you and your loved ones